In 2020, global eCommerce grew by a staggering 27.6%. And, as shoppers keep moving online, it's estimated that the sales will reach 5 trillion in 2021. As more and more people start shopping on the Internet, businesses follow. So, how do you join the trend and ensure that some of that flows to your pocket? It's simple – you need to develop an online store.
And, one of the first decisions you have to make is to choose a platform that you'll build your online store on.
Of course, there are many platforms to choose from, both paid and (in theory) free. In this review, we'll take a closer look at the two most prominent open-source players - WordPress vs Magento.
Table of Contents
1. WordPress and Magento – What Are They?
2. WordPress for eCommerce – Core Features
    Magento – Core Features
3. WordPress or Magento – Which One Is Faster?
4. WordPress vs Magento – How Customizable Are They?
5. WordPress and Magento – Are They SEO-Friendly?
6. WordPress vs Magento – What About Their Security?
7. WordPress vs Magento – How Easy to Use Are They?
    WordPress – The Main Advantages
    WordPress – The Main Drawbacks
    Magento – The Main Advantages
    Magento – The Main Drawbacks
8. WordPress vs Magento – Which One to Pick in 2021?
1. WordPress and Magento – What Are They?
Both WordPress and Magento are Content Management Systems. A CMS allows the user to build and manage a site, as well as create and publish content. Often, it's possible to fully customize your site without writing a single line of code. Of course, coding can be helpful as it gives website owners more control. But, it's not necessarily (we'll get to it). So, where do WordPress and Magento stand in the CMS world?
WordPress is the most popular CMS, powering 14.7% of the world's top websites. It's also popular among bloggers and small and medium business owners alike. A lot of it has to do with its ease of use and customizability. With the right plugins, you can use it to build a company website, a personal blog, an app, or an eCommerce store. In this comparison, we'll look at WordPress.org, a free, open-source, self-hosted version of this CMS.

And, what about the second platform of our WordPress vs Magento comparison? Unlike WordPress, Magento is a CMS focused exclusively on eCommerce. At the moment, it is estimated to be the ninth most popular CMS in the world, with a share of 0.8% of all websites.
Focusing just on eCommerce, its market share grows to 9% and positions it as #3. This puts it behind Shopify (21%) and WooCommerce checkout (26%). Just like WordPress, there are two versions of it. A free, open-source platform (Magento Open Source) and a premium one (Magento Commerce). In this WordPress vs Magento review, we'll focus on the open-source version.

2. WordPress for eCommerce – Core Features
 At its core, WordPress is a blogging platform. While that doesn't mean it cannot be used for eCommerce, on its own it doesn't allow you to build a store. To create one, you'll need to install an additional eCommerce plugin. The most popular choice (and one that'll we'll take a closer look at) is WooCommerce.
WooCommerce can add eCommerce capabilities to any WordPress website. By using it, you can sell virtual and physical products, as well as manage your inventory and payments. You can also add plugins that allow you to sell subscription services or manage taxation.
Thanks to its compatibility with other WordPress plugins, you can enrich your store with almost any feature you can think of.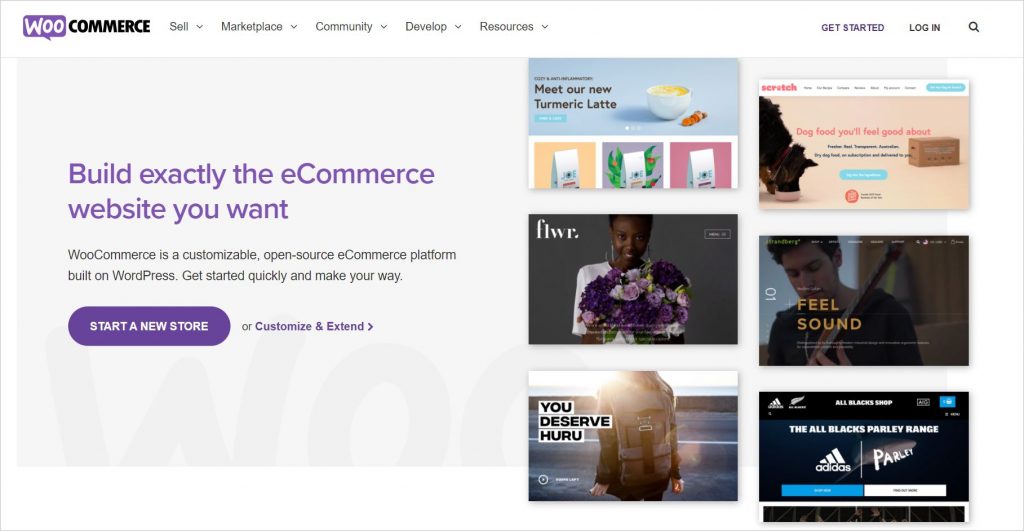 Magento – Core Features
Magento is a platform built for eCommerce. Thanks to that, it offers all the core features you might want in an online store out of the box. When you look at WordPress vs Magento for the first time, the latter seems to offer the same features as WooCommerce. You can manage your inventory, create discount coupon codes, and payment support. But, the difference is in the scale.
Where Magento really shines over WordPress is the way it handles big inventory. Unlike WooCommerce, Magento feels designed specifically for big online stores. At the same time, WordPress is a better choice for small stores or those selling virtual products
As a result, while Magento shares many features with its competitors, it takes some of them to the next level. For example, you can easily add cross-sells or up-sells. You can also group your customers, create multi-tier pricing, or set a minimum advertised price. You can even control multiple websites and stores from one Administration Panel.

Of course, most of these are still possible to achieve with WordPress. But, you'll need an extra plugin to do that. For example, you can use WP Blazer to manage multiple WP websites in one convenient dashboard.
3. WordPress or Magento – Which One Is Faster?
Nowadays, your site's loading speed is one of the critical factors of success.  Your customers aren't going to wait forever for your site to load. Especially when they have all your competitors available at a tap of a finger. They'll just tap the back button and go to the next (faster store). If you think about it that way – it's no surprise that a slow-loading website can kill an online store. In fact, slow sites cost retailers a staggering $2.6 billion in lost sales every year.
But, if you were to test WordPress vs Magento, which platform would give you a speed advantage? Well… it depends.
You see, website speed depends on many more factors than just the platform that you use. Sure, a pure HTML5 site would probably load faster than WordPress or Magento. Similarly, WordPress boasts some great themes optimized for speed (but so does Magento).
But the thing is, these are not the only factors you should take care of if you want to speed up your site. The choice of a server, image optimization, and the type of plugins/extensions that you use... all that will shape how fast your site loads.
4. WordPress vs Magento – How Customizable Are They?
To build a successful online store, you need to find a competitive advantage.
This advantage often comes in the form of your product or pricing. But, sometimes even minor changes can help you outperform your competitors.
For example, you may be able to collect more emails or better retarget ads to your audience.  Or you may have a higher conversion rate thanks to certain features on your website. But, to get those little "boosts", you need a platform that's flexible. Ideally, one that allows you to adjust your store to the expectations of your audience.
Thankfully, both platforms allow you to change your store quite extensively. As said earlier, even big changes can often be done without writing a single line of code. All that is thanks to the wide choice of plugins (WordPress) and extensions (Magento).
When you look at available customizations for WordPress vs Magento, the latter offers almost 4,000 (3,862 at the time of writing). They're all open-source extensions, separated into nine categories. These include marketing, sales, customer support, and shipping, just to name a few of them. Plus, certain things (like basic eCommerce Analytics) come built into the platform.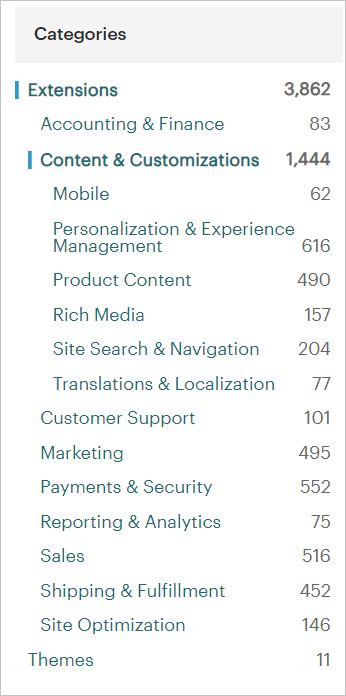 Of course, while there's plenty to choose from, when it comes to customizability, no platform stands a chance against WordPress. Their repository boasts over 50,000 of both paid and free plugins. No matter what customization you're looking for, there's most likely a plugin for it. In fact, there are dozens of eCommerce plugins alone!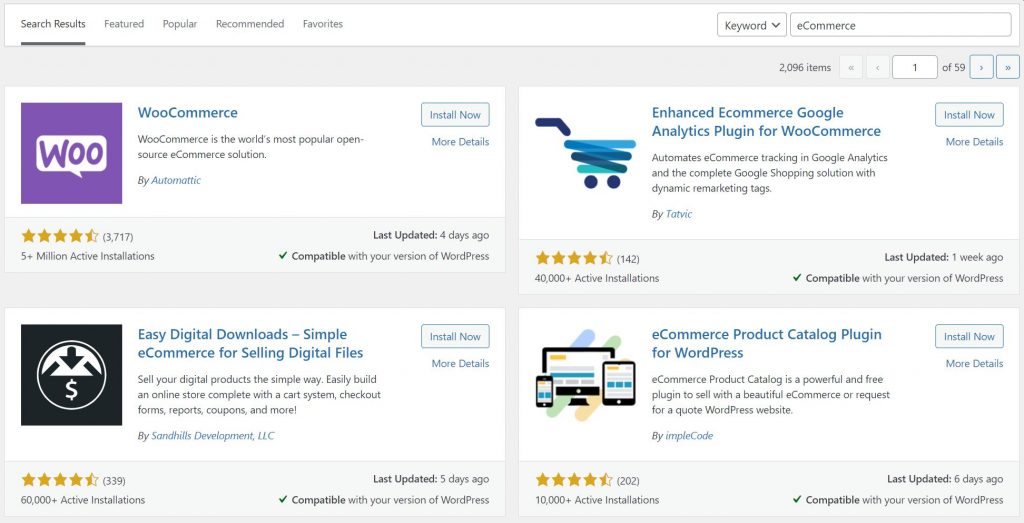 5. WordPress and Magento – Are They SEO-Friendly?
If you want Google to send you potential customers, you need a SEO-friendly store. One that can outrank your competitors for selected keywords.
Thankfully, both WordPress and Magento come with basic built-in SEO capabilities. And they both offer great SEO plugins/extensions. In the case of WordPress, the two most popular ones are Yoast and All in One SEO. A popular Magento alternative is Magento 2 SEO extension.
The main difference between the two platforms? It all lies in configuring settings that are not covered by any of those plugins. For example, because WordPress is more user-friendly, making the site SEO-friendly can be easier. Especially for a non-technical user.
6. WordPress vs Magento – What About Their Security?
Making your website secure is key if you're aiming to stay in the eCommerce business in the long run. After all, no customer wants to shop in a store that feels unsafe or that's been a victim of data leaks.
And while on the surface both platforms allow you to build a seemingly safe store, there are a few things you need to keep in mind.
First, both platforms are open-source. As a result, you have a bit more work compared to using a closed environment like Magento Commerce or WordPress.com. Of course, that doesn't mean you need to secure the store manually yourself! Here's the #1 thing you need to keep in mind.
For example, when you look at WordPress vs Magento, both platforms "consist of" of a core installation, as well as extra plugins and themes. And it's those themes and plugins that you need to be super careful about. Especially if they're all created by different developers - which is often the case. That's because, even if the core is updated regularly, themes and plugins may not be. This puts your online store at risk.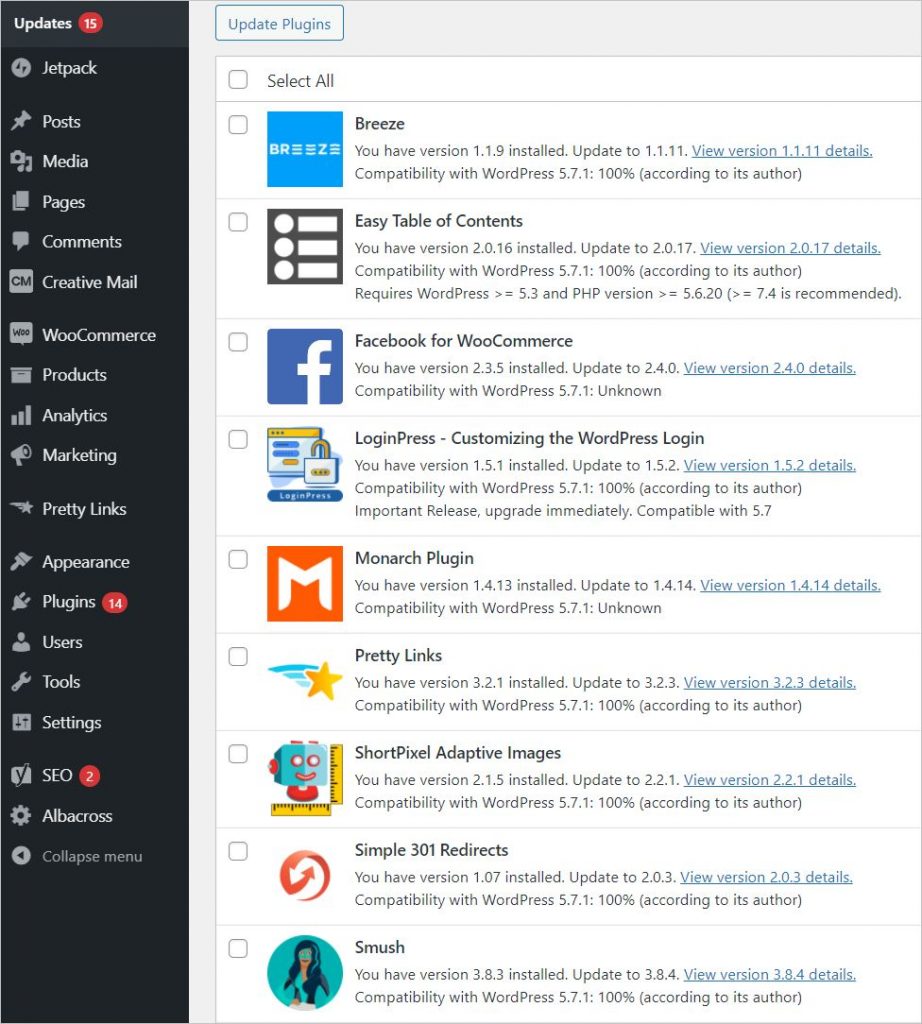 To keep your store secure, you want to ensure they are all are updated regularly. And, should they get abandoned – you'll need to find new ones, even if, on the surface, they were working fine. Then, of course, you need to update them on your website. Or, you can let WPBlazer do that for you.
If you do… there's really not many security differences between the two (WordPress vs Magento) platforms. At least not big enough that you should keep worrying about.
A great example of this is WordPress itself. As of today, the platform is the most popular CMS in the world. Because of that, WordPress-based websites are attacked more often than any other. At the same time, because it's so popular, it offers more security plugins than any platform out there! For example, WPBlazer's Malware Scanner helps protect your website from malware.
7. WordPress vs Magento – Ease of Use
There's a reason why WordPress is a global phenomenon. It's easy to use and does not require the average user to write a single line of code. Plus, it's both secure and reliable – as long as you host it on a good server and keep your site's files updated.
The beauty of WordPress is that you can install it with one click on any server. Then you can just add WooCommerce (or any other eCommerce plugin), and you're ready to go. Just add the products, some graphics, and you can start promoting your store. And, should you come across any issues when setting things up, there's a massive WordPress community ready to help you out.
Unfortunately, unlike WordPress, Magento doesn't feel that beginner-friendly at all. In fact, its steep learning curve is one of the reasons why many people never give the platform a chance.
And while, just like WordPress it boasts a great (but smaller) community, we can't really recommend it to someone who's not a developer. If you really want to get the most out of Magento – you'll probably need to hire one at some point. But, in some cases – that investment may be well worth it. We'll get to that in a second. First, let's look at the advantages and disadvantages of each platform.
WordPress – The Main Advantages:
Flexible and customizable. You can use it to build an eCommerce store, as well as a company website or a personal blog. And thanks to the wealth of themes and plugins – the sky really is the limit.
Beginner-Friendly. It's hard to find a platform that's easier to start with than WordPress. Once you get a server, you can get your website up and running in just a few clicks.
Affordable. Because there are so many of them, WordPress themes and plugins are usually more affordable than those for other platforms.
Huge Community. Lack a feature? Have questions? The sheer number of developers online makes it super easy to find someone who'll give you a hand.
Better Marketing Capabilities. At its core, WordPress is a blogging platform. Thanks to that, it can quickly turn into a powerful content marketing machine.
WordPress – The Main Drawbacks:
May Lack Certain Features. Because the platform isn't as eCommerce-oriented as Magento, you may not reach the desired level of customization. Or, you may have to pay an annual fee to access certain features. For example, adding subscription products to your store costs $199/year.
Not Suitable for Big Stores. WordPress works great if you're going to sell several or even a few hundred products. But, it's not a good choice for big retailers. One of the reasons for that are limited product and inventory management features. As a result, they can make things may become more complicated once you add too many products to the store. Not to mention that having so many products may significantly slow the store down.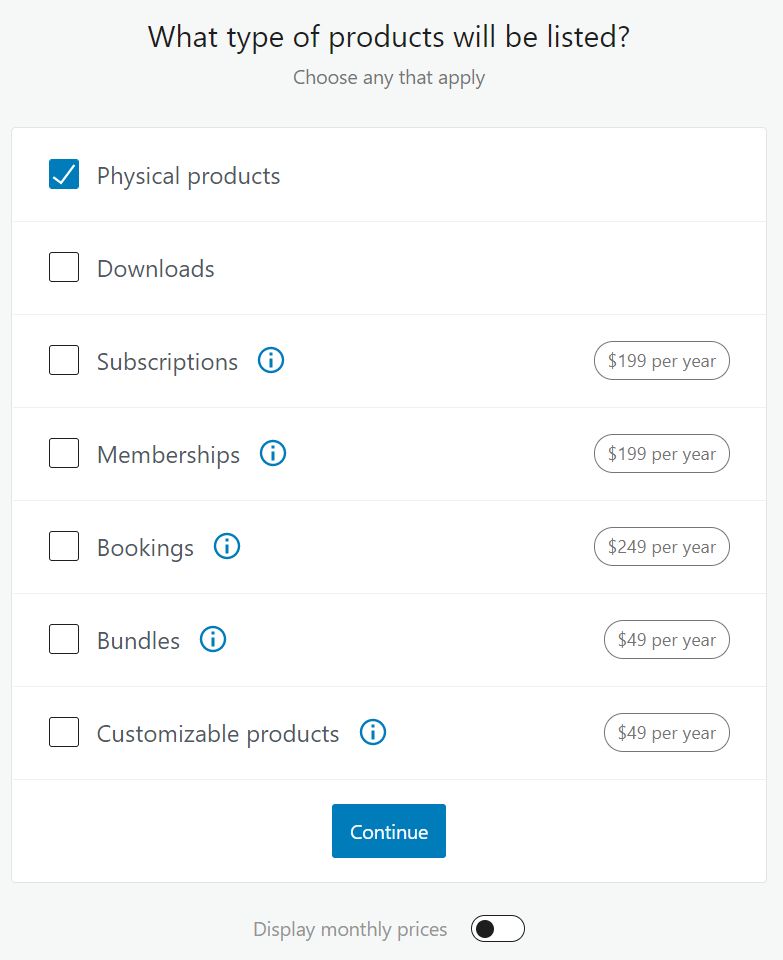 Magento – The Main Advantages
Analytics. The platform comes with basic, built-in eCommerce analytics. This helps ensure the data is trustworthy and reliable.
eCommerce-Focused. When you compare WordPress vs Magento, the latter is clearly built with eCommerce in mind. Its core features are designed specifically to help you drive more sales. For example, it's much easier to manage upsells, down-sells, pricing, or discounts.
Scalability. Because Magento was designed with big online stores in mind, it's easier to scale your Magento store.
Magento – The Main Drawbacks:
Requires Technical Skills. Unfortunately, it's not as easy to start with Magento as it is with WordPress. But, considering it's recommended for people looking to sell hundreds of products – you should probably look for a developer anyway.
Higher Server Requirements. The platform requires slightly more server resources to operate. Most developers recommend at least 4GB RAM for production websites. Of course, that number may grow, depending on your traffic and the size of your store.
8. WordPress vs Magento – Which to Pick in 2021?
As you can see, WordPress is a great choice for anyone looking to start a small online store in 2021. Whether they want to sell physical or digital products, or even just to test things out. The platform is easy to set up and most simple customization can be done by anyone.
At the same time, Magento is a better choice for entrepreneurs who want to build a big store (500+ products). Of course, if you're looking to sell that many product, we assume you have the budget to develop a Magento store. That's because, even though Magento Open Source is free, it's not as beginner-friendly as WordPress. Most of the time, hiring a developer is a must.
Of course, there's also a third way. Some developers, when asked to compare WordPress vs Magento, recommend to... combine both platforms!
In theory, doing this would allow you to get the most out of both worlds. For example, if content marketing is an important part of your strategy, you could use WordPress to make your store SEO-friendly. Then, you could deploy Magento on the backend and enjoy all it has to offer management and sales-wise.
But, the problem is, such a setup is quite complicated and not easy to maintain. That's why, unless you have a big store with an inventory of 500+ products, we recommend WordPress. Even if just for the fact that Magento on its own may be a bit too complex if you're starting out.
At the same time, if you choose to go with WordPress, deploying your site, won't take more than just a few minutes. In fact, by using WPBlazer, you can deploy, secure and manage your WordPress installation from one dashboard. Ready to get started? Click here to find out more and learn how WP Blazer can help you build a secure and easy-to-manage online store.