When you're building an online business, no one can promise that you'll succeed. But, there are some things you can do to increase your chance of success. One of such things is building it on solid foundations. And one of the things to achieve that is to build your website on the right platform. That's where Shopify WordPress Integration comes in. Why?
For example, if you're into e-commerce, Shopify is arguably the best platform you can choose. And if you need a blog or a business website… there's a reason why WordPress is the most popular CMS. But… what if you could get the best out of both worlds? Luckily, combining both platforms is as easy as 1-2-3.
Table of Contents:
1. Why You Need a Shopify WordPress Integration?
2. The Strengths of Shopify
    Great Reporting
    Convenient Product Management
    Secure Storing Customer Profiles
    Ease of Taking Payments
    The $9/month Shopify WordPress Integration
    24/7 Support
    Mobile POS and Hardware Accessories
    It's Built with Ecommerce in Mind
3. The Advantages of WordPress over Shopify
    You Stay in Control
    Superior Customization Possibilities
    More SEO Options
    Easier Website and Content Management
4. Shopify WordPress Integration Step by Step
5. Configuring Shopify Shipping and Payments
6. Set Up Your Shopify WordPress Integration Today
1. Why You Need a Shopify WordPress Integration?
Nothing is stopping you from building an e-commerce platform on WordPress alone. Similarly, you don't need WordPress to add a blog to your Shopify store. This means that, at least in theory, there's no reason to combine the two. But the devil is in the detail.
Sure, Shopify allows you to create a blog. But its blogging or website customization options are inferior to those of WordPress. At the same time, WordPress lacks some of the e-commerce settings offered by Shopify.
A Shopify WordPress Integration, allows you to enjoy the strengths of each platform. At the same time, it helps you avoid most of their weaknesses. All this helps you create solid business foundations, making you more competitive. And the list of strengths is quite long for each of the platforms:
2. The Strengths of Shopify
Let's start with looking at all the reasons why you should consider adding Shopify to the mix. Most of these can be done in WordPress. But Shopify does each in either a faster, more secure, or more convenient way.
Great Reporting
Keeping an eye on your inventory and finances is one of the keys to running a successful online store. A Shopify WordPress integration gives you access to Shopify's eCommerce reports.
These allow you to stay on top of everything that's happening in your business. Choose between acquisition, behavior, marketing, and over a dozen of other reports!
Convenient Product Management
No matter which Shopify package you choose, you can access their convenient analytics. Add and update products, watch your inventory, and manage customer reviews in a few clicks.
You can even set a subscription business, sell gift cards or change the whole product line. You can do all of it inside one, easy-to-use dashboard.
Secure Storing Customer Profiles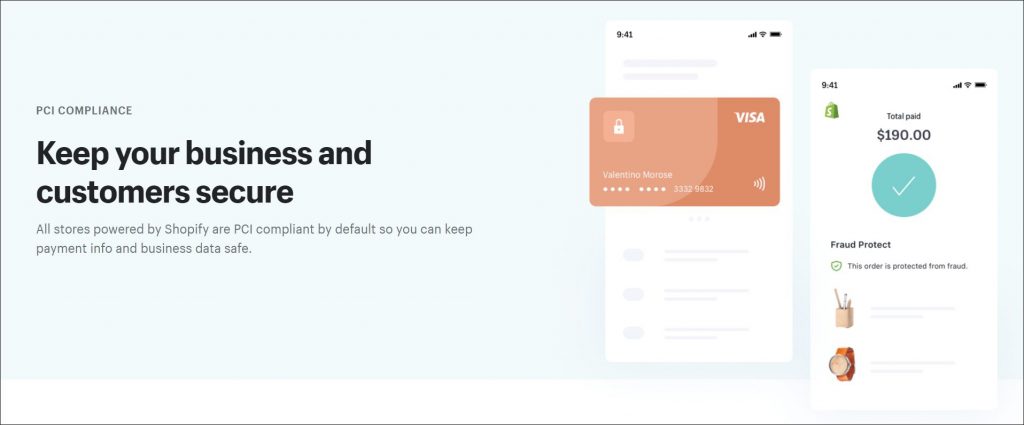 As a merchant, Shopify is certified Level 1 PCI DSS compliant. This is the highest and most stringent level of data and payment security levels. For some, data security is the biggest benefit of a Shopify WordPress Integration. With a self-hosted WordPress website, you're responsible for securing your customer data. However, if you integrate WordPress with Shopify, all that work is handled over to Shopify.
This means that not only you don't have to deal with the data – all the risk is transferred over to Shopify too. The platform creates, stores, and secures customer profiles. Plus, the company takes at least partial responsibility for GDPR compliance. This leaves you with more time to focus on what matters the most – growing your online business.
Ease of Taking Payments
Without plugins, WordPress doesn't give you any e-commerce settings. Compared to that, Shopify is a real deal, as they even offer their own payment system. This makes collecting credit card payments a breeze.
On top of that, the platform offers dozens of payment gateway integrations. These include PayPal, Stripe, and even certain cryptocurrencies such as Bitcoin. Add to that mPoS (we discuss that later in the article) and there's barely a way your customers can't pay you.
The $9/month Shopify WordPress Integration
One could argue that this point is not a real "strength." However, we believe it's a good reason to consider mixing Shopify with WordPress. The standard Shopify plans start at $29/mo. But you have a WordPress website, you can get started with their $9/month lite plan.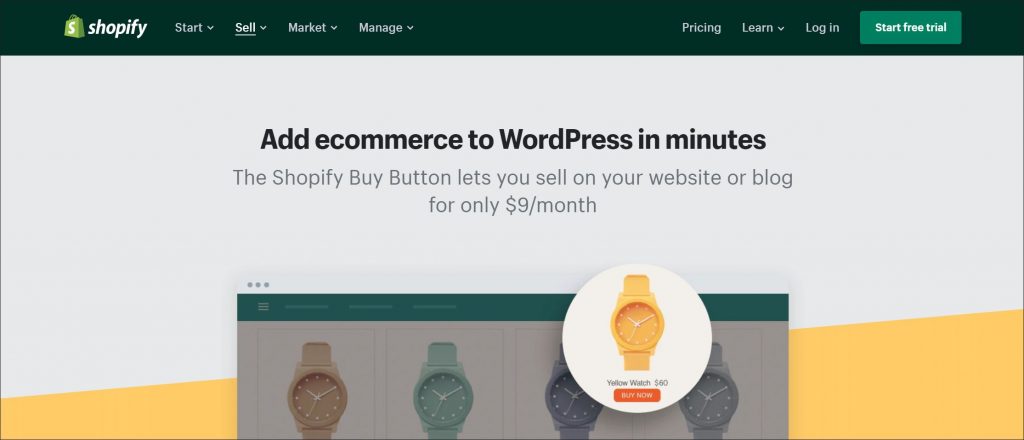 Unlike the other plans, Shopify Lite doesn't allow you to create a store (all you get is a buy button). Still, it gives you access to Shopify's key features. These include basic analytics, reporting, and product and customer management. All this is more than enough to get your store up and running in a secure Shopify e-commerce environment.
24/7 Support
No matter how careful you are, there's always something that can go wrong. And the faster you fix it, the sooner your customers can start buying your products and services. The problem with WordPress is that it doesn't offer any support. Unless you choose WordPress managed hosting or use premium e-commerce plugins. But, even then, that support is limited to anything WordPress-related.
When you use a Shopify WordPress Integration to sell your products, you get access to their 24/7 support. This means that whenever you face any issues with the Shopify side of your business, they've got you covered.
Mobile POS and Hardware Accessories

This feature will not be beneficial for everyone. But, if you're running a physical online store, it's a great way of processing in-person sales. With Shopify's PoS (point-of-sale), you can take payments in-store or during events.
That way, you don't have to worry about payments as they all get processed by Shopify. But, not only that. Your customer and product databases get updated accordingly. Of course, Shopify's mPOS can be utilized even if you don't have a physical store. For example, it's an excellent choice for those selling their products during craft fairs, farmer's markets, or industry events. Of course, there are several mobile Point of Sale solutions in the market. But, Shopify's is the only one that's so easy to integrate with a web-based sales system and inventory.
It's Built with Ecommerce in Mind
Unlike WordPress, Shopify is built with e-commerce in mind. It's not just an e-commerce plugin. It's a complete e-commerce solution that has a billion-dollar company behind it. With a Shopify WordPress integration, you get to access all of its features. Plus, you get the benefit of expertise, convenience and, security as a bonus.
Of course, the above are not the only reasons why you should add Shopify to your e-commerce mix. Still, there are things that other platforms can do better. That's why to get the most out of your online store, it's a good idea to mix things up. Now, let's look at why you should consider adding WordPress to that mix.
3. The Advantages of WordPress over Shopify
As we've mentioned earlier, WordPress is, arguably, the best CMS out there. It's no surprise then that it beats Shopify when it comes to the content management part.  
You Stay in Control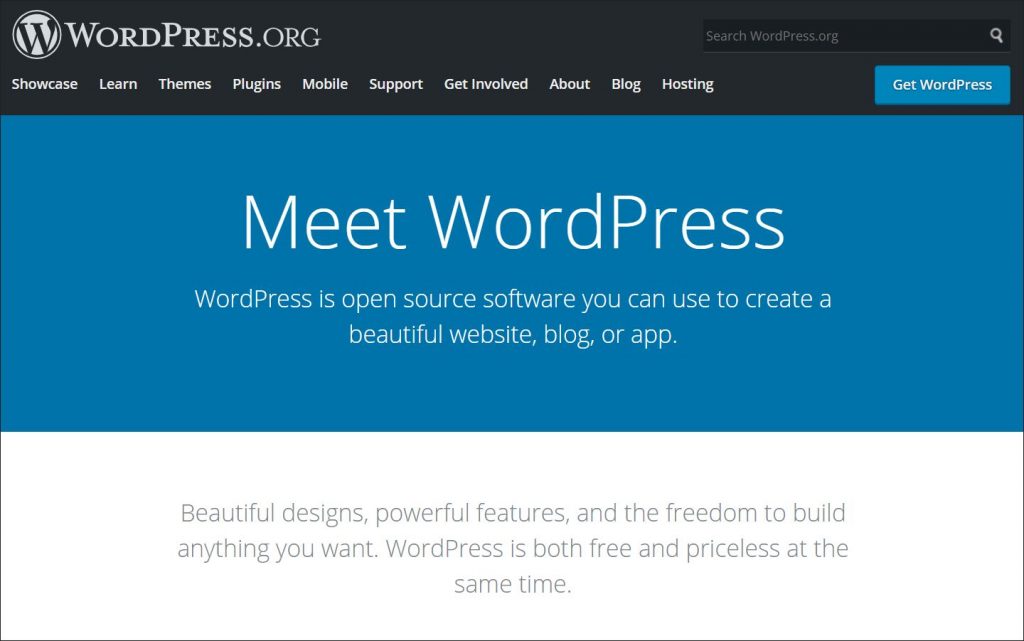 First, WordPress (obviously, we're talking about WordPress.org) is a self-hosted solution. This means that you keep more control than you do with Shopify. You get to choose the server and can control the files of your website. You can also migrate the website to another hosting provider. Because Shopify is a closed environment, you don't get to choose the host. You don't even really "own" the files of your website, as you don't get to access the server-side of it.
The drawback of this is that you're responsible for ensuring that the hosting you choose is secure. Of course, there are hosting companies out there that can do the security work for you. For example, some companies offer WordPress managed hosting plans. Such plans offer a secure, hands-off hosting environment for your WordPress-based business. But hosting your website on a managed server is not the only thing you can do to secure your business.
Thanks to all the WordPress security plugins, there's plenty of things you can add to your website to secure it. A great example of such a plugin is WP Blazer's WordPress Malware Scanner. It's designed to protect your site against malicious code, ransomware, or worms. All of which pose a significant threat to any WordPress website.
Superior Customization Possibilities
If there was one reason why you should choose WP over Shopify (or any other platform), it'd be more of everything. The platform gives you access to more themes and plugins than any other in the market. There are literally hundreds of themes and thousands of plugins out there. And more plugins equals more features and possibilities to customize your site.
In fact, there's barely anything that you cannot do with the help of a WordPress plugin. Collecting emails, managing discounts, CTAs, taking care of your SEO… you name it. All that gives you a lot more freedom when it comes to customizing and optimizing your website. It's even possible to create a full-blown e-commerce site. And, of course, to add a Shopify WordPress integration!
More SEO Options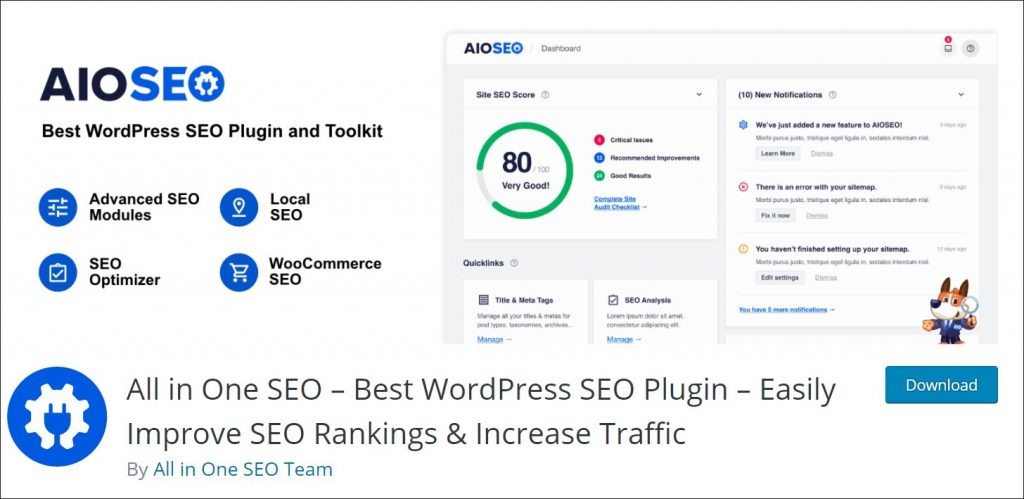 SEO is the foundation of the marketing strategy of many online businesses. After all, ranking high in SERPS can fuel your website with a constant flow of traffic. And traffic equals customers. The problem with SEO is that it's not as easy as it sounds. There are dozens of variables that can impact your rankings. And you've got to take all of them into account if you want to rank high.
This means that the more SEO settings you can tweak, the higher the chance you'll reach the top. Of course, assuming that you set everything right! Thanks to plugins like All in One SEO or Yoast SEO, you can not only access a variety of SEO settings.
Many of them allow you to automate certain SEO improvements, such as canonical URLs or meta tags. Of course, that doesn't mean Shopify doesn't offer some of these features too. Still, it's hard to beat the depth of SEO settings that WordPress can offer.
Easier Website and Content Management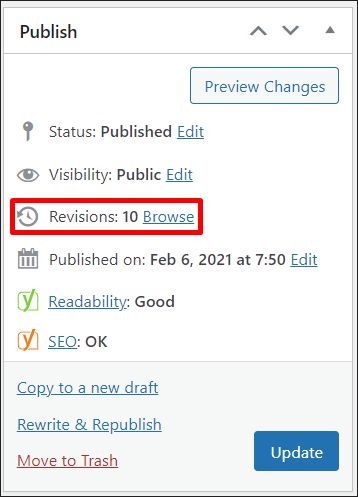 While Shopify beats WordPress in product or customer management, content is a whole different story. For example, with WordPress, you're not restricted to just posts and categories. The platform allows you to go beyond that and create custom content categories.
Moreover, it offers content archiving and versioning out-of-the-box. This means that you can easily retrace (and undo) any changes made to the content. While Shopify offers the latter as an option too, it's a third-party solution that comes at an extra cost.
Lastly, the WordPress blogging experience is widely believed to be the best in the market. It's more of a subjective opinion, but it's shared by thousands of WordPress users around the world. If the content is important to you, this alone is a good reason to invest in a Shopify WordPress Integration.
Of course, there's plenty more that we could add here. But, since you're getting the most out of combining the two, let's jump right into integrating them!
4. Shopify WordPress Integration Step by Step
Now, let's take a look at how to actually get the best of both worlds and integrate the two platforms. The first step is to head to Shopify's website and sign up for their trial. To do that, click either of the Start free trial buttons: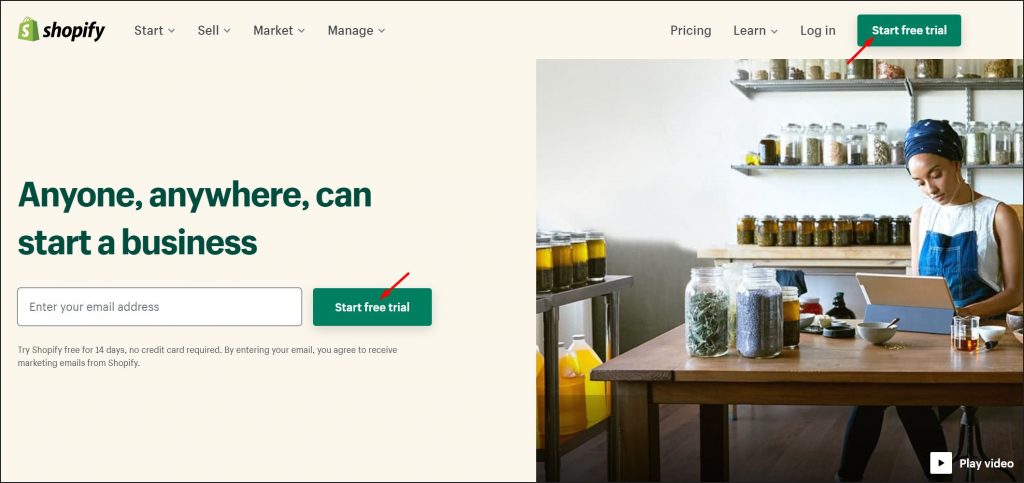 In the window that pops up, enter your email address, password, and the desired store name. Then click Create your store: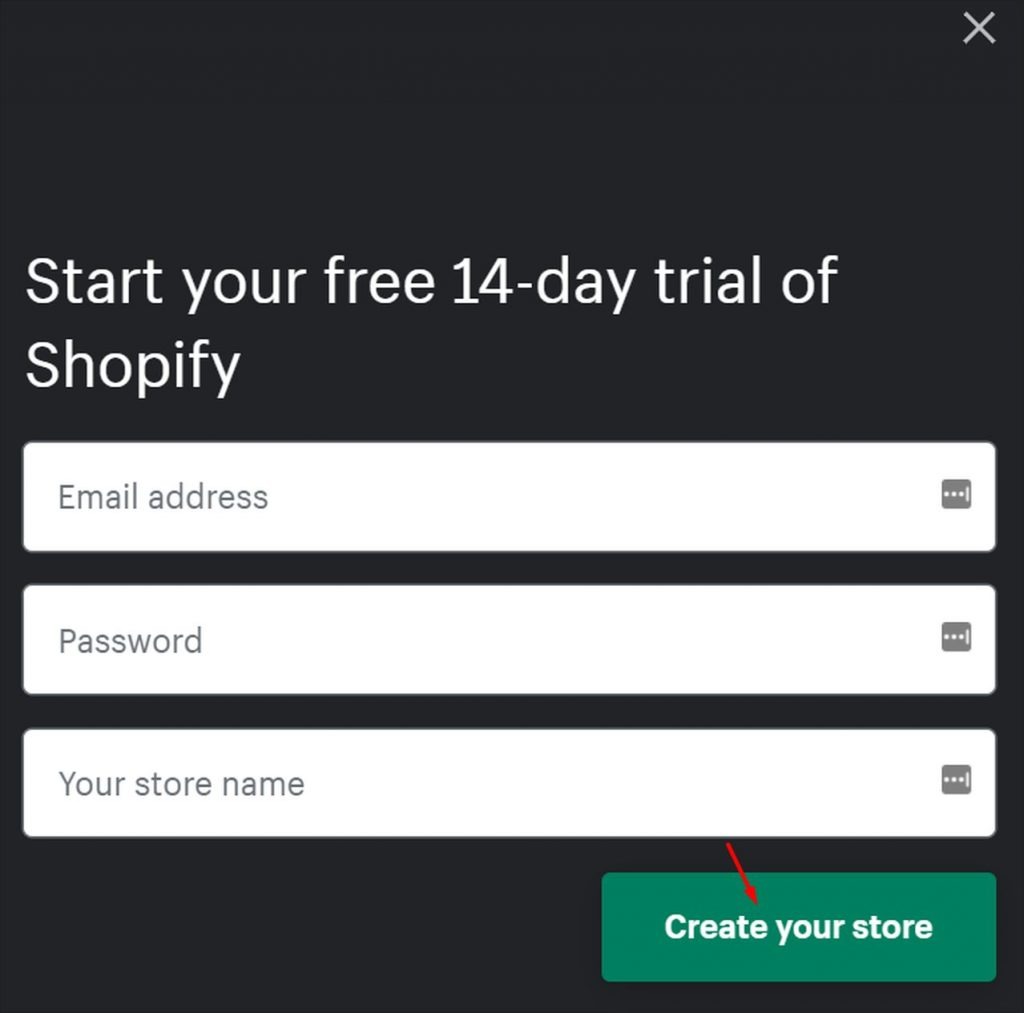 In the next step, you'll be asked to fill out some information about yourself. If you're testing the waters, feel free to pick the 'I'm just playing around' option in the first field.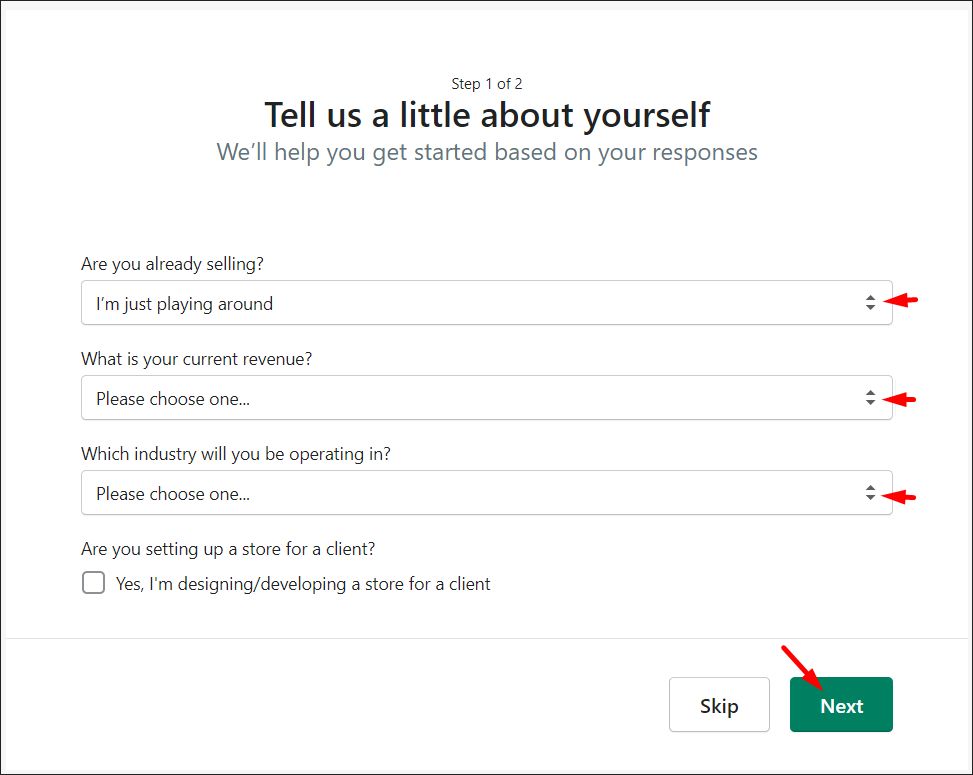 Next, you'll be asked about your address. This will be used as the official address of your online store. It can also be used to configure local pickup or local delivery range.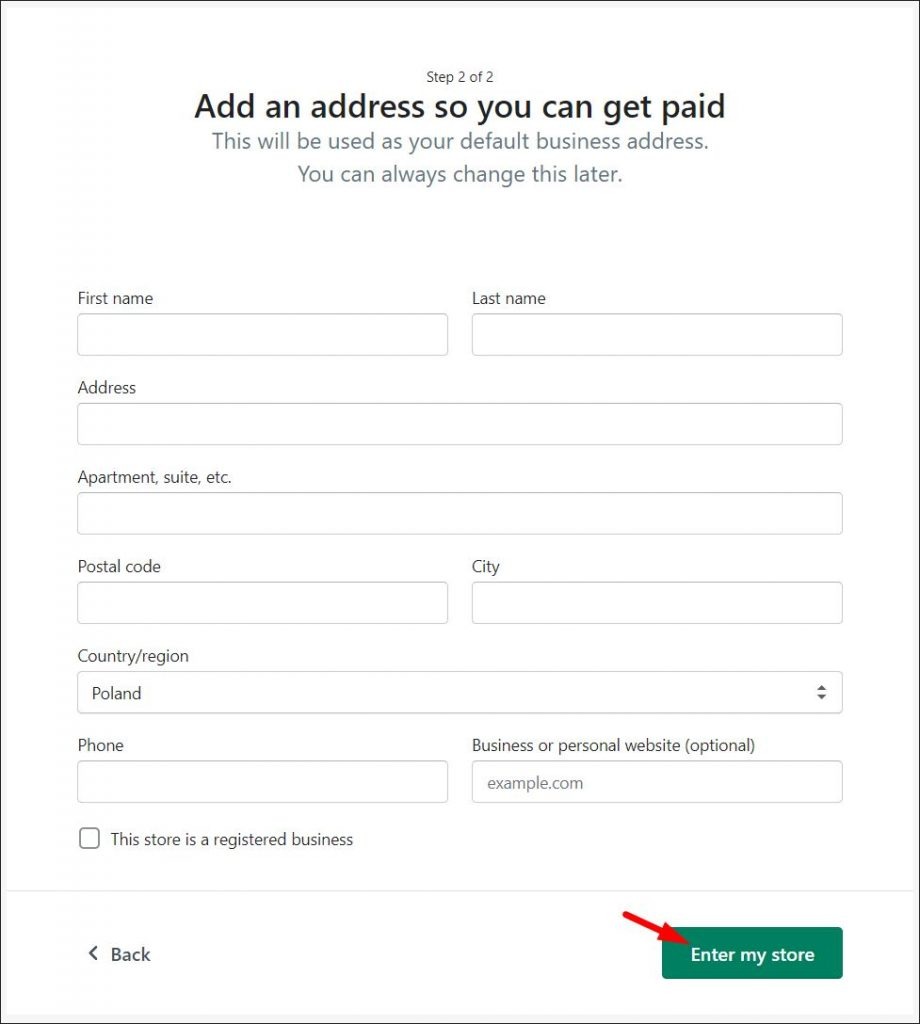 Once you enter your store, you'll be able to configure a wealth of settings. Let's start by setting up your first product. To do that, head over to "all products:"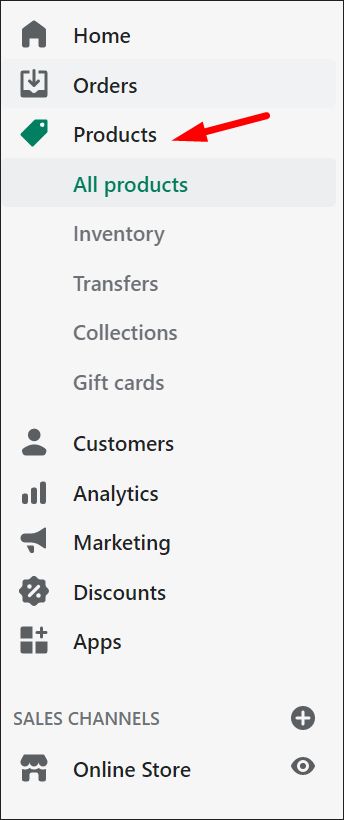 On the page that appears, click Add product: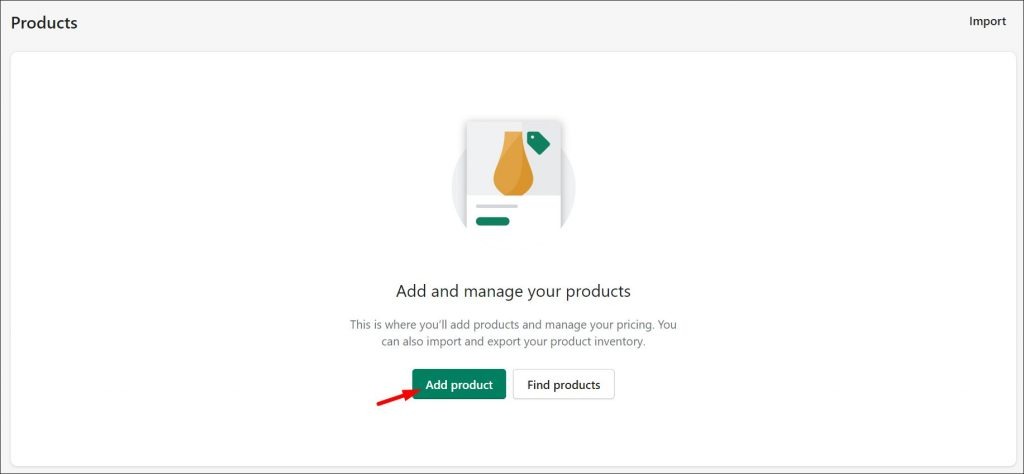 You'll be taken to a page where you can edit all Shopify product options. You can add product title, description, edit the vendor, product type, and add images. You can also set the price, shipping rates, and add the product to collections.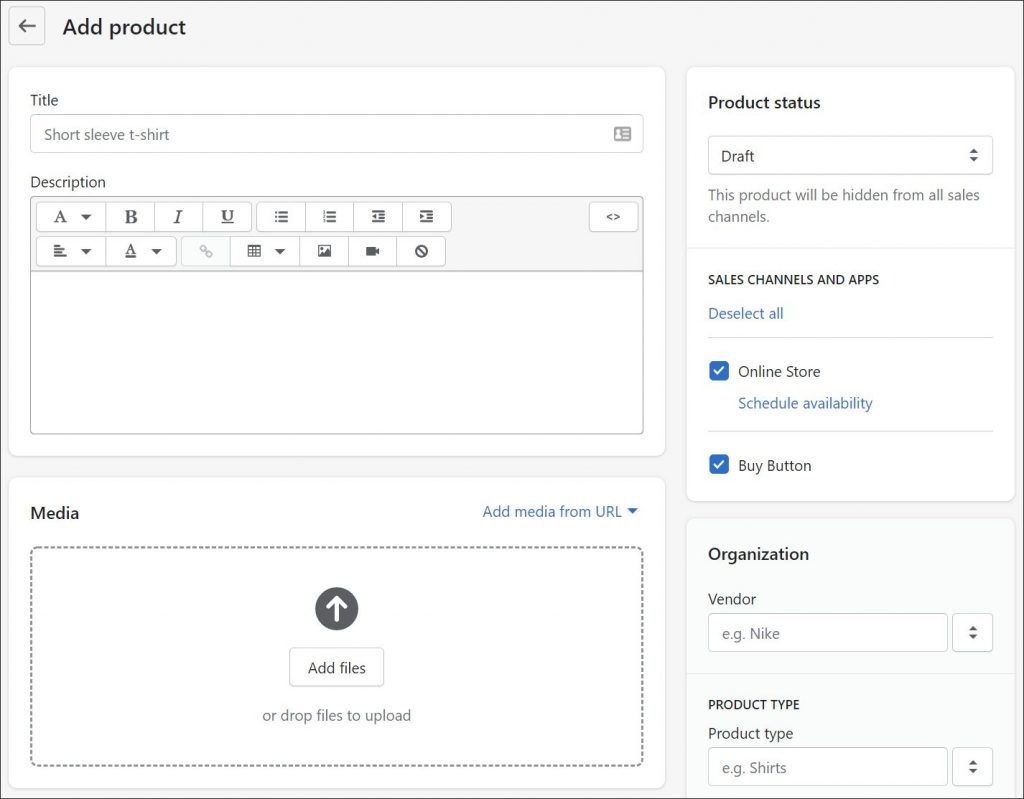 Once you set up the product, you're ready to set up the buy button. To do that, click Settings in the bottom-left corner of the page. Then choose Sales Channels in the settings menu: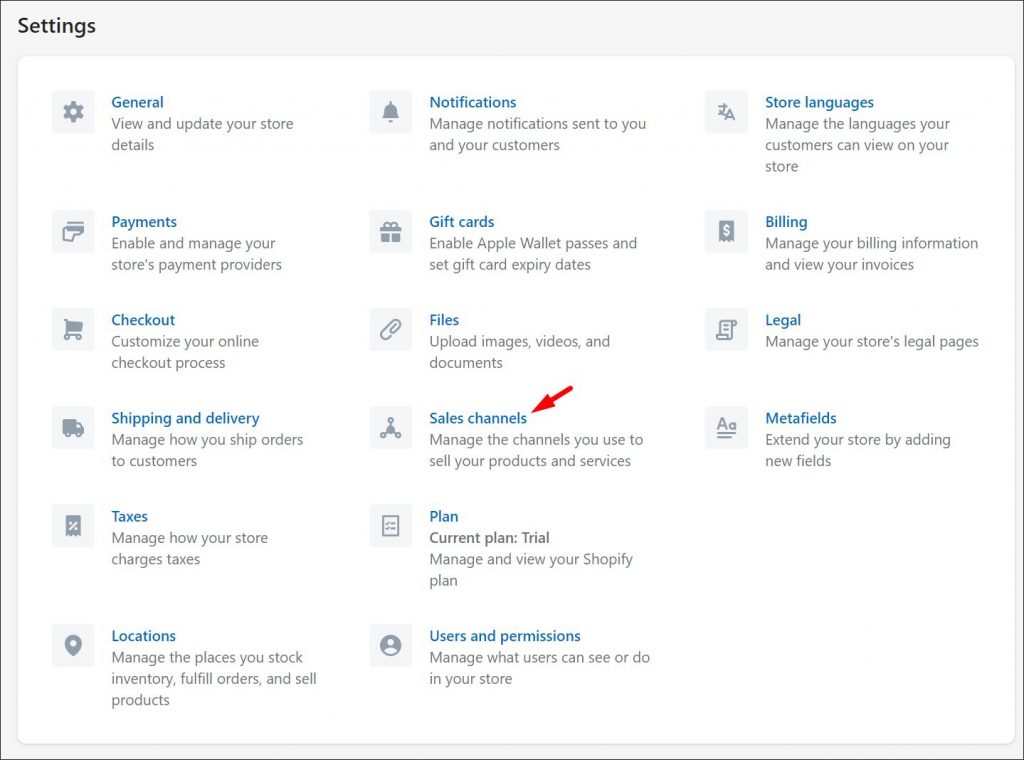 Next, click the green Add sales channel button:

You'll see a list of sales channels you can choose from. Because we're setting a Shopify WordPress Integration, we need to choose Buy Button: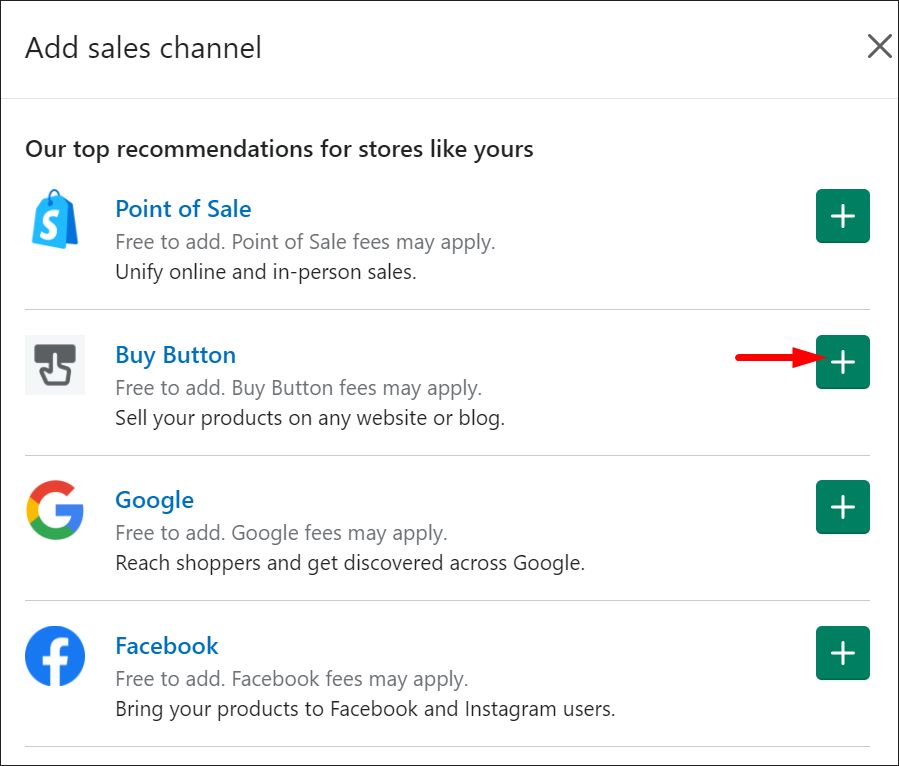 You'll be then asked whether you want to set the button for a single product or an entire collection. In our example, we'll use the first option.

Next, we'll choose the product that we've just created. Once you choose your product, hit Select to go to the next step: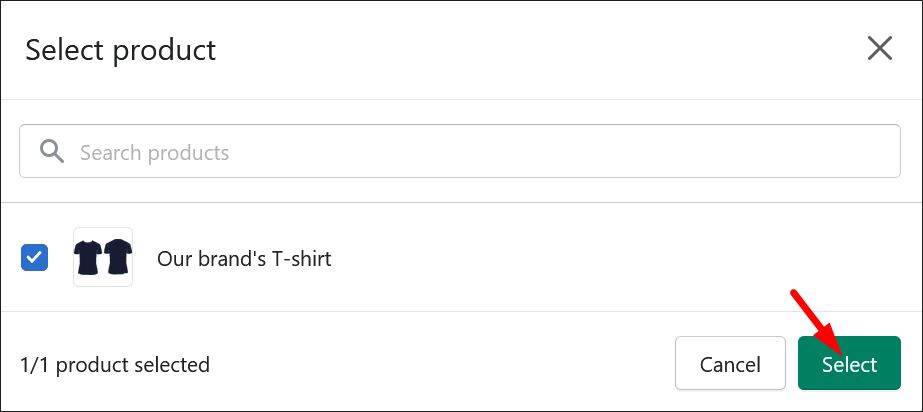 Now, you'll be asked to customize the buy button. You can change its style, layout, colors, and what happens when someone clicks the button. In the advanced settings, you can choose if the button should open a new window or open the page in the same tab.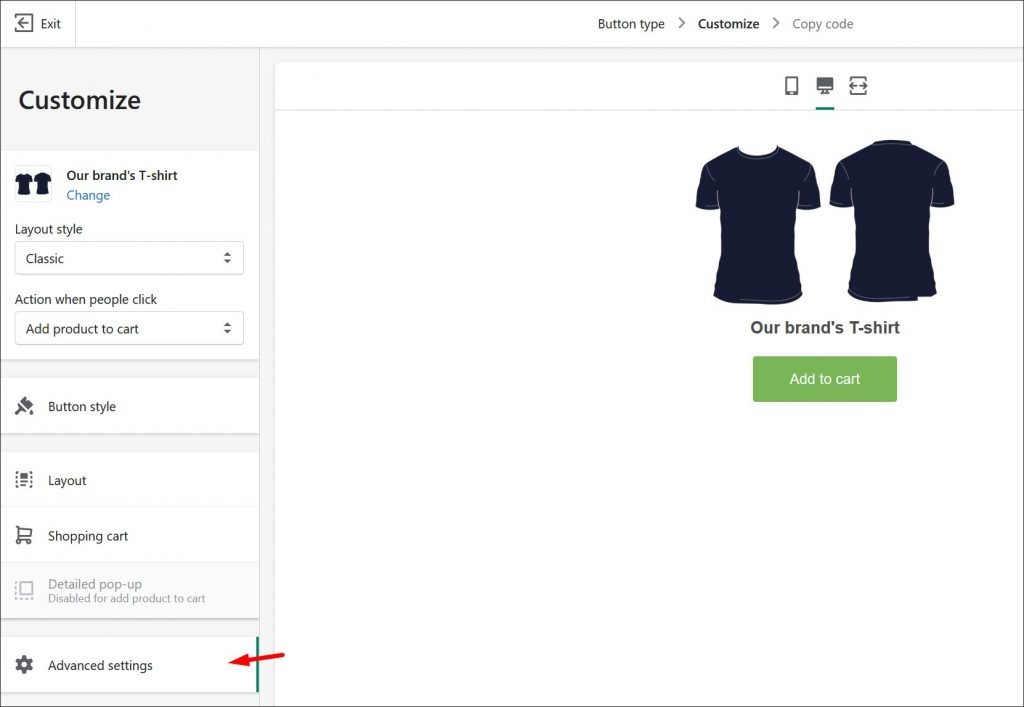 Once you're done configuring the button, it's time to finish setting things up. In the last step, you'll be given the button's code that you need to copy to your WordPress website to make the product live.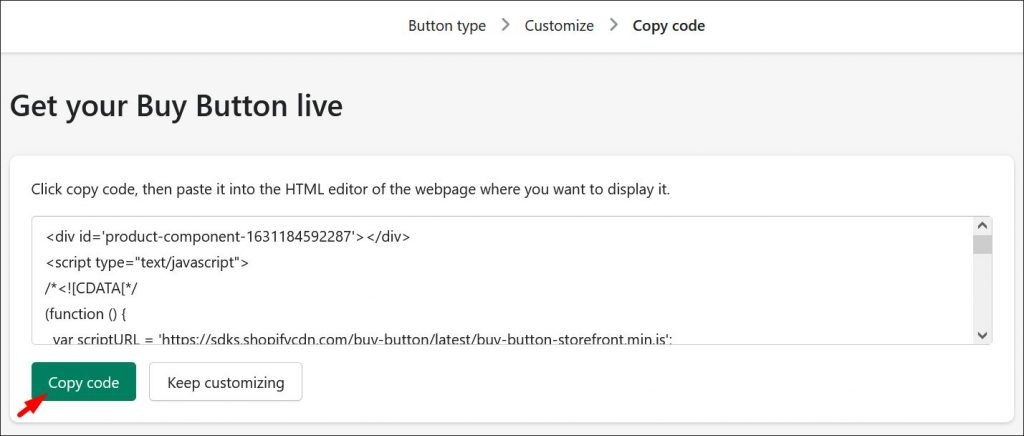 You can choose to copy the code wherever you want the product to appear – be it on a page, a post, or in a widget. This is how our sample product looks like when added to a WordPress page: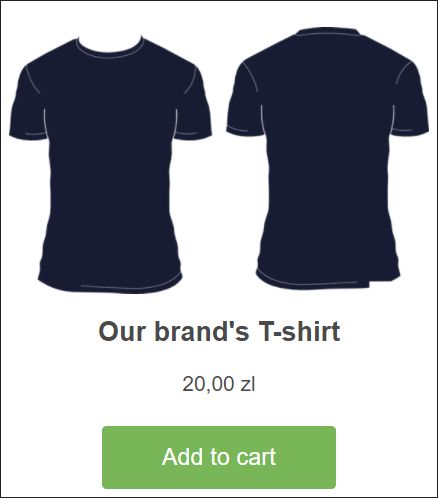 Need to add more products? Simply repeat the process. For convenience, don't forget to take advantage of Shopify's collections feature. Once you add the products, you're almost ready to start selling. But, there are still a few things that you need to configure.
5. Configuring Other Details of a Shopify WordPress Integration
The next step to make your Shopify WordPress Integration fully active is to set payment options. To do that, head over to Settings and select Payments: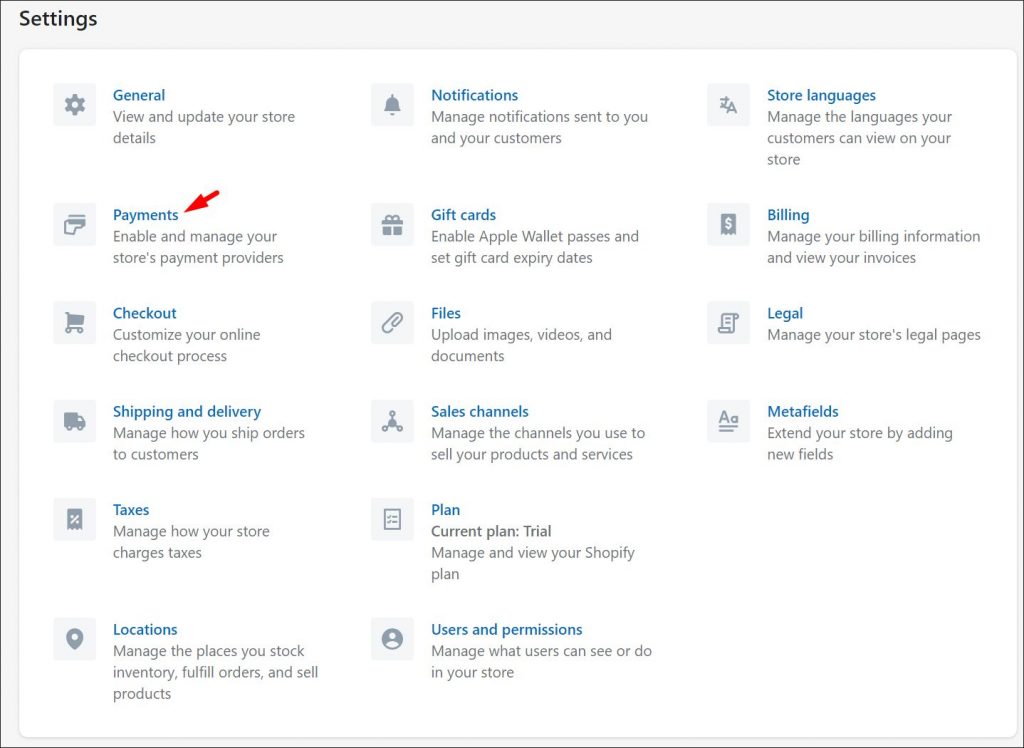 You can choose between PayPal, third-party providers, Shopify Payments, and even manual payments. If your Shopify email belongs to a PayPal account, Shopify will configure PayPal Express Checkout out of the box. Of course, you can always change your payment method.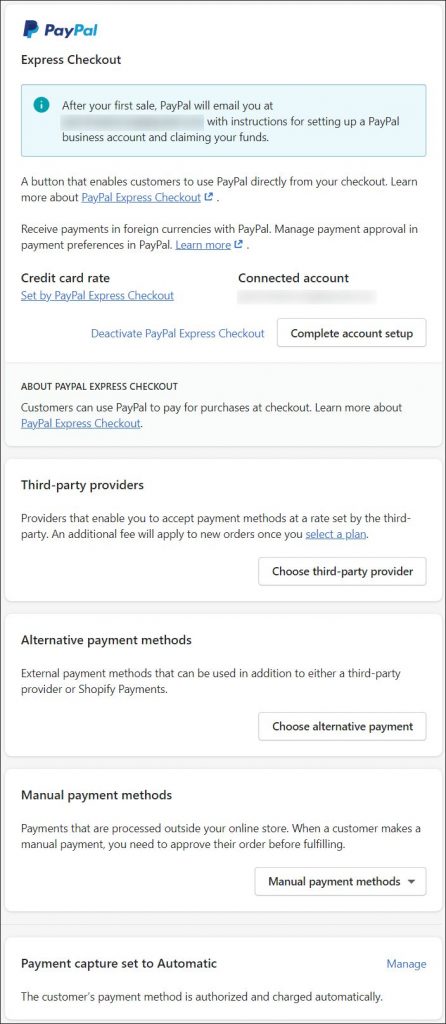 After you deal with "the payments part of things," head back to the settings menu. There, select Shipping and delivery – it's time to configure your shipping rates.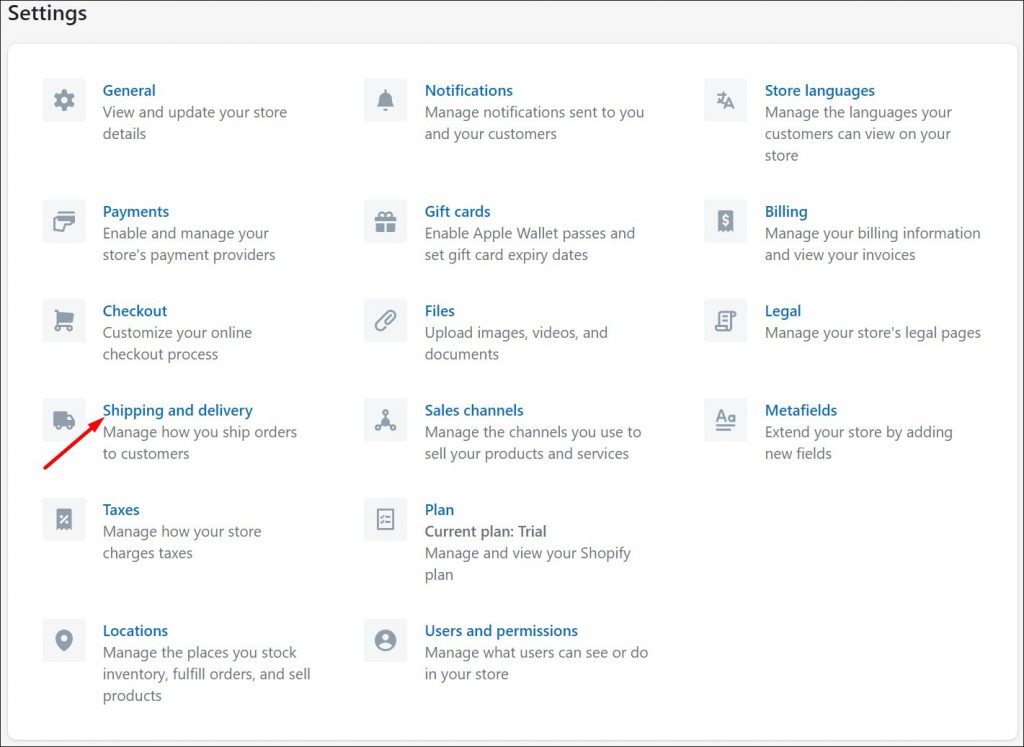 In the menu, you can choose between both local and international rates. Interestingly, you don't have to rely on sending the packages alone. For example, you can also configure a local delivery range and local pickup settings.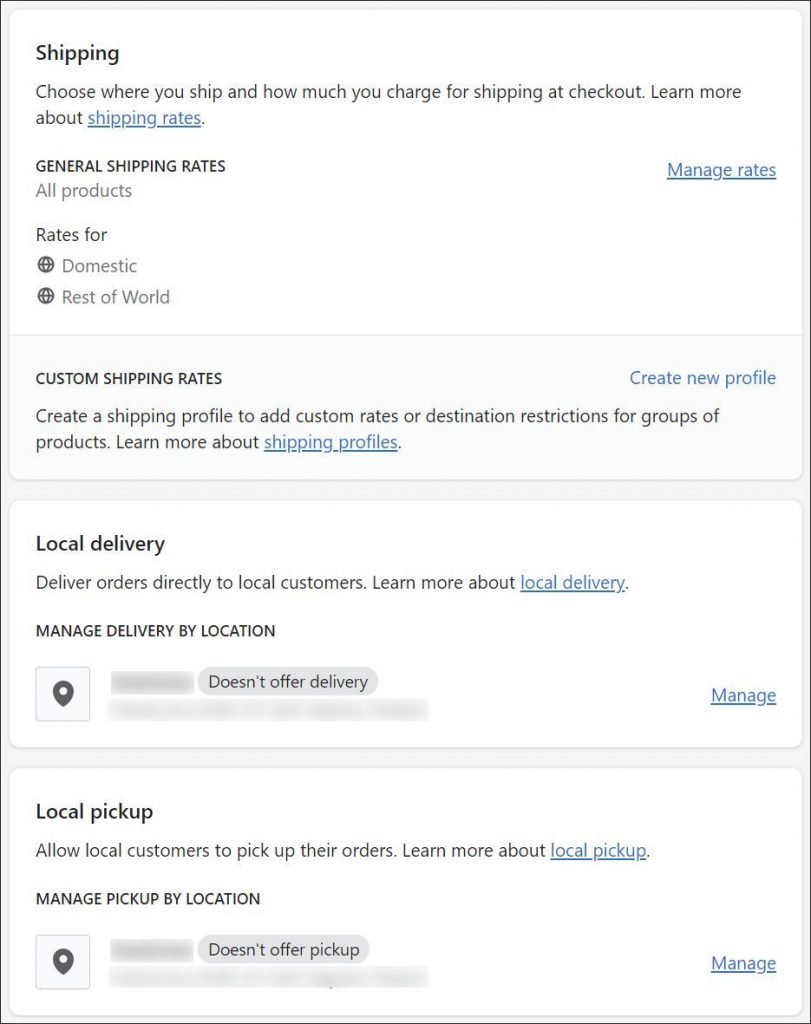 Next, head to the settings menu once again and hit Taxes. As a seller, it's your responsibility to collect these. Tax settings will depend on your location and the market that you're selling in. They'll differ for those in the US and those in the European Union. Make sure that you set them up correctly. If you don't, you risk having to pay sales tax out of your own pocket!
Lastly, if you look at the settings menu, there's plenty more that you could configure. What we've discussed so far is almost enough to get your Shopify WordPress Integration live. Almost – because there's just one more small step.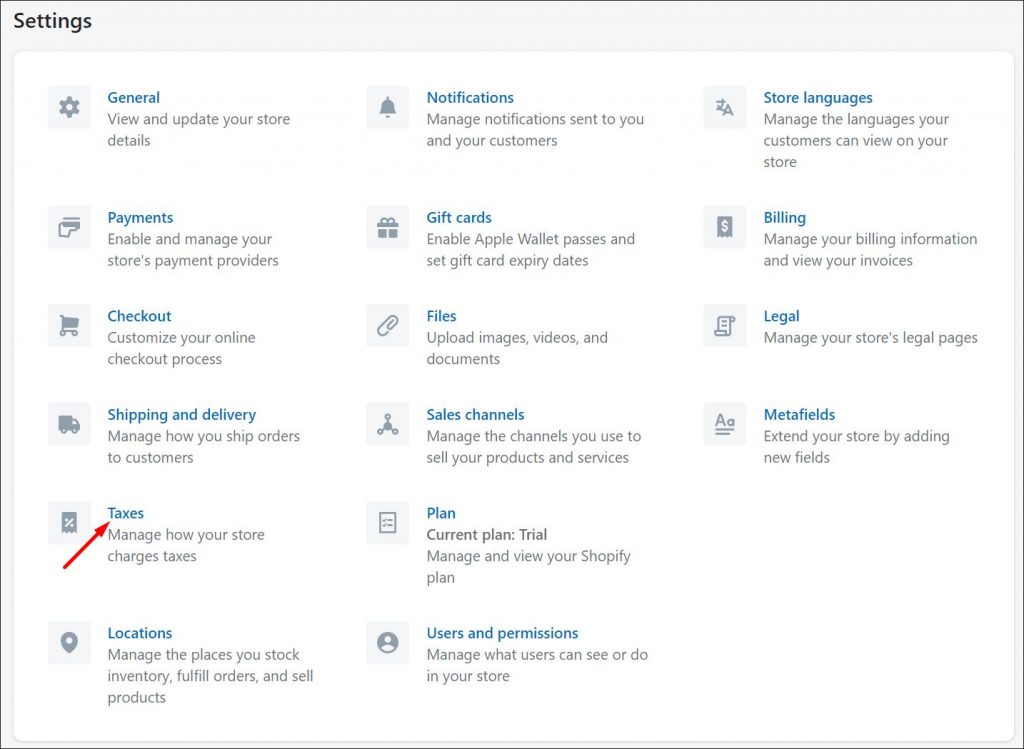 If you've just signed up for Shopify and are using a trial account, you will not be able to generate sales. To do that, you need to choose a Shopify plan. The great thing about it is that you don't have to pay for it until your trial expires. To see available plans, hit the Select a plan button. It should appear either somewhere in the menu or at the bottom of the page:

Next, review the available plans. There are three core plans priced at $29/month, $79/month, and $299/month. However, since we're using a Shopify WordPress Integration, there's one more plan we can take advantage of. But it's not listed here.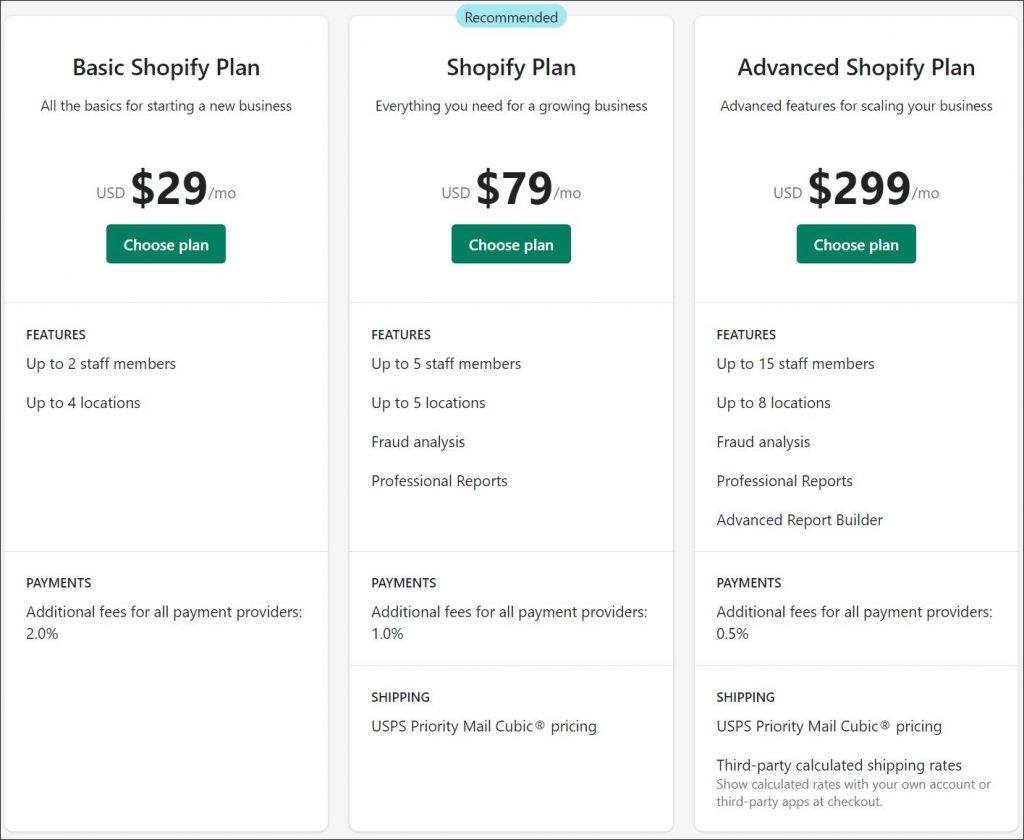 To find it, head over to the WordPress Shopify Lite plan page. The plan costs just $9/month for access to basic Shopify features. And while it doesn't allow you to build a store, it gives you access to Shopify Buy Button and basic analytics.

Keep in mind that just because you don't need an online store, it doesn't mean you can't choose one of the higher-tier plans. The reason is, they offer a lot more beyond the ability to set up the store. Advanced product and customer management, and analytics are just a few of the things you can get. Of course, if you're on a tight budget, you're free to sign up for the $9/month Shopify plan.
6. Set Up Your Shopify WordPress Integration Today            
Now that you know how (and why) to add Shopify to your WordPress, it's time for action. Go to Shopify.com, open the store, and start selling products using two powerful platforms. Let Shopify worry about customer data and payments – while you focus on growing your store.
Of course, don't forget to secure your WordPress assets too. The first step? Get WP Blazer's WordPress Malware Scanner. Head over to this page to learn more about it and other WP Blazer's features, and grab a 14-day free trial now!