Every day, dozens of entrepreneurs flock to the Internet to start an online business. Choosing an e-commerce platform is one of the most important decisions they'll make. In this Shopify vs WordPress comparison, we look at the two most popular players.
Picking the right foundation for your store is key to getting the most out of the e-commerce pie. And the numbers show, there's plenty to share – the pie keeps getting bigger.
In 2020 alone, online commerce sales grew by 27.6%, up to $4.280 trillion. In the US, that growth looked even better – with a 44% year-on-year increase in revenue. 
And, while the growth was accelerated by the 2020 pandemic, there's still plenty room for growth. Especially if you start now.
Why Choosing the Right CMS for Your Online Business Is Critical?
If you think about a brick-and-mortar store, "moving" it to a different location is expensive. When it comes to online stores, the situation is not much different. Once you pick a platform, changing it is very hard and expensive.
When it comes to Shopify vs WordPress, the choice will impact both how you build, and how you grow the store.
The cost, flexibility, SEO rankings, and even day-to-day management will be completely different. 
In fact, the differences can even impact your margins or the scalability of your business! But, we'll get to that later.
Table of Contents
Let's take a quick look at the basics of each platform.
Shopify is a platform created for people interested in selling physical products online. It's a go-to place for anyone who wants to start an e-commerce store – no matter their coding skills. 

In fact, the core idea of Shopify is that you can build an online store without the need to know how to code. As a result, you can focus on doing what matters the most to any online business owner... getting more sales and growing your store, that is!
This simplicity is one of the reasons behind Shopify's popularity. According to their Q4 results, the company had an 8.6% share of US retail e-commerce, second only to Amazon (39% share). 
And what about WordPress?
When you compare Shopify vs WordPress comparison, the scope of the latter goes well beyond online commerce.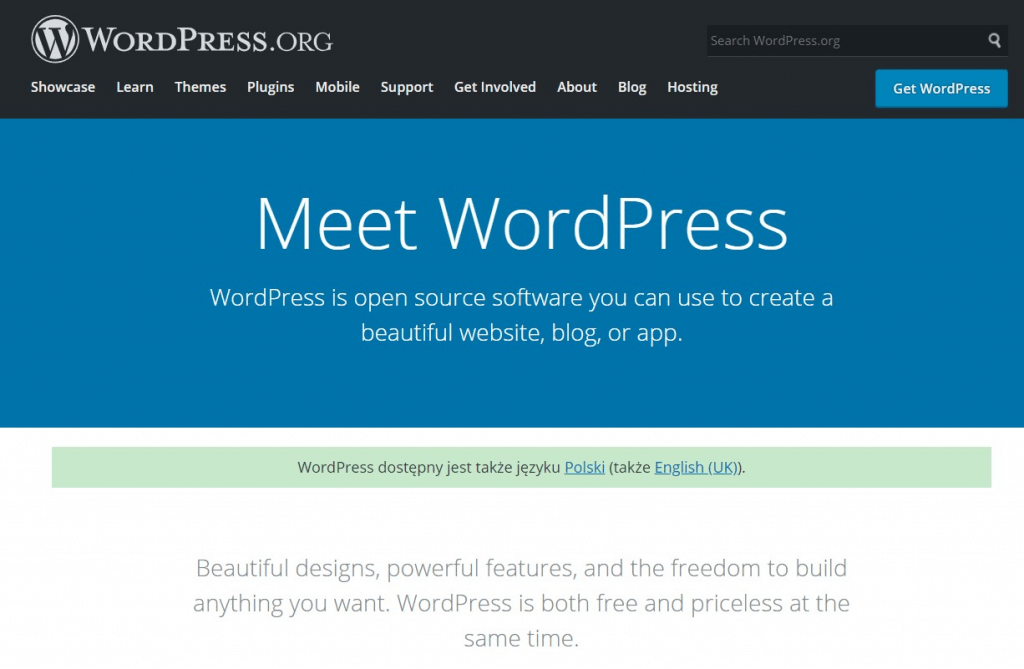 Initially, WordPress was designed as a platform for bloggers. Today, it's one of the leading content management systems. It's wealth of features has made it popular among content creators, e-commerce entrepreneurs, and business owners alike. 
This means that whether you want to build a store, create a blog, or a corporate website, WordPress has it all! It's no surprise then that WordPress is powering 40% of ALL websites on the Internet. 
One of the biggest advantages of Shopify over WordPress is that it's a closed environment. As such, it's  already hosted in the cloud. This means that you don't have to worry about hosting, and can get started in under five minutes. All you need to do is go to their website, and hit Start free trial. Once you do that, you'll be asked a couple questions about yourself (like your experience or industry):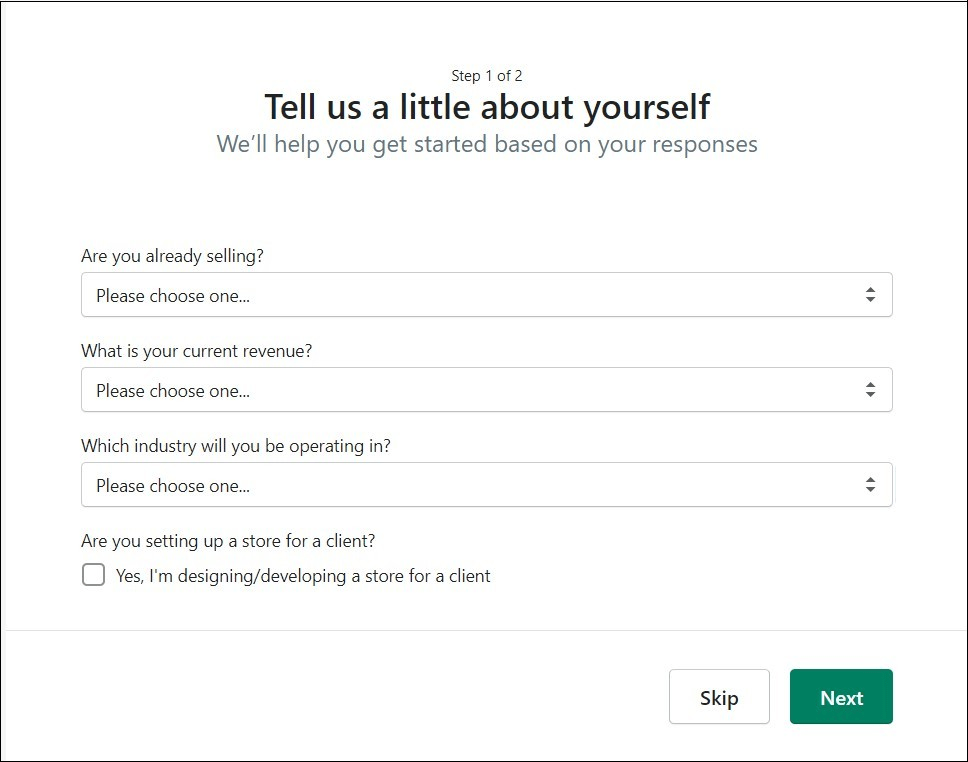 Then, you'll be asked to fill in some basic details, including the name of your store: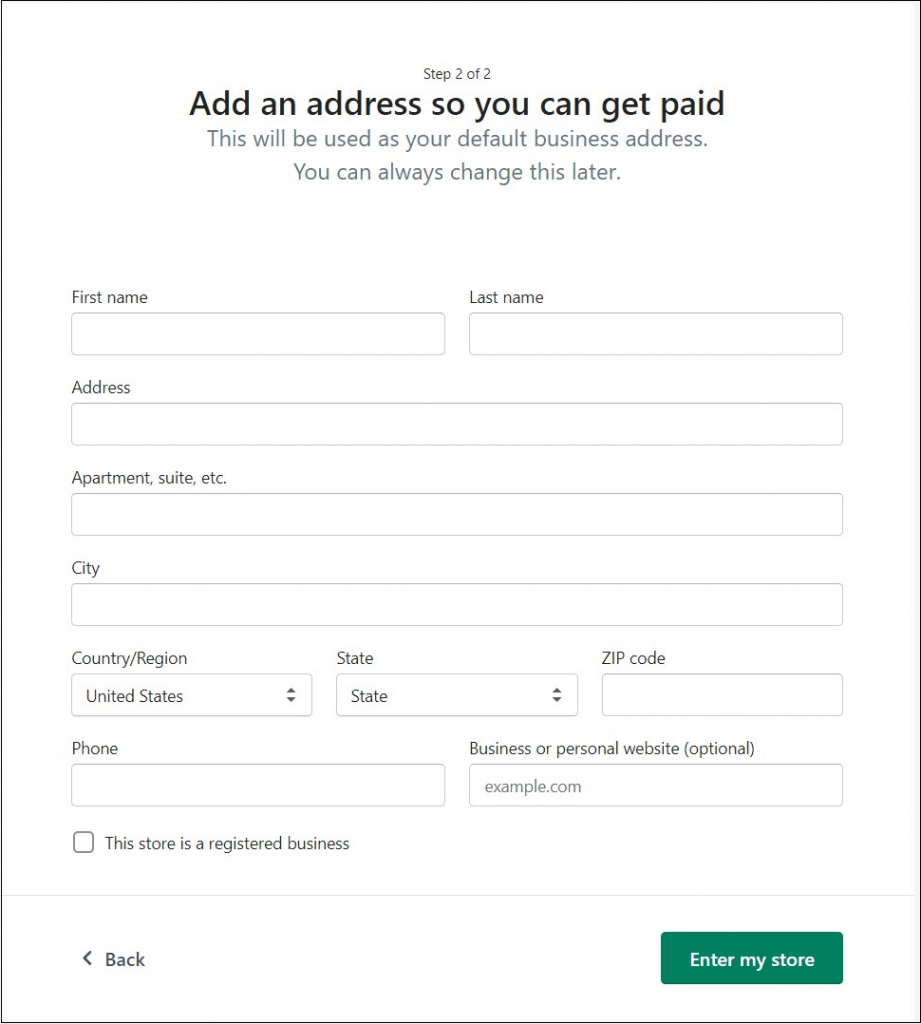 And that's it! Once that's done, you are ready to start adding your products!
At the same time, you can't get started with WordPress that easily. First, you'll need to find a hosting. Then, you need to install WordPress. And, if you want to build a store, you need to install an e-commerce plugin (for example, WooCommerce). 
Luckily, many hosting providers offer special WordPress packages, where it's already installed. And, even if it's not, installing WordPress is really easy.
Of course, this may sound overwhelming. But, if you are even a bit tech-savvy, it's possible to do all that in under an hour. Still, Shopify is the winner here.
When looking at a Shopify vs WordPress comparison, it's impossible to skip the topic of control. Specifically, how much control you have over the looks or the features of your store.
Unfortunately, Shopify is a closed environment. This means that you don't really get to choose beyond what's already available on the platform. 
And while there are various apps available for Shopify, some rare features may be hard to come by. Especially when compared with the thousands of both free and paid plugins that you can easily add to your WordPress site. And, because WordPress is open source, customization possibilities are close to endless.
As a result, while customizing it needs more work, you have a lot more control over the looks of your store. And, what's even more important – over the experience that you offer to your customers.
When it comes to security, both systems are relatively secure. The things that you still need to pay attention to are site maintenance and the environment. 
Here's where the closed nature of Shopify may be superior to WordPress. Especially for those who don't want to think about anything other than growing their sales. This is because all technical aspects are taken care of. Simply speaking, if you pick Shopify, you don't have to worry about updates, server configuration, or backups.  
With WordPress, things are a little bit less obvious – but it doesn't mean they can't be easy. Because it's a self-hosted platform, it all comes down to the hosting package that you choose. If you pick a managed WordPress hosting, you don't have to worry about security too much either. 
The same comes to backups which can be easily automated or scheduled. And, with the right plugins and tools, it's possible to make your site just as bullet-proof (if not more). 
When looking at Shopify vs WordPress, we can't ignore the wealth of available themes and plugins. In the end, you're choosing a content management system to avoid coding. And, there's really a lot to choose from.  
Themes: The Visual Side of Your Site
Shopify offers 73 themes on its official website. Sadly, just 9 of them are free. For any of the other 64, you have to pay between $100 - $180. Thankfully, there are dozens of themes available elsewhere online, including marketplaces like Themeforest.
Obviously, that's still a fraction of what you get to choose from if you select WordPress. The massive number of themes available can be mindboggling! Whether it's free or paid, e-commerce, business, or personal – there's something for any industry, business, or niche already there.
This makes finding something that'll suit your website perfectly much easier. Plus, many WordPress themes are optimized with a specific goal in mind like speed or a slick design.
For example, certain themes boast speeding up your site. And, as you know, a slow-loading site can impact your conversion rate. Not to mention that if you force people to wait a few seconds too long, some of them won't even care to browse your products!
Plugins, a.k.a. Shopify apps
Shopify and WordPress on their own don't really give you that many cool functionalities. That's where plugins (WordPress) or Apps (Shopify) come in.
Both platforms offer plenty of plugins for your website. One of the things that's great about Shopify is their official App Store. The store allows you to find great plugins in just a few clicks. A much faster way compared to having to comb the Internet looking for one, as is often the case with WordPress. 
Plus, because they come from an official source (even if some are created by independent developers) they're usually more secure.
When it comes to pricing, there are both free and paid apps. Premium apps come with both one-off fees and recurring payments. 
Of course, that doesn't mean there are no plugins to choose if you decide to work with WordPress. Their repository hosts thousands of plugins that you can get directly to your site.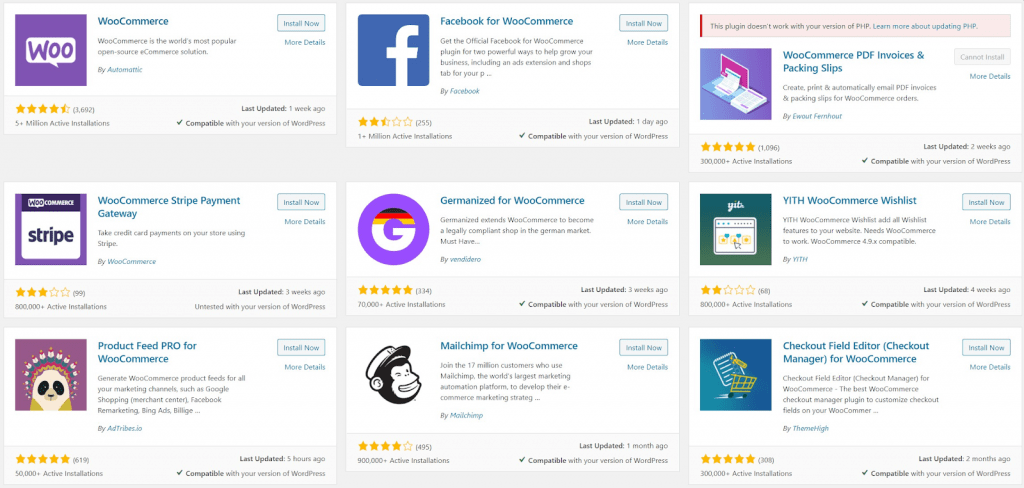 Plus, there are a few marketplaces where you can get almost any plugin imaginable. Not to mention thousands of independent developers selling their plugins on their websites. 
When it comes to pricing, simple plugins cost as little as $9 or $19 per year. The most advanced ones are usually billed monthly, and can set you back $49 or more per month. The ones with a one-off fee often come with a non-obligatory fee for access to new updates.
Naturally, based on the sheer size of available options, WordPress is a clear winner here. The only drawback is that, when you choose a plugin, you have to be careful to pick one that's frequently updated. Otherwise, you could be putting your website at risk of a security breach. 
You can build the most beautiful website on Earth. But if you don't get any traffic to it, you'll never sell your products or services. Most of the time, the results of your marketing do not depend on the platform that you use. That's as long as you create a good-looking, high-converting site. 
But, SEO is different. So, how does Shopify vs WordPress compare?
At first glance, Shopify has everything you might wish for. It's mobile-friendly out of the box and SSLs are easy to add. 
It comes with easy to manage alt tags, meta descriptions and XML sitemaps. The platform even suggests 301 redirects every time you alter the page name. Plus, there are quite a few decent SEO plugins available.
But, SEO is where WordPress websites often shine. Thanks to plugins like Yoast or AIOSEO, you have a lot more control over what's indexed (and how). And, with a set of tools like WPBlazer's SEO Tools & Audits you can easily check and improve your site's SEO.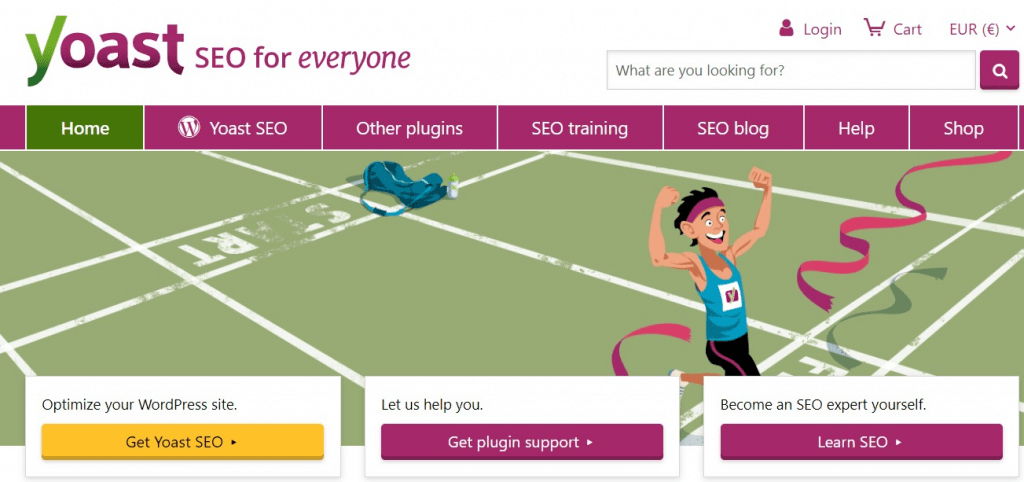 On top of that, WordPress makes it easier to create a clean, Google-friendly link structure. And, because you are free to choose the server, you can pick something that's truly fast and optimized. That's especially important if you're dealing with clients from very specific GEOs (or many GEOs at once). Lastly, let's not forget WordPress's robust blogging capabilities. And, at the end of the day, content is the king of SEO.
Tip: With tools like
Let's now take a quick look at the least liked part of running a website – the cost. One of the big advantages of Shopify is that its pricing is quite straightforward. 
For $29 a month you can get a simple store with unlimited products, two staff accounts, and up to 4 retail locations. The package also gives you access to 24/7 support, and the ability to add up to 4 retail locations.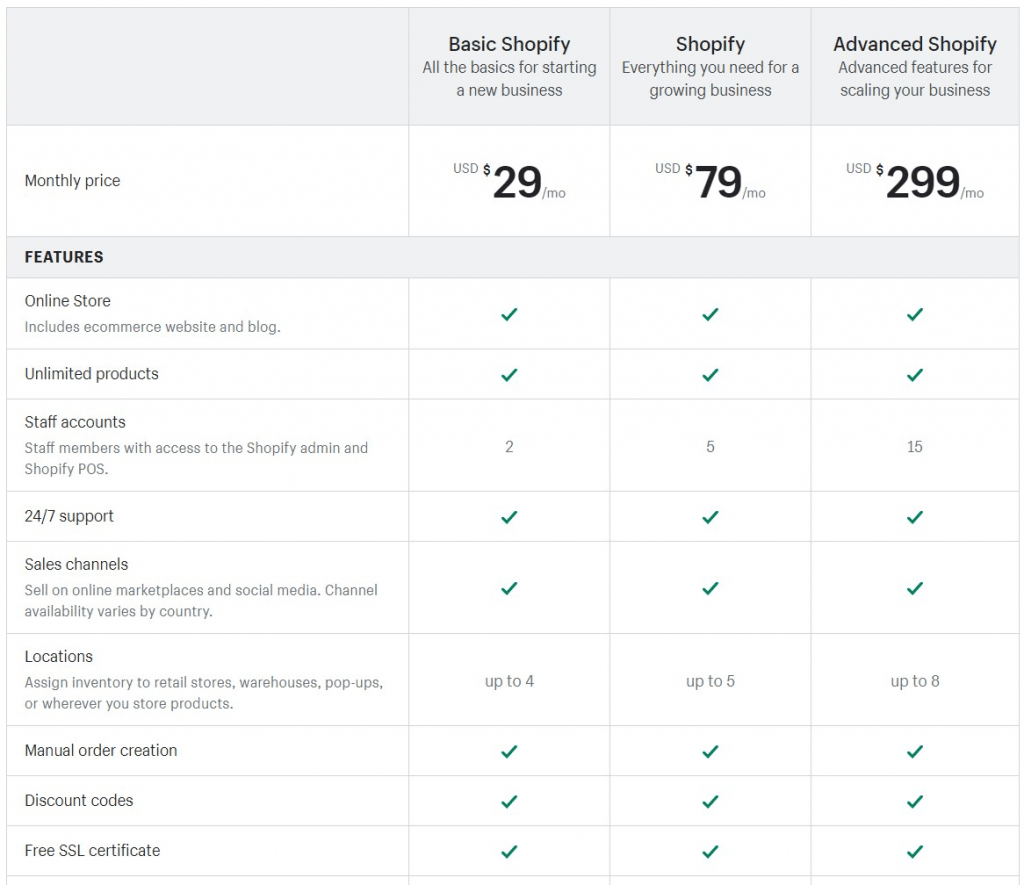 And if all you need is a secure way of selling in person or on your existing website, check out the Shopify Lite plan. It's the most affordable one of them all and costs just $9 per month. The downside is, it doesn't give you access to the standard Shopify platform. 
Unlike Shopify, WordPress doesn't offer hosting or e-commerce features on its own. But, the good news is, plugins like WooCommerce offer just as many if not more options to manage your store. 
Naturally, some of the integrations will cost you extra. But, most of the time, you won't be charged for them on a monthly basis. Rather, the fees will be one-off, with an annual extra for upgrades. So, unless you go crazy with the plugins, your fees shouldn't exceed those of Shopify. Especially that some of Shopify's apps will cost you extra.
And, if you're on a budget, a premium WordPress theme sets you off just $50 (one-off fee). A decent managed hosting for a site with little traffic won't cost you more than $10 - $15 a month. You could pick an even cheaper option - but, there's a catch. A cheaper hosting could force you to choose between having to take care of security on your own or a slow website. 
Of course, as WordPress is more complex, you might want to hire a developer to help you with the store. While that's not a necessity, it's something you want to add to your budget plan. But, if you create the store yourself, WordPress can be a very affordable solution. 
Hidden Costs: Transaction Fees
Sadly, the cost of the platform is just one side of the expense coin. The other thing that you need to keep in mind is transaction fees. While you can't escape credit card or PayPal fees, different e-commerce platforms like to charge their own transaction fees. And Shopify is no different.
For example, if you're using Shopify, you'll be charged a 2%, 1%, or 0.5% fee on each transaction (depending on your plan). That's unless you're using Shopify Payments. If you decide to use their payments platform, their platform fee goes down to 0%. Of course, you still need to add a credit card processing fee on top of that (2.9% + $0.30 per transaction). These credit card fees often go down as you upgrade your Shopify plan.
When it comes to WordPress, the fees depend on the payment processor that you choose. For example, PayPal's credit card processing fee is the same as that of Shopify: 2.9% plus $0.30 per transaction. 
So, if the fees are the same, going with a platform that gives you more freedom might be a better option. 
Let's now take a quick look at the most important aspects of the Shopify vs WordPress comparison one more time. 
Shopify Pros
You can get started in just five minutes and don't need any coding or web development skills. 
It's created with e-commerce entrepreneurs in mind. All the technical stuff is taken care of for you. All you need to focus on is running your store. 
Your website is secured by experts. 
24/7 support. 
GDPR compliance taken care of for you. 
A lot of the features that you'd have to look for (or pay for) in WordPress are available out of the box.
Shopify Cons
But you are also forced to pay for some features, no matter if you're using them or not. 
Fewer themes and apps to choose from. Official themes are quite expensive. 
The dashboard feels basic compared to that of a WordPress website. Especially once you add a couple WordPress plugins that unlock extra options.
You are dependent on Shopify (and so is your business). 
When you compare Shopify vs WordPress, the community of the former is much smaller. On the upside, it's also more e-commerce focused.
WordPress Pros
It offers A LOT more flexibility and customization options than Shopify.
You have more control over some major aspects of your site, including hosting or speed.
Goes beyond e-commerce and can be used to build almost any website imaginable.
More plugins and themes to choose from. 
A massive community. It's easy to find resources and answers to your questions or hire a developer to help you fix a quick problem. 
Top-notch SEO (if you know what you're doing).
Supreme blogging capabilities (content is king). 
WordPress Cons
It's not as easy to get started with it as with Shopify.
Requires you to take care of hosting and jump a few extra hoops to get everything up and running.
It can get very expensive if you pick the wrong plugins/buy the wrong server. 
Because there are so many plugins and themes, you need to be careful what you choose not to put your website at risk.
The Verdict: Here's Which One You Should Choose…
Congratulations! You've come all the way to the end of this Shopify vs WordPress review. So, which is the best for you? 
If you are looking to build a simple e-commerce store with a few products – Shopify is a no-brainer. Sign up, design your store, add a few products, and you're ready to sell. Plus, Shopify's team will take care of the technical stuff.
But, if you value freedom and control over the looks and features of your website, you'll love WordPress. And, if you take advantage of WP Blazer's WordPress Install, you'll get started in no time. The tool takes WordPress installation speed to a whole new level. Use it to deploy a WordPress site with all the plugins and themes in just a few clicks. Once it's up, you can manage everything even on multiple sites in one convenient dashboard.