If you were to ask a stranger how to build an online website, there's a good chance they'd recommend you try WordPress. Sure, there are plenty of other content management systems - and new ones keep popping up. Yet while WordPress trends keep changing, for the average user, WordPress stays the #1 CMS. 
One of the reasons for that is that, over the years, WordPress didn't just adapt to the changes in the world wide web. It's fair to say WordPress has been the driver of some of them. And if we look at WordPress trends for 2022, it seems there are even more things to look forward to!
In this article, we'll discuss some of the most important WordPress trends you should watch:
Table of Contents:
1. Low-Code WordPress Trends Taking Over with Full-Site Editing
     The Rise of Twenty-Twenty Two
     The Growing Importance of WordPress Block Patterns
     Editable WordPress Page Templates
     Site-wide No-Code WordPress Styling Trends
2. Back and Front-end Separation with Headless CMS
3. Performance Finally "Gets Noticed"
4. AI-Powered WordPress Solutions Will Grow in Popularity
5. Voice Search Will Be More Important than Ever
6. WordPress Trends that Might Shape the Platform
     Emphasis on Accessibility
     More Enterprise Companies Turning to WordPress
7. Embrace the Latest WordPress Trends
1. Low-Code WordPress Trends Taking Over
In the past few years, we've seen a growing number of drag-and-drop WordPress themes skyrocket. To respond to that need, WordPress introduced various low-code website customization options. But the flagship change - Gutenberg editor - wasn't a great success. At least that's what it looks like if we check its ratings…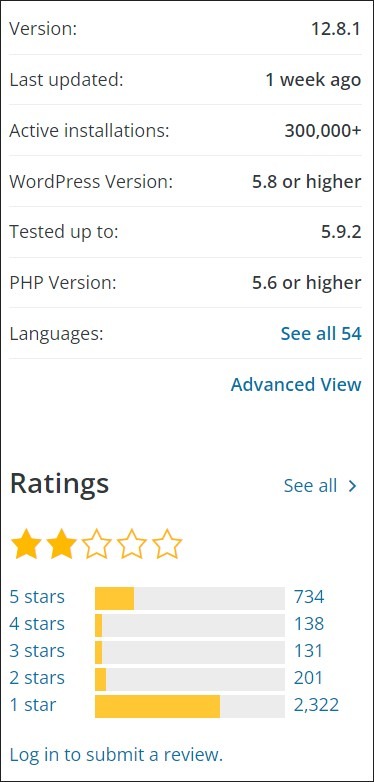 Let's also compare Gutenberg's active installations with those of the Classic Editor. The latter is a plugin designed to hide Gutenberg's features: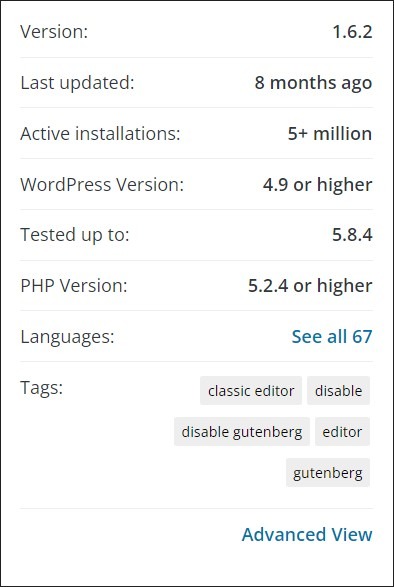 As you can see, there are over 16 times more active installations of the classic plugin . Yet, that may soon change, thanks to the introduction of Full Site Editing (FSE). 
FSE is a collection of features designed to give users more control over their website. While the most important one is the full site editor itself, there are a few more features worth noting::
The Rise of Twenty-Twenty Two
One of the biggest changes this year is the WordPress default theme itself. In the past, one of the first things users did when they created a new site was switch away from the default theme. But, this may soon change too. 
First, it's the first default block theme. 
This means you no longer need to switch to another drag-and-drop theme to enjoy no-code editing. Twenty Twenty Two is very easy to use - and fast too!
Of course, a drag-and-drop builder is of no help if you still need to design all the layout elements yourself. But, that's where Twenty Twenty Two's awesome templates library comes in handy. Unless you need a very specific function, it's safe to say there's hardly anything you would not be able to design with it. 
Which is great news for anyone who's getting started with WordPress. And, let's not forget there are 500 new WordPress websites built every day!
The Growing Importance of WordPress Block Patterns 
While the theme is WP's default block-based theme, you don't need it to enjoy the latest WordPress trends. 
For example, you can use WordPress block patterns no matter which theme you use. These patterns allow you to create complex layouts made up of several blocks in a few clicks.

.One of the great things about patterns is that you don't just access the default ones. The more templates other people create, the more power you have to style your website.
Editable WordPress Page Templates
In the past, if you wanted to create a WordPress page template, you had to install a plugin or dive into code. Thanks to recent changes, you can now edit any template (or create your own), using the full-site editor. No code required.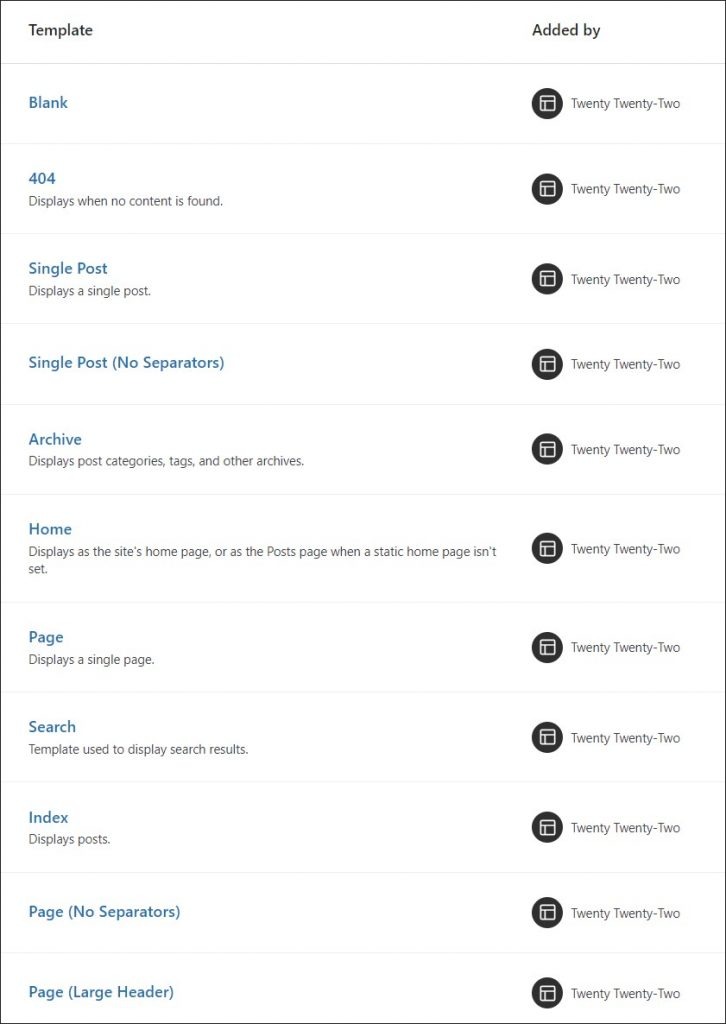 What's important is that you aren't restricted just to the pages themselves. The new editor allows you to go one step further and create templates for footers and headers too.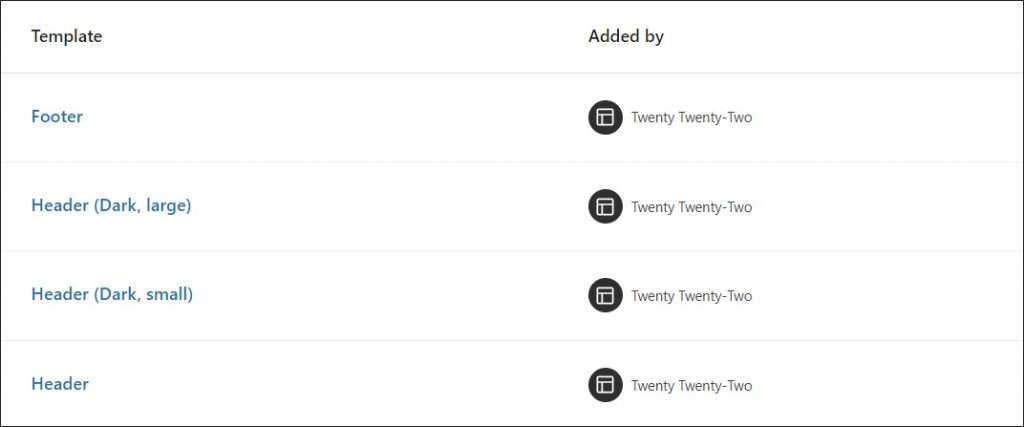 This means you get complete control over the look of your site's key elements. And you don't have to waste time tinkering with the theme files! But wait! There are even more WordPress trends aimed at making your job easier.
Site-wide No-Code WordPress Styling Trends
Depending on the theme, you can usually style key elements like the logo or colors without coding. But, with the latest changes, you're now given the power to do a lot more than that! 
For example, since the 5.9 WordPress update, if your child theme has a theme.json file, its styles will now apply on top of its parent's styles. This is helpful if you want to introduce minor changes and keep the original style. Simply create a .json file for the changes you need and you're good to go.
And what if you don't want to touch any WordPress files at all and still need plenty of customizations? WordPress now allows you to style almost any element on your website right in the dashboard. For example, you can customize the appearance of specific blocks:

This gives you the power to give your site unique looks by playing with a few menus in the dashboard. Think of all the time and money you can save when you can deploy edits in seconds!
Of course, the growth of low-code solutions is one of the prevailing WordPress trends - but it's not the only one. 
2. Back and Front-end Separation with Headless CMS
A classic WordPress website consists of two key parts - the frontend and the backend. The frontend is what your site visitors see. The backend is everything that's happening behind the scenes. Most users are used to managing both using a single solution. But, as customization requirements are growing, that's no longer an ideal solution.
That's why WordPress is now moving towards becoming a headless CMS. What does that mean?
A headless CMS is one where the frontend gets separated from the backend. This means, you're no longer both managing and delivering content using a single solution. Rather, you can take advantage of other channels for delivery. The CMS becomes a content repository that communicates with delivery channels via API. What are the benefits?
A headless CMS allows your team to work on the backend and the frontend independently. Your developers can prepare the content for as many channels as needed. For example, you can use a single source to manage the content yet publish it on the web, apps, IoT or VR separately. 
You can also use different technologies to enable that content. This means you're no longer restricted to CSS and HTML. Plus, as your teams are independent, you can scale much faster compared to using a traditional CMS.
It's worth noting that headless CMS is one of WordPress trends that helps both your team and your visitors. Most importantly, it enables you to publish customized visitor experiences in each channel. 
This, in turn, increases the chance of conversion and has a positive impact on business growth. . 
3. Performance Finally "Gets Noticed"
Obviously, one of the biggest performance boosts will come from headless WordPress. Because your visitors see only the frontend, that's all they'll have to load. This alone can significantly speed up the website. There'll be no waiting for backend pings or bloated plugins to load.
The only drawback is that you'll need a separate hosting for your backend and frontend. But the speed boost is most definitely worth the hassle. 
But, that's still not touching the core of WordPress performance issues. Data shows that its key competitors Duda, Wix, and even Drupal perform much better. And it's no surprise.
If there's one issue most developers had with WordPress it was its performance. It's safe to say that performance was often the reason why people left WordPress after their sites grew. 
And while, in theory, WordPress gives you all the tools you might need, its speed is still an issue. The problem may not be a dealbreaker if you're running a small blog. Yet, as you start scaling, things start slowing down. 
The good news is, performance is now the WordPress team's new focus. In fact, there is now a special WordPress Performance team, dedicated to speeding up the CMS. In November 2021, the team held its first meeting and they've agreed on key areas to work on in 2022 and beyond. Some of them include
The team wants to add new ways of measuring site performance. They're also looking for a way to share that data with users so they understand the condition of the website. 
Of course, if you've ever checked the Site Health report, you know that some data is already available. But, there's still plenty more data that could benefit the users.
Better Image Optimization. 
WordPress has already implemented native support for the WEBP standard. Stil, the performance team wants to find even better ways of optimizing images. Especially that images are often the #1 factor behind poor website speed.
New Tools for Development Teams
Plugins and themes have a huge impact on website speed. The more plugins you're using, the more bloated your website. The WordPress team is looking for ways to help developers optimize their products.
Javascript is currently the hottest development language. As it's already very popular among WP users, the team plans to optimize its usage in several areas. The key ones include script prioritization or asynchronous and conditional loading. 
You can see an expanded list of changes in this Search Engine Journal report.
4. AI-Powered WordPress Solutions Will Grow in Popularity
Out of all the latest WordPress trends, AI is often overlooked. Yet, artificial intelligence and machine learning have already entered the world of WordPress. Of course, there's still a huge room for growth as new and better AI-powered plugins are entering the market. So, which areas can we expect the biggest changes? 
The first key area is content. Expected developments include areas such as AI content recommendations and generation. Quality, human-written content is still king. But, AI will give writers even more tools to speed up content creation. 
When we look at recommendations, AI-powered plugins will help display relevant, real-time recommendations. Some will go as far as scanning the post and highlighting and adding links right in the text.
Next, there's security. Cybercrime increased 600% during Covid - and it's still rising. As the threat to one's online business increases, security tools become a must-have. Thankfully, there are plenty of WordPress security plugins including firewalls or malware scanners. Some of which are already using AI to analyze threats and improve themselves.
Customer interaction is another area where AI creates and drives new WordPress trends. Artificial intelligence is already helping companies talk to their customers. The most popular example of this are chatbots. Many are already using AI to learn from customer conversations. This enables them to give customers the right answers, without any input from real humans. 
Another improvement that 2022 will bring will be dynamically translated website content. While there are already WordPress multilingual plugins, they're far from perfect. Machine learning makes them more accurate than ever, improving customer user experience significantly.
Lastly, anything that has to do with SEO. SEO and AI go hand in hand. In 2022, we'll most likely see further improvements to SEO plugins. These will include things like AI-powered SEO audits or automated meta tags generators. 
5. Voice Search Will Be More Important than Ever
Compared to other WordPress trends on our list, voice search seems kind of separate. But, becoming aware of it is just as important for your site's success as following all other trends. Why? Voice search has been around for some time now. 
The number of people using voice search has skyrocketed in the past year. As of now, it is believed that 40.2% of the US population use voice search - and the number is set to grow even more in 2022.
So if you want to increase the chance your site appears in search results, you need to optimize it for voice. The necessary changes include:
Optimizing your content for long-tail keywords.
Creating your content around questions people ask when they use voice search. Most of the time, these questions differ from keywords they type into Google.
Focusing on search intent rather than keywords.
Taking advantage of tablets, bullets, and snippets. Anything that can increase the chance your content pops up in voice search results.
Also, don't forget about AI. Keep an eye on AI plugins that could make your content more voice-search friendly. Of course, voice search is only one piece of the SEO puzzle. There's always something you could test or improve on your website. WP Blazer's SEO Tools & Audits feature is designed to show you where to improve to boost your WordPress site's SEO. 
6. WordPress Trends that Might Shape the Platform…
So far, we've discussed WordPress trends that will change how we use WordPress. But, it's important to note two trends that might themselves drive the changes that we'll see in WordPress in 2022:
Emphasis on Accessibility
Up until recently, website accessibility was a rarely discussed topic. But governments are already working on making accessibility features mandatory for certain websites.. 
While any laws passed don't yet go beyond government websites, this might change. Especially if we consider that accessibility-related lawsuits in eCommerce rose 15% in 2021.  
Thankfully, WordPress has already introduced several accessibility features. You can even search for accessibility-ready themes when browsing WP themes. 
Considering its importance, I encourage you to follow any news in that area. Especially that it isn't just good for SEO, website speed, or your relationship with your audience. It's just the right thing to do. 
More Enterprise Companies Turning to WordPress
14.7% of the world's top sites use WordPress. WordPress-powered brands include NFL, NBC, Disney, or Sony Music. Considering the turn for headless CMS, it's possible we'll see even more big companies turn to WordPress. 
And since 3 in 5 of the fastest growing companies choose WordPress, the future looks bright. But, why is that important?
In the past, WordPress was viewed as a blogging platform. Yet, as more big brands turn to WordPress, the platform has to start catering to its new group of users. 
And what do all these big enterprise users have in common? They all need extra speed, performance, and security. This means we can expect even more changes in all these areas in 2022.
7. Embrace the Latest WordPress Trends
WordPress trends for 2022 shows one thing - its team wants to empower the users - no matter their goal. On one hand, the platform is becoming even more accessible to people who don't know how to code. Low-code solutions make creating simple, good-looking websites easier than ever.
Plus, headless CMS is a huge opportunity for everyone interested in omni-channel marketing. But, no matter what's your use case, it looks like the latest WordPress trends will benefit all users.
Of course, some things don't change. If you want to succeed, you still need to take care of the basics. Create excellent content, treat your audience right, and take care of your SEO, and. Speaking of SEO - make sure to check out WP Blazer's SEO Tools and Audit. Sign up for the 14-day free trial, give your SEO a boost and start attracting more search engine traffic.