There's a great debate in the blogging world, and it isn't limited to any specific CMS (Content Management System). The question is, should a blogger turn commenting off or encourage them? And if it's the latter, and you use WP, what are some of the best WordPress comment plugins of 2022?
First, let's discuss whether allowing commenting is a good or bad thing. But remember, whatever you read here, in a situation like this, you need to decide what makes the most sense for your blog and your business, and if one of the best WordPress comment plugins is relevant to you. We'll just provide you with all the info necessary to make an educated decision.
TABLE OF CONTENTS
1. The Benefits of Enabling WordPress Comments
     Engagement, Interaction, Discussion
     Comments can Provide Content Ideas
     SEO
2. The Cons of Allowing WordPress Comments
     Spam—Never Ending Spam
     Comment Moderation
     Trolls and Negativity
3. Best WordPress Comment Plugins: The Advantages
4. Our Best WordPress Comment Plugins
     Jetpack
     Social (Facebook) Comments
     Thrive Comments, by Thrive Themes
5. Conclusion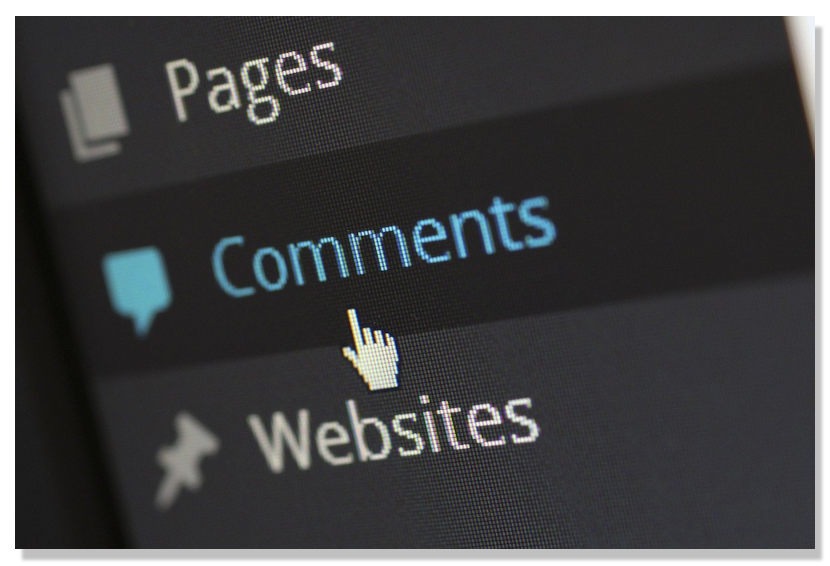 Some marketing gurus argue that if you don't have comments enabled, you can't even call yourself a blogger. That a blog without readers isn't even worth mention—and that if you do have readers, you should be giving them their own voice.
Who thinks that? In the past, Pat Flynn, the blogger behind Smart Passive Income (SPI), for one. And since he managed to get more than 15K subscribers and 80K visitors in the first 2 years of his site, maybe he knows what he's talking about. But keep in mind, he shared this opinion years ago. He doesn't blog anymore, he's got a full-fledged business going.
Oh, and while some of his original posts had more than 300 comments, he said that he typically got about 50 to 100 for each post. I wonder if he used one of the best WordPress comment plugins back in the day.
So what's the attraction? Why do some bloggers and business owners feel that commenting is essential? And for those who do enable commenting, what's the best route to take when it comes to comment management in WordPress?
Here's a quick list of just a few of the benefits.
Engagement
Comments can be a great source of ideas
SEO
Now let's talk about those in greater detail.
Call it what you will, but unless you're blogging just to hear yourself—and yes, for many, blogging is merely a form of journalling—allowing comments gives you the chance to interact with your readers. They're no longer removed, they're part of the conversation.
Comment sections can add insight and a direction that you might never have thought of, as a meaningful dialogue between you and them, or even between commenters can spark ideas. All of this is adding dimension to your blog—and ultimately making it more useful to your visitors.
Finally, a blog that allows commenting will have a more social feel. Regular readers and commenters will get to know each other and may engage in lively discussions. Discussions that other readers might look forward to, giving them another reason to visit your site.
If this sounds like your blog, you really need to consider choosing one of the best WordPress comment plugins if you haven't already.
Generating a steady flow of content can be tiring. And not just the writing part. The constant need to come up with new ideas can be frustrating. But a glance through your comment section lets you know that your readers may be doing some of the heavy lifting for you. They're giving you ideas—at no charge!
Last, and certainly not least, consider the SEO benefits.
Did you know the importance of word count on your page for SEO? No one knows the perfect amount of words that Google is looking for, so there are all kinds of recommendations.
A quick Google search yields the following recommendations for the number of words on each page.
HubSpot: 2,100 to 2,400 (2021 data)
Yoast: >900 for content pages (2020 data)
Hook Agency: 1,760 to 2,400 (2022 data)
Having a busy blog with a lot of comments will go a long way to adding words to your page. Words you didn't have to write yourself!
If you're convinced that you need comments enabled on your blog, keep reading for our selection of the best WordPress comment plugins for 2022.
At the other side of the debate are those who feel that having WordPress comments, or comments on any CMS, enabled is nothing more than a huge time suck. And there's much truth to that belief.
Here are some reasons why.
Spam
Comment moderation
Trolls and negativity
And again, let's expand on these.
You'd think that in our 21st-century world of digital marketing, there would be a way to fully eradicate spam.
Here's an example from my WordPress test site. Two spam comments from just a few weeks ago on a test post that's over a year old. I have to take the time to accept/reject/mark them as spam. Imagine the time it would take if you had 100s of them.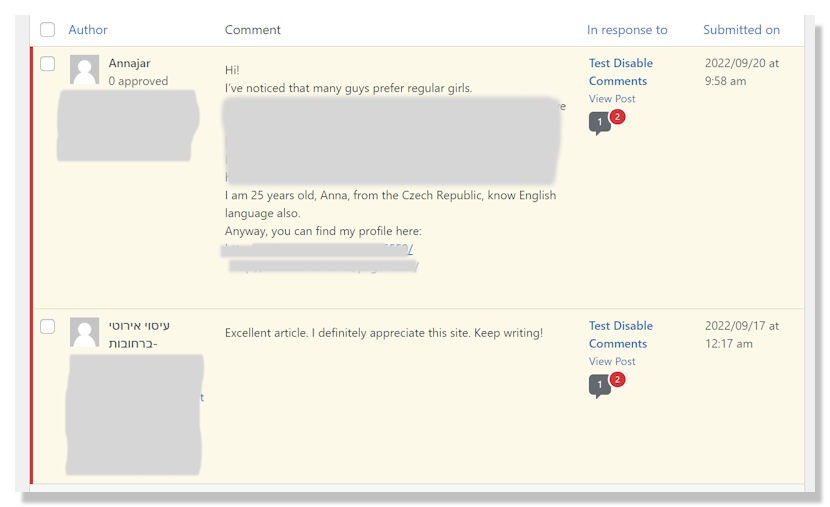 And as you can guess, one of them isn't family friendly!
Unfortunately, even the best spam protection isn't perfect. Sure, we can filter out much of it, but it still gets through. The moment you enable comments, you have to deal with bot-generated comments—that's right. These people don't even have to set their eyes on your site, which is just insulting.
And it's not just the comments. You have to deal with trackbacks and pingbacks too.
The reality is, you're going to have to spend time monitoring and moderating comments. That means you need to read them. In some cases it will be thanks to spam comments, but if you want to have and maintain a happy community of commenters, you'll likely need to weed out some bad actors.
And speaking of bad actors.
Trolls are an unfortunate fact online. And whatever their motivation, they want to bring you down.
Okay, so now that you can personally weigh the pros and cons of enabling comments, let's assume you're caught up in the SEO advantages and you've decided comments are a good thing. So the next step in considering the advantages of the best WordPress comment plugins.
First of all, WordPress comment plugins won't be for everyone. For some, the basic WordPress commenting functionality that ships with the core files may be sufficient.
But before we go on, here are some of the drawbacks that come with using the core functionality.

There is no social media integration
Users can't leave feedback, such as thumbs up or down
No response notification to a user when someone replies to one of their comments—including you
Spam—of course, there are separate plugins that can help with spam
If you can live with those drawbacks and don't care about what your users might like, then you probably don't need to worry about using WordPress comment plugins.
If you do want your readers to have...
A social media tie-in
The ability to leave feedback
Response notifications
...then check out our list of the best WordPress comment plugins!
First of all, there are numerous WP comment plugins and they have diverse features. So even if one isn't mentioned here, don't assume that it isn't good enough. If something fits your unique criteria and the plugin has good reviews on WordPress and elsewhere, don't hesitate to try it out. For all you know, it will turn out to be one of the best WordPress comment plugins for you.
Now, let's get started on our best list.

First, Automattic is the company behind WordPress itself, so you know it's going to be a good fit—some would say it automatically makes it the best of the best WordPress comment plugins, but we're not making that call.
Jetpack is a free, full-featured plugin that offers an array of additional functionality to your WordPress installation—including Jetpack Comments.
This is a feature that needs to be turned on since it completely replaces the default WordPress comment form. To find and activate the feature, you need to first install and activate Jetpack. From there, go to Settings > Discussion. Then switch on the Let readers use WordPress.com, Twitter, or Facebook accounts to comment slider.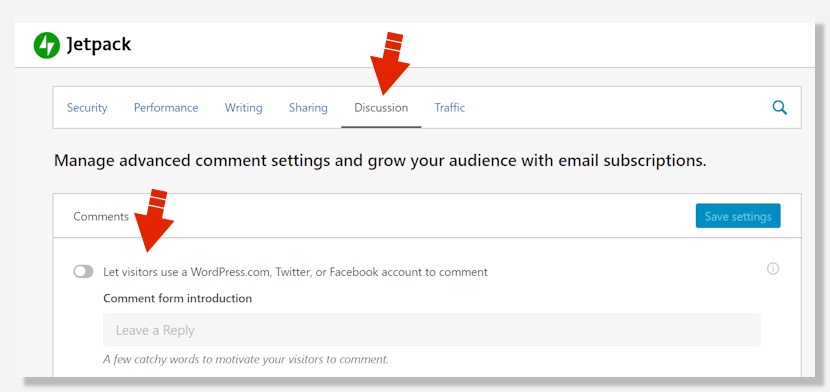 Using this plugin makes things easier on site visitors who want to comment. They don't have to create an account first—although they still can if they want. They can use their current social media accounts to add comments to your blog.
Jetpack Pros:
This is a free module
As mentioned above, its creators are the creators of WordPress itself
Users still have the option of creating an account on your site, but they can use their social media logins if they prefer
Akismet—which is also part of the Automattic family—is supported
Gravatars are also supported
Jetpack Cons
Since this isn't a standalone comment plugin, the feature-rich Jetpack may slow down your site a bit
Bottom Line
We've included this in our selection of the best WordPress comment plugins for a few reasons. It was created by the WordPress developers and Jetpack includes an array of worthwhile features that would be beneficial to any WordPress site.

If you're looking for a simple yet effective selection from our best WordPress comment plugins, this is one to consider. Facebook comment plugins used to be quite popular, and this is one that has stood the test of time.
The plugin works by allowing you to add a feed of comments under your blog—comments that are shared with Facebook when your visitor comments. What's the advantage?
It might lead to more traffic. When a user's comment shows up on their feed, their friends, who may have never heard of you, may come to investigate. It's a form of "word of mouth" advertising. And it's free!
This plugin is easy to use and adds some nice features. It adds functionality to let you easily change the size and look of your comment box, and also select where you want to display it. Meaning you can match it up to your site design.
WordPress Facebook Comments is a free plugin, but it does have a premium option as well. The price is tiered, depending on the number of licenses you require.
WordPress Facebook Comments Pros:
User-friendly interface
Ability to style to match your blog
User's comments are shared on their Facebook page as well, which may lead to more visitors
WordPress Facebook Comments Cons:
Facebook isn't as popular as it once was—especially with Gen Z. So depending on your target audience, a plugin dedicated to sharing Facebook comments might not be a wise choice.  
Bottom Line
Why have we included this in our selection of the best WordPress comment plugins?
Depending on your site's audience, it might be a perfect choice. Millennials are still using Facebook, but Gen Z? Not so much.

The last in our selection of best WordPress comment plugins is from Thrive Themes. Note that this is a premium plugin—there is no free version.
We've talked here about how enabling comments can bring a sense of community to your blog by engaging with your readers yourself, and your readers having the opportunity to converse with each other too.
Thrive Comments is an all-in-one way to transform your comment area into that kind of community. Watch as engagement increases and users who may have left the occasional—or one-time—comment become more engaged.
So what does this plugin do?
This plugin is all about encouraging users to comment—by incentivizing them. What's the incentive? Much like social media platforms, this selection from our best WordPress comment plugins gives your readers the chance to receive likes and badges, based on activity.
Thrive Comments Pros:
Comment notifications
Badges and awards for commenters
Excellent comment moderation
Thrive Comments Cons:
Bottom Line
The only paid version on our short list of best WordPress comment plugins, Thrive Comments has some unique features that make it worth the cost.
Have you decided that the right choice for you is to enable comments on your blog? There are several ways to administer comment management if you do so.
In this article, we've only talked about three of the current best WordPress comment plugins. If none of them suit your needs, there are several more to choose from.
One of the reasons people choose to turn off comments is because of the time it takes to administer them. Do you find yourself spending more time than necessary managing your WordPress sites? Then check out WPBlazer, a complete WordPress management tool.