With so many options to choose from, picking a content management system in 2021 might be a daunting task.
According to W3Techs, there are more than 700 content management systems to choose from! But don't worry, we aren't going to discuss that many here. I'm going to do a head-to-head comparison of two of the more popular CMS. Weebly vs WordPress.
I can't tell you how many times I've checked these stats. What's really remarkable is that it never fails—when I check them WordPress is gaining more and more ground. Whether we're talking about Weebly vs WordPress or some other comparison.
As of March 2021, WordPress is used by 40.5% of all the websites that W3Techs monitors. But it is used by 64.5% of all sites that use a content management system (CMS).
So if your choice of a CMS was just about what's the most popular, we'd be done. If we were talking about other CMSs too, and not just Weebly vs WordPress, here's how things would look.
Shopify vs WordPress: 5.4% market share to 64.5%
Squarespace vs WordPress: 2.5% market share to 64.5%
Wix vs WordPress: 2.4% market share to 64.5%
Weebly vs WordPress: 0.5% market share to 64.5%
Take a look at the chart below to see how the top 15 CMSs compare to WordPress in terms of popularity.
There is no contest.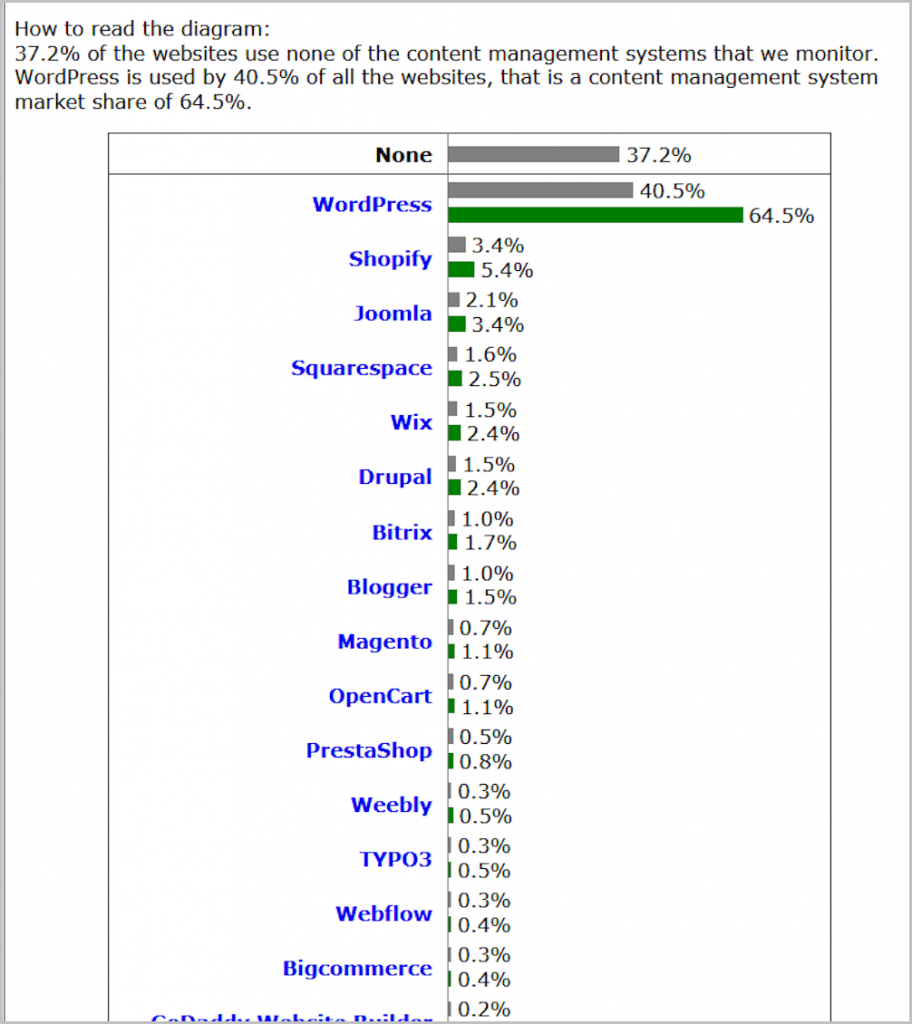 Source: W3techs
But choosing a CMS is about more than just popularity. Or at least it should be. So keep reading, because I'll cover things like Weebly vs WordPress SEO
Or Weebly vs WordPress support since one of those issues or something else entirely could be more important to you than a popularity contest.
Table of Contents
Weebly vs WordPress: A Popularity Contest
Weebly vs WordPress: Ease of Use
Weebly vs WordPress: Customizability
Weebly vs WordPress: Pricing
Weebly vs WordPress: Ecommerce
Weebly vs WordPress: SEO
Weebly vs WordPress: Customer Support
Conclusion
To determine how user-friendly Weebly vs WordPress is or vice versa, we're going to assume someone is a complete novice when it comes to the basic setup of either. How intuitive is the process? How likely are you to give up after just a few moments?
Weebly Ease of Use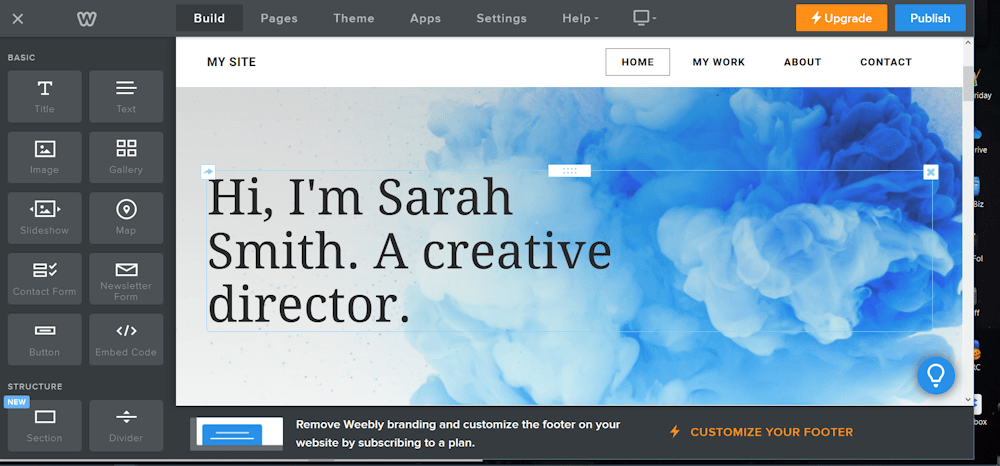 Source: Weebly Editor
One of Weebly's key attractions in the Weebly vs WordPress debate is how easy it is to use. There are many more sophisticated and flexible choices when it comes to site builders, WordPress included, but Weebly is just dead easy to set up.
You have a centralized experience out of the box. As you can see in the screenshot above, simplicity is key. Choose the sections you want to add or edit from the menu on the left and do what you need to do. And boom. You're done.
At this point, doing a straight-up comparison of getting your site built and live on the web, your Weebly site would be up and running and you might not even have your WordPress site installed yet—especially if you were FTPing the core files up to your server.
WordPress Ease of Use

When looking at initial setup of Weebly vs WordPress, there is no question that things are a bit more complex here.
Part of the complexity is that everything isn't under one hood like it is with Weebly. You need to have a domain name—as a side note, there's a good chance you're going to want to do this with a Weebly site too.
Here's a list of other steps:
Find a reputable web host
Download and install WordPress (in most cases you have the option to do this in just a few clicks)
Choose your theme—you need to choose a theme for Weebly too
Decide what added functionality you want or need for your site and add the necessary plugins
Weebly vs WordPress Ease of Use: Who Wins?
Is there a winner? Yes, Weebly is easier to set up than the more complex WordPress. But what do you have when your setup is complete, and you can move on?
The very complexity of WordPress, the things that may take you more time to deal with out of the gate, also means you have more control over what you can do with your site.
If you have very simple needs, and it's unlikely you'll ever want to dig into the core files to configure your site, then Weebly is likely your better option.
So in the ease of use category of Weebly vs WordPress, Weebly wins. But that win may ultimately be a loss.
Weebly vs WordPress: Customizability
Assuming you don't want a cookie-cutter website with a cookie-cutter theme—regardless of Weebly vs WordPress—you want to be able to customize whatever you need to. If you have a strong brand, you want your website to be able to communicate that. The amount you will be able to customize will depend on the theme—and to some extent, what you know how to do.
Themes aren't just about graphic design and color. Your theme is what provides layout and structure. From simple things like full-page layout or columns to much more complex options, the architecture is the foundation of your site.
Weebly Customization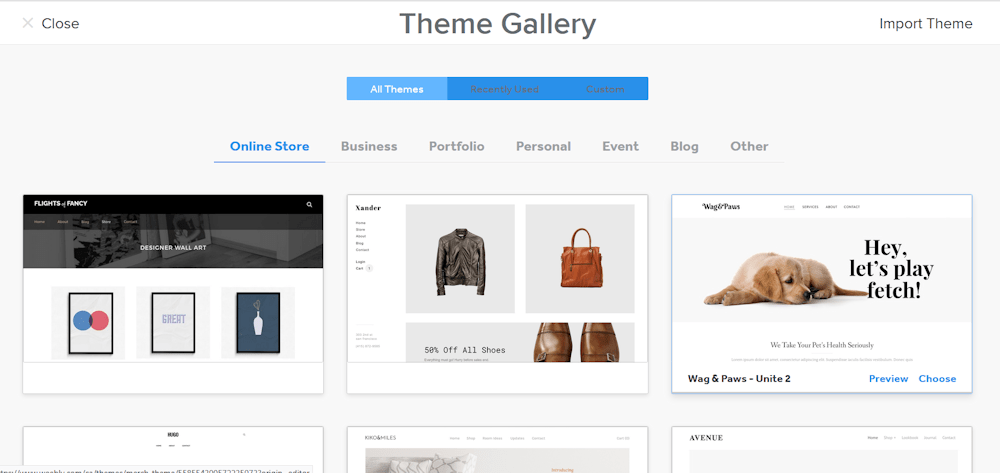 Both WordPress and Weebly have predesigned themes you can choose and use for your website.
The Weebly site offers you several options of pre-designed themes to choose from. For some, the best option is to choose a full-fledged design and then tweak it to their needs.
The other option is a base theme that's nothing more than a skeleton—the architecture that I mentioned above. However, this option means you or a developer that you hire, need to complete the layout and design.
Just be aware that while Weebly does offer access to its theme code, it doesn't offer 100% access.
WordPress Customization

Source: WordPress.org
At the time of writing this, WordPress had 8,127 in its free theme repository. Add to that the thousands of themes that aren't listed on the WordPress.org site, whether free or premium.
And a word of caution before you go looking for free themes somewhere else other than the WordPress site. Unless you know what to look for in the source code, you don't know what kind of malware or spyware could be embedded. Anything on the WordPress site has been vetted, and it's safe.
There are also several drag-and-drop builders such as Divi, by Elegant Themes.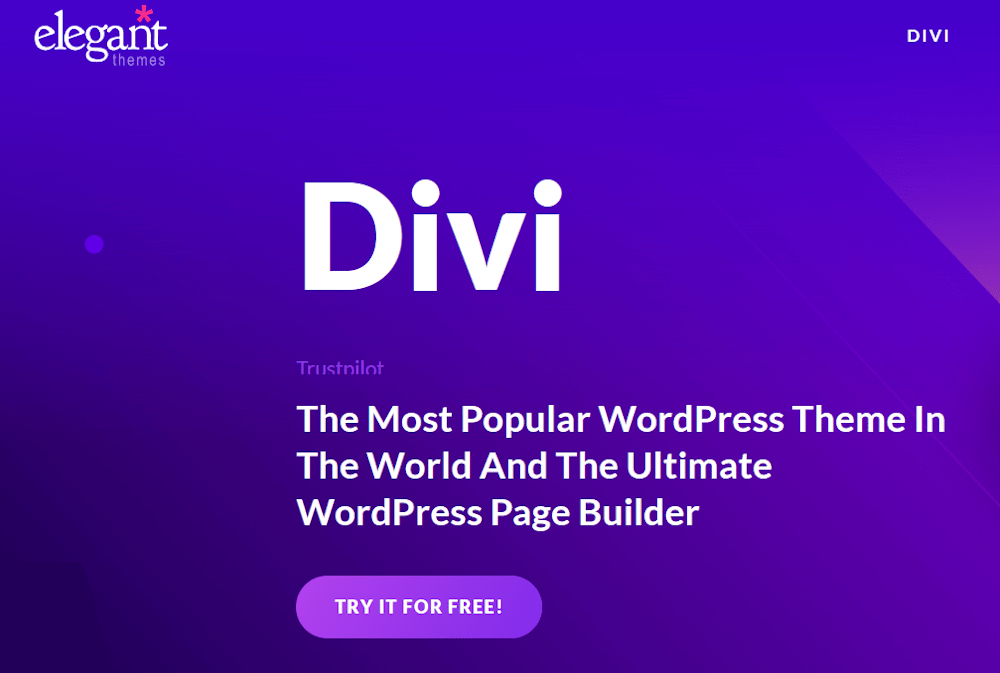 Source: Elegant Themes
Or a Framework like Genesis, from StudioPress.
Source: StudioPress
Using either of these options or one of the many other builders or frameworks will provide you with limitless customization options.
Anyone with even limited coding ability will be farther ahead in the game. This will be true with a Weebly site as well. With even a little bit of knowledge of CSS, HTML, and JavaScript, along with the ability to research on Google, the sky is the limit when it comes to what you can customize on your site.
Weebly vs WordPress Customization: Who Wins?
There's no question that in Weebly vs WordPress, WordPress has more to offer in terms of customization. From the number of themes available, all of which can be tweaked and personalized to drag-and-drop designers.
But do you have the desire and patience to deal with its complexity? Do you even need to? Perhaps the simplicity of Weebly is the right choice for you.
Whether you run a business with only yourself as boss and employee or have employees spread across the planet, the cost of any sort of new purchase is important.
Weebly and WordPress vary greatly on their pricing structure, so I'll walk you through the differences, starting with Weebly.
Weebly Pricing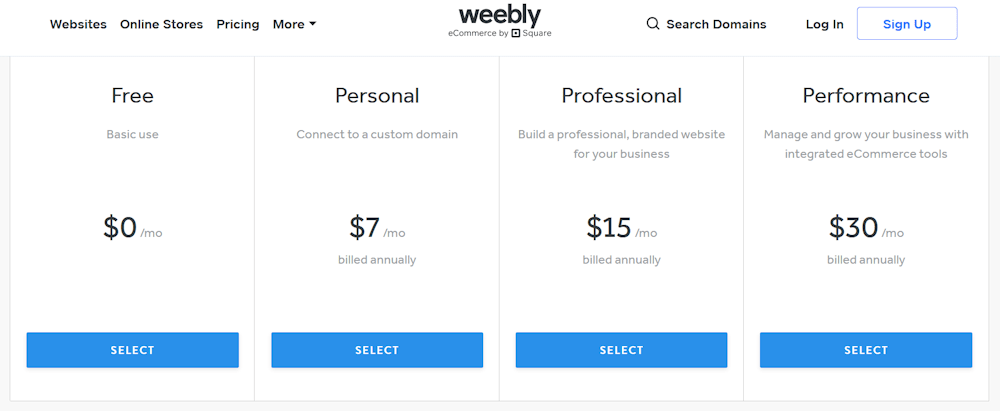 Source: Weebly
First off, Weebly's prices have crept up a bit lately. The above shows current plan pricing but's it's always a good idea to go to the source and confirm prices are current when reading an article like this one.
Okay, with that out of the way, let's dig in. Weebly vs WordPress. Who has better pricing?
As you can see, Weebly does offer a free tier plan. There's not a whole lot included, but that isn't necessarily a bad thing. I love free versions because they let you get hands-on. It's a perfect way to find out how user-friendly something is.
Here's what's included in their plans, with regards to site features.
Free Basic Use Plan:
Free SSL Security
The ability to add 3rd party embed code
Like I said, not a lot, but enough to find out if you even like the look and feel of the backend. But note that this plan doesn't give you the option to connect your own domain. That plus the fact that the site will have Weebly ads on it means your not going to have a professional-looking site. So anyone with any online savvy is not likely to think you a lot of credibility.
So again, if you're creating a serious website or thinking of migrating one to Weebly, the free plan is just for playing with in my opinion.
$7/month, billed annually - Personal Plan:
The above plus
You have the option to connect a custom domain
$15/month, billed annually – Professional Plan
The above plus
Unlimited storage
Free Domain
Advanced site stats
You are able to remove Square ads from your sites
Password protection
$30/month, billed annually – Performance Plan
The above plus
A variety of marketing, eCommerce, and support features
For a full list of all the marketing, eCommerce, and support features that are included with each plan, please see Weebly.com.
In my opinion, the Professional Plan is a good option. The cost of that annually with be $180.
WordPress Pricing
As I mentioned at the beginning of this section, Weebly vs WordPress have entirely different pricing structures.
WordPress is open source, so all the core platform is free. You can just go to WordPress.org and download the latest version. Another option, depending on the web host you choose, you may be able to do a one-click download. That means you won't have to download the files and then FTP them up to your domain.
So does that mean you can run a WordPress site for free?
No.
As mentioned above, you need a company that hosts your site. Unless you are running your own servers, of course. There are a whole lot of options when choosing your host, and a whole lot of prices as well. You can go from hosts that will only charge a few dollars a month to a few hundred dollars a month.
If you have several WordPress sites and you want to host them on a host that offers managed WordPress hosting, you're looking in the hundreds of dollars range. Per month. It's not quite as painful if you only have one WordPress install, however.
And don't get too excited about finding a host that will only charge you a few dollars a month. The saying you get what you pay for is definitely true here. You don't want a website that is often down, isn't geared to WordPress performance or has security issues.
Other expenses that will come with a self-hosted WordPress site:
Registering your domain name and renewing it every year. Typically, at least $12 annually, depending on the TLD (Top Level Domain) you chose
Some other expenses you may face:
If you aren't a designer, you may want to hire one to design a professional-looking site or buy a premium theme. Premium themes can cost an average of $57.54 according to a recent survey.
If you aren't a developer and you're looking for features that can't be found in a free plugin, you either need to buy a plugin or hire a developer. Another recent survey sets the average price of a plugin at $138.
Weebly vs WordPress Pricing: Who Wins?
Honestly, it's going to come down to what you want and what you're comfortable with. Sometimes the Weebly vs WordPress debate is simply going to be about preference.
With the exception of hosting, the above WordPress surveys show you'll pay an average of:
$57.75 for a theme
$138 per plugins
Those are typically one-time costs, but some developers may have a different pricing structure where instead of one-time, you need to purchase new versions.
And of course, you have your hosting on of this. Let's say you have a single website, and you decide to go with Kinsta for hosting as it gets less than 25,000 visits per month.
So now perhaps you're pricing looks like this:
   $57.75 for a theme
+ $138 x 2 plugins
+ $30 x 12
= $693.75 annually
But here's the thing with WordPress. The online community is HUGE! And incredibly helpful. You can literally find a walkthrough for anything you need to do for your site—just Google it and you will find what you need.
That means that you might not need to pay for a premium theme or plugins. Leaving you with the $30 a month to pay for hosting. Or maybe the ultra-cheap hosting you can find for a lot less.
Weebly pricing is a lot more straightforward. Select whichever plan you want for X dollars a month that you will pay forever.
Every day, lots of new online stores pop up. Selling pretty much anything you can imagine. Either Weebly vs WordPress offer support for shopping carts, but let's talk about the differences and what you should expect from each.
As is often the case in the Weebly vs WordPress debate, there might not be a clear winner.
Weebly for Ecommerce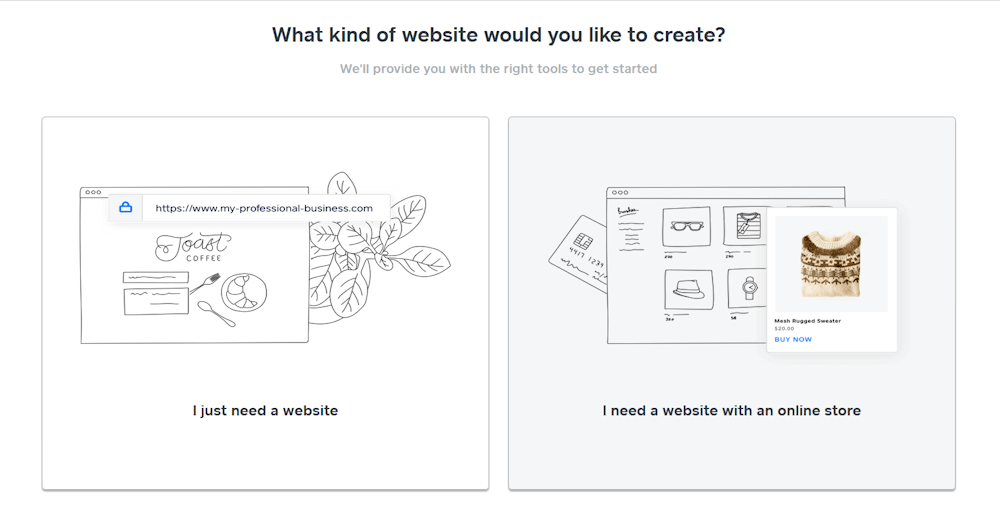 Source: Weebly
When setting up your new site Weebly asks if you need a storefront. If yes, choose yes. And you are on your way. You get walked through 5 steps to get things set up and you're good to go.
Having said that, what you're able to do with your store and the features you'll be able to use will depend on which plan you have. If you want all available features and functionality, you need to be on the Performance Plan, which is the top-tier plan that costs $360 annually.
Finally, if part of your business plan is to dropship, move on. Weebly doesn't have a dropshipping option.  In this case, there is only one option in the Weebly vs WordPress contest.
WordPress for eCommerce
Thanks to several powerful eCommerce plugins—with the best of them free—you have tons of power and flexibility at your fingertips with WordPress eCommerce.
Let's talk about WooCommerce. A free, powerful eCommerce platform that's the force behind 21% of the top 1 million websites online today. If you have a site that you're trying to build or expand, WooCommerce on WordPress is seamless whether you're selling 2 products or two thousand.
For those of you with an average-sized store, you can run WooCommerce cost-free. There are paid plugins that answer more complex issues, but with that being said, there are a lot of free plugins that can be used to extend the functionality of WooCommerce.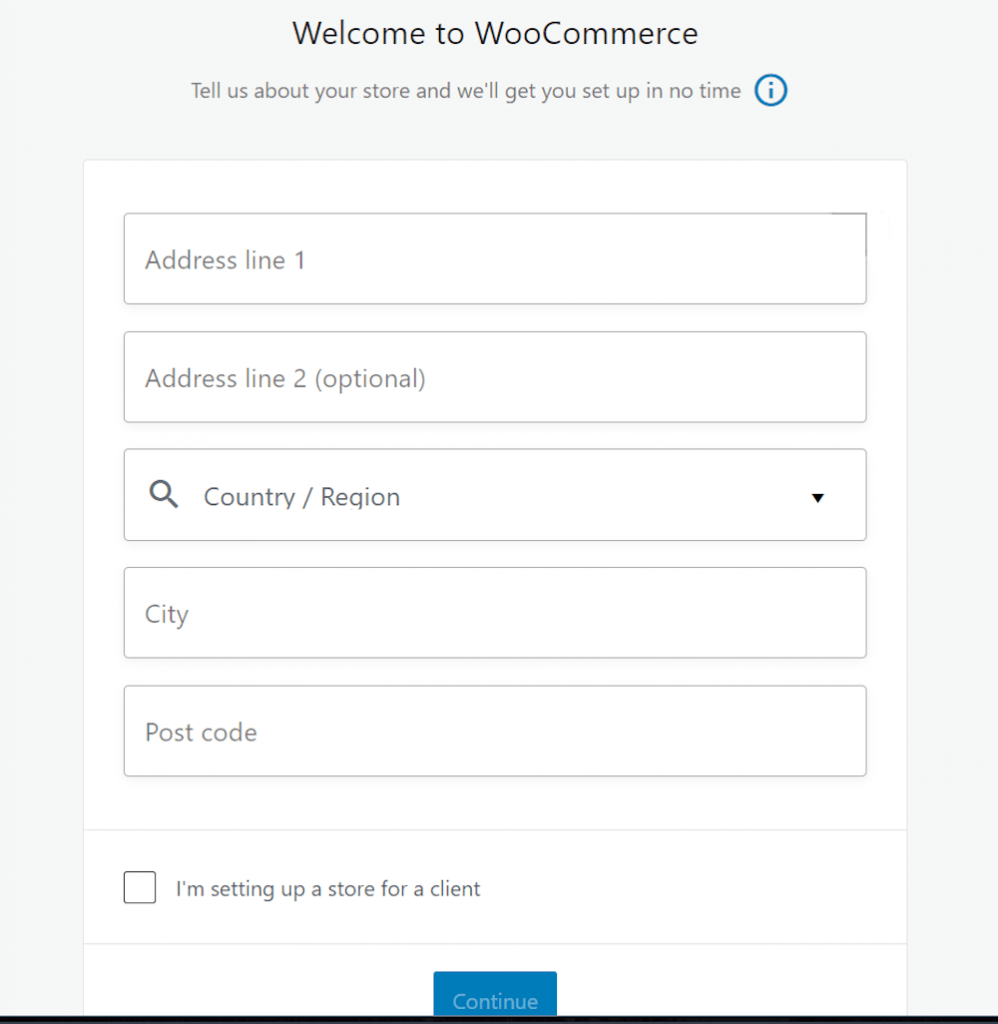 Weebly vs WordPress Ecommerce: Who Wins?
So we have two ends of the spectrum here with Weebly vs WordPress. If you have a small store with little need for all the bells and whistles, Weebly will do. But so will WordPress and WooCommerce, and you can probably do it for free instead of the plan you need to be using on Weebly.
WordPress will be more work, but you'll have far more control over what you can do with your store. If that's what you want or need.
So WordPress might be the winner in our Weebly vs WordPress ecommerce part of the competition.
If you are at all interested in turning your website into a money-making machine, you likely know the importance of SEO. If not, before you go any further, make that a priority. Because SEO is a big part of the foundation of your business.
Meaning your site needs to be well optimized for the search engines. So when it comes to SEO, let's talk Weebly vs WordPress.
Weebly for SEO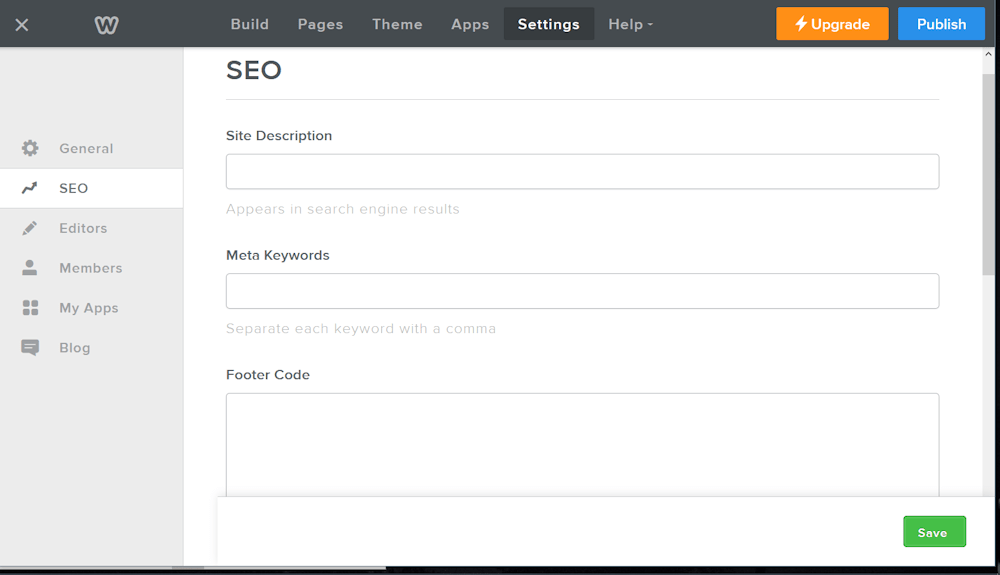 Weebly offers you the basics when it comes to SEO. Via the settings page, you have the option to customize various components of your pages. These include:
Custom URLs
Edit image alt tags
Meta descriptions
Page titles
Set up 301 redirects
But if you want to get even more granular with your options, with things like your heading tags, 3rd party apps are sometimes necessary.
WordPress for SEO
From its inception, WordPress has been known for having SEO built into its very foundation. It also gives you complete control over all SEO basics like:
Image alt tags
Heading tags 1 through 6
Access to your CSS
A code editor that allows you to add scripts like your Google Analytics code and more.
May premium themes and builders offer extended SEO customization. For example, the Genesis Framework offers the following: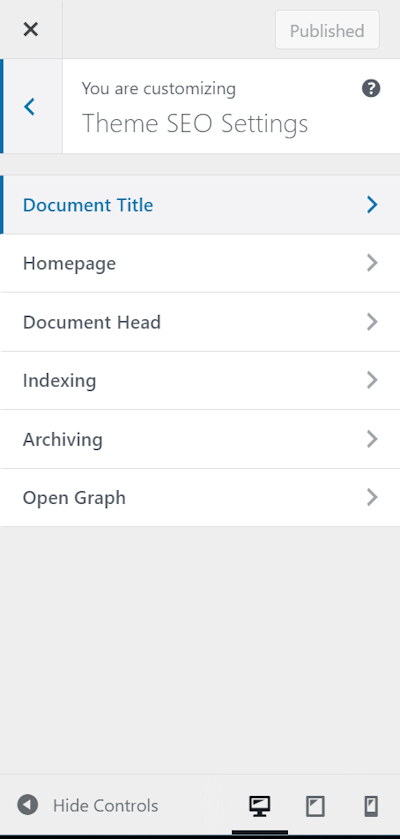 The Divi Theme Builder also has a full page of SEO options: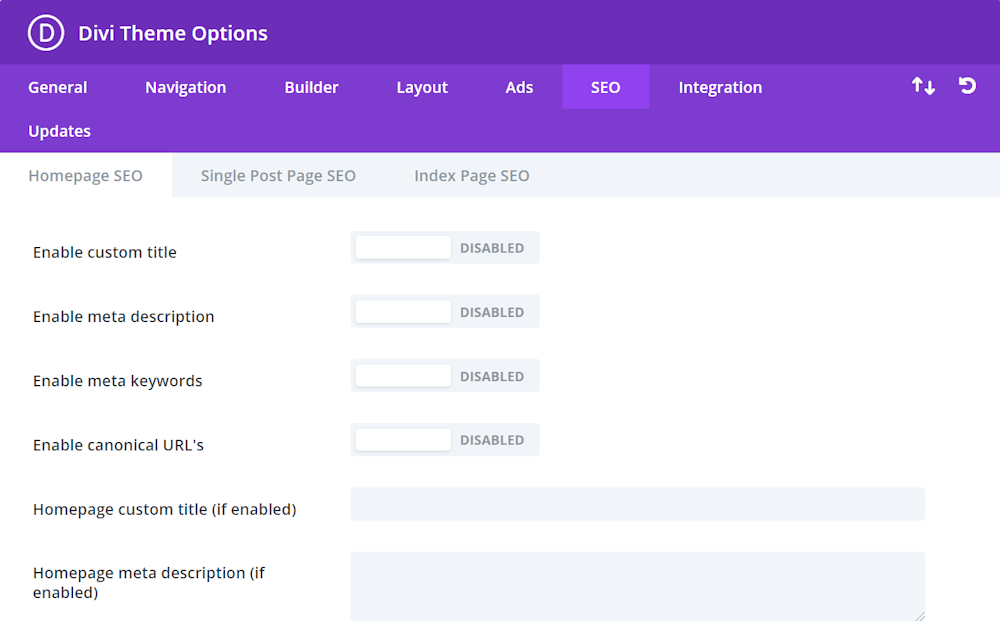 And then there are several WordPress plugins dedicated to SEO. One of the most popular, Yoast SEO has more than 5 million downloads of its free version. This will give you everything you need to manage your SEO, but you also have the option to purchase a premium version, which gives you access to even more tools and functionality.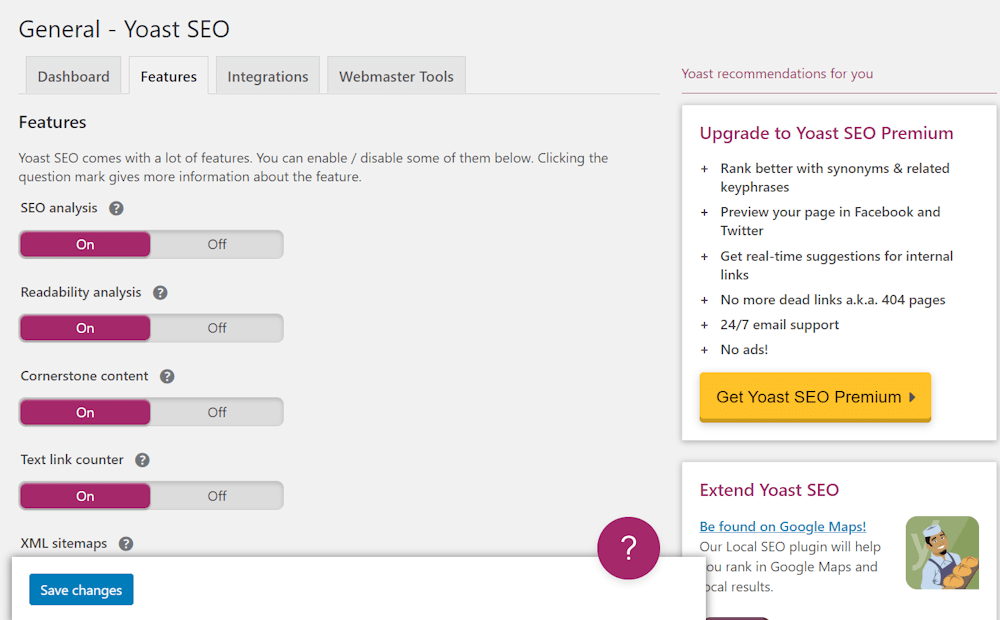 Weebly vs WordPress SEO: Who Wins?
The winner will depend on what you want and need for your site. If you're looking for a powerful website, whether it's eCommerce or not, that the search engine will send loads of traffic to, then I would say the clear winner is WordPress vs WordPress.
However, if you have the type of site that merely exists to add credibility and information, and you don't need or want search engines driving any amount of traffic, then a Weebly site would be just perfect for you. Weebly will offer you all the standard functionality you need in terms of SEO.
If you're new to all things web building and feel like you'll need a lot of hand-holding, the kind of support you'll get from the platform developers or the community in general, is an important consideration. Note that when it comes to support, things differ greatly from Weebly vs WordPress.
Weebly Support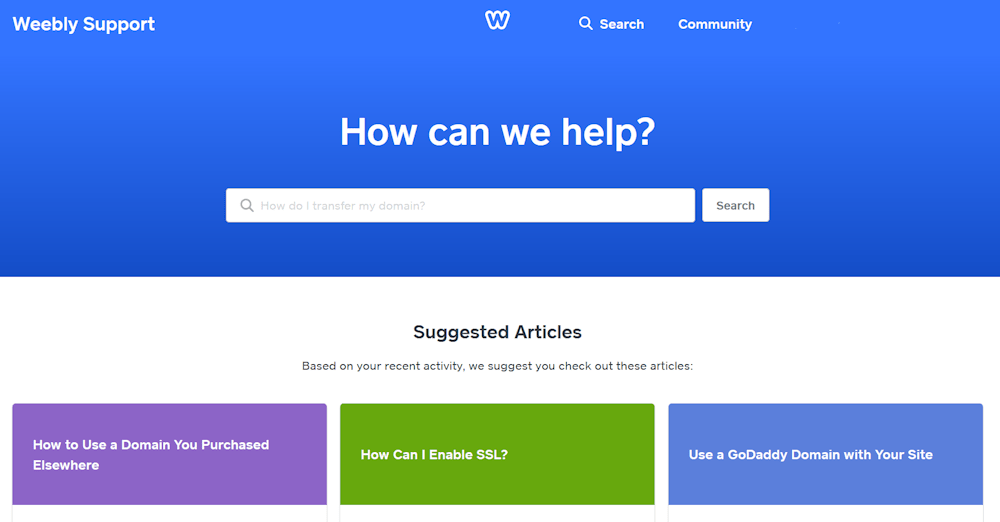 Source: Weebly Support Pages
I mentioned earlier that WordPress is open source, but Weebly isn't. And support is one of the biggest ways that's reflected. When you need support for your Weebly site you have a centralized place to go to. There support page.
Here you can find:
Suggested articles to help get you started
Knowledge base topics that include:
You can also reach out to the community for help or contact Weebly directly for support.
So pretty much any help you need, you can find it at weebly.com.
WordPress Support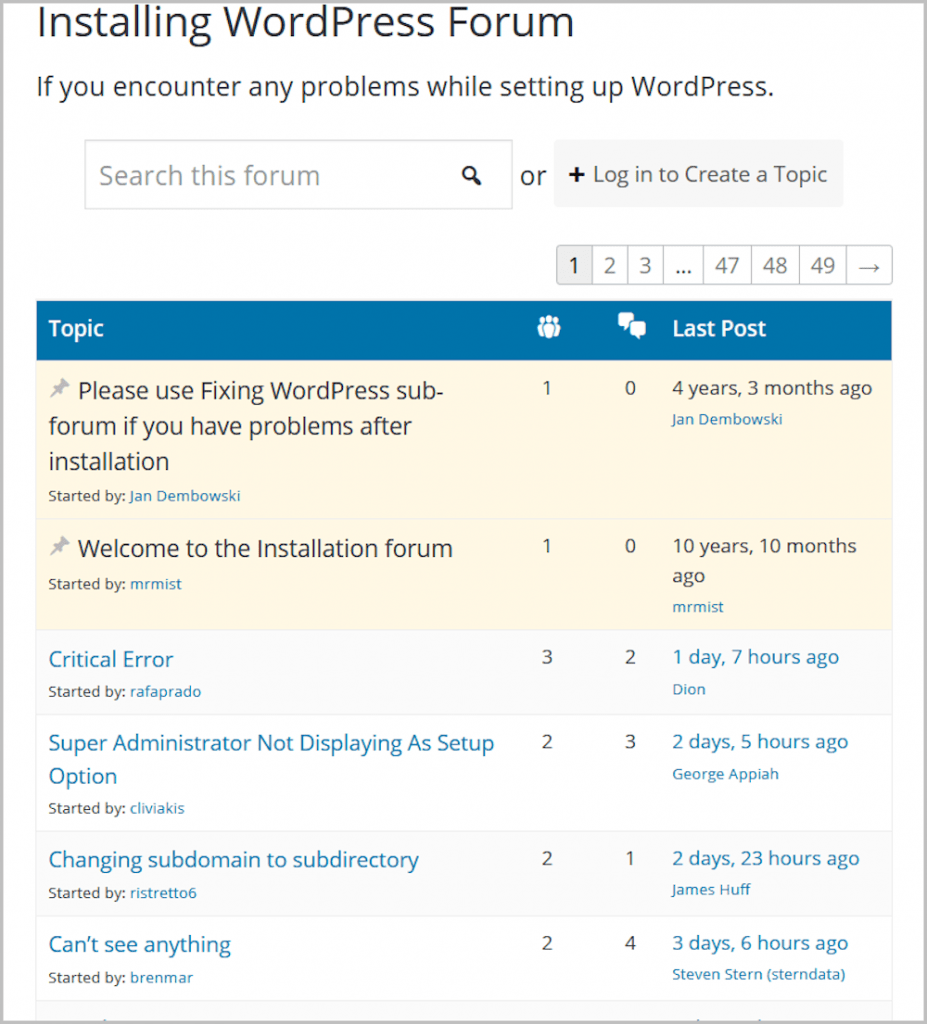 Source: WordPress Support Forums
Things are different here.
Just like Weebly, WordPress has a gateway into its support pages. You can find knowledge base articles and a very active community that provides help in the support forums.
You can find forums dedicated to:
Installing WordPress
Fixing WordPress
WordPress development
Networking
Accessibility
Localhost installs
Feature requests
Everything else about core WordPress
On top of that, developers of each theme and plugin will have their own support forums as well. So as long as you aren't using a plugin that's been abandoned by the developer—in which case you shouldn't be using it anyway—they are there to answer questions.
The WordPress community is huge and helpful. And even if you can't find help on something specific in one of their forums, and quick Google search will often provide the answers to any questions you might have.
Weebly vs WordPress Support: Who Wins?
Since Weebly is a proprietary website builder, they offer dedicated support. It's not 24/7, but it is available every day. Support is available via:
Email
Chat
Phone
Support tickets
And of course, the support center, which has the knowledge base articles.
So if all of that is important, Weebly is the winner for you.
On the flip side, WordPress doesn't have a dedicated support team. But since it has a massive global community that lives and breathes WordPress, you are never far away from help and answers.
I've covered a ton of information here on Weebly vs WordPress, maybe even more than you needed. But it should have helped you make a decision that suits you and your needs. Because bottom line, no one can say Weebly is better than WordPress or vice versa. Or that Weebly is for beginners only. Because it's an apples to oranges comparison. They are different, with different strengths.
But at least now you will be able to choose wisely.
One more thing.
One of the things I talked about here was ease of use. If you do decide that WordPress is the best option for you, I recommend you sign up for WPBlazer's Free Trial and see how much easier installing and managing your WordPress site can be.