Blogging is one of the best ways to reach your audience, grow your business, or share your ideas with the world. It's no surprise that the popularity of CMS platforms is surging. But which platform is a better choice for blogging? In this Ghost vs WordPress comparison, we compare the most popular CMS with one created with writers and publishers in mind.
Table of Contents:
1. WordPress - The Biggest Player in the Blogosphere
2. Ghost - The Platform for Independent Creators
3. Ghost vs WordPress - Managed or Self-Hosted?
4. How Much Does It All Cost? Pricing of Ghost vs WordPress
5. Ease of Getting Started Blogging
6. Ghost vs WordPress - Features Comparison
7. Designing Your Website or Blog
8. Ghost vs WordPress - Monetization Options
9. Ghost vs WordPress - Available Support
10. Hiring Help and Getting Things Done
11. Ghost vs WordPress - The Winner Is Clear
1. WordPress - The Biggest Player in the Blogosphere

Released back in 2003, today WordPress is the single biggest CMS and a huge blogging platform. As of 2022, it's used by 42.9% of all websites - and by 64.2% of all those that are using a CMS. 
Of course, these WordPress statistics don't tell us how many of these websites are blogs. However, it's safe to say that if a platform is that popular, it has to be doing some things right. And, if you look at WordPress features - there are plenty of reasons why bloggers love it. 
2. Ghost - The Platform for Independent Creators

Launched ten years after WordPress, Ghost was brought to life by John O'Nolan. Even though WordPress was already around, a Kickstarter campaign attracted 5,236 backers. Together, they pledged 196,362 pounds to help kickstart the platform. The goal? Simplify online publishing for journalists, bloggers, and other independent publishers. 
But, how popular is Ghost after almost 10 years of activity? Unfortunately, if you look at the number of websites using it, it's far behind its older competitor. As of 2022, it's powering fewer than 0.1% of all websites. However, these don't tell us much about how well the platform performs. First, Ghost is 10 years younger than WordPress. So the latter had plenty of time to establish its market position. 
But, what's important is that Ghost doesn't want to be the most popular content management system. Rather, they strive to become the best platform for bloggers and publishers. And, as you're about to see, there are some things that make Ghost worth giving a shot. After all, their user base is not limited to niche geeks. Ghost users include big brands like Buffer, Duolingo, and Revolut. 
3. Ghost vs WordPress - Managed or Self-Hosted?
Both platforms offer managed and self-hosted solutions. Today, the self-hosted WordPress is the go-to choice for most people starting a new website. Interestingly, when picking Ghost, the majority of people go for the managed option. The reason? Both platforms have slightly different target audiences who have different needs.
For example, most Ghost users are publishers who want to get busy publishing. They don't mind paying a few extra bucks to have someone else take care of the technical stuff. On the other hand, WordPress users who choose the self-hosted option usually don't mind doing the work themselves. 
Note: This Ghost vs WordPress article compares the most popular choice for each. This means we're comparing the self-hosted version of WordPress with managed Ghost. There's a managed WordPress option (find out how it's different from self-hosted), but it's not the subject of this review. 
4. How Much Does It All Cost? Pricing of Ghost vs WordPress
Unlike its self-hosted competitor, Ghost offers four pricing packages. These start at $9/mo and go all the way up to $199/mo (billed annually) for the basic number of members.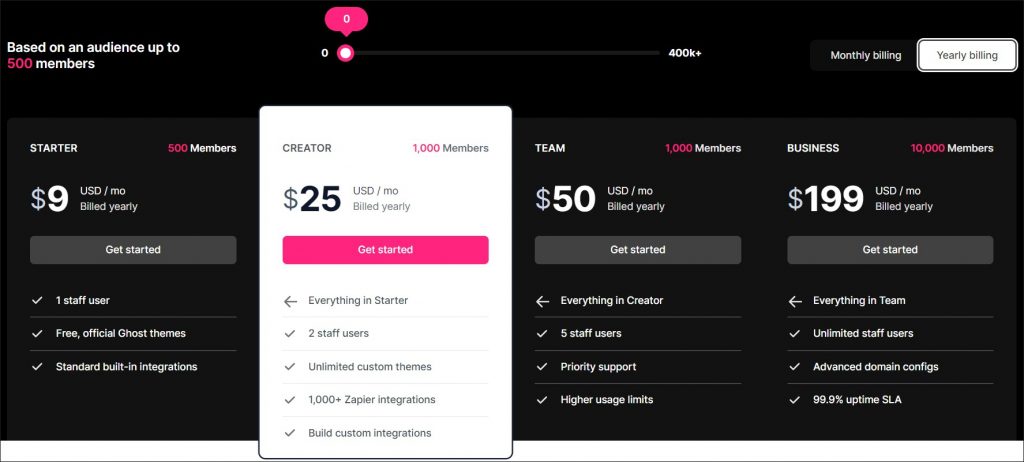 The problem is, there's little you can do with the $9 plan. Even if you're flying solo, the $25 ($31 if charged monthly) plan is the least you should get if you want any flexibility. 
Note that the price depends on the size of your audience. At 300,000 members, the cost goes up to $1,565 ($1,956 if charged monthly) for the creator plan. 
Of course, unless all 300k members are in the free tier, the price should not be a problem at this stage.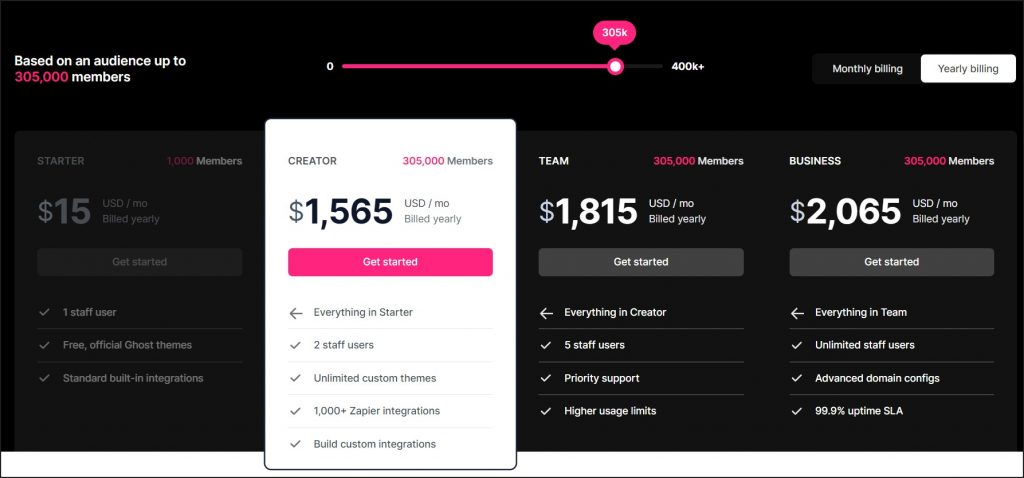 When you look at the features, the creator plan has everything you might need when starting out: 

Similarly, product features look really robust. However, as you start growing your team, you'll have to make a switch to another tier: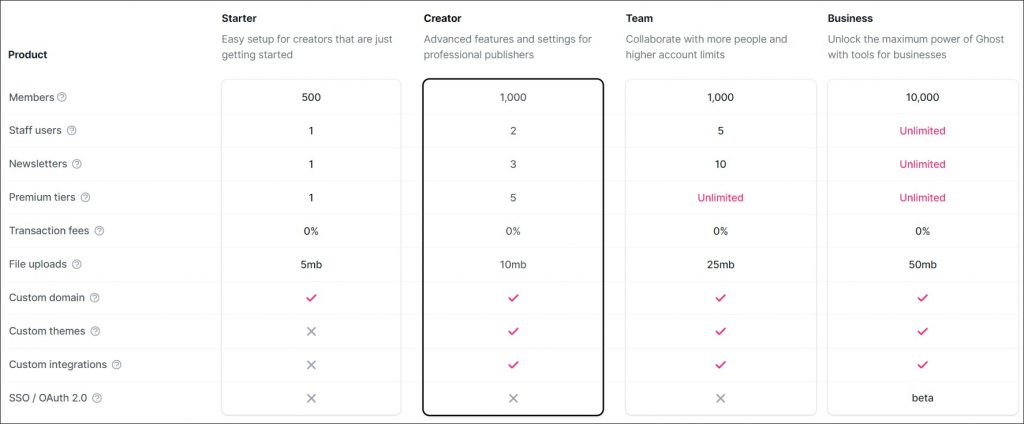 Lastly, if you need help, in the first two tiers support is limited to email (with priority in the third). If you pick the Business tier, you'll get a dedicated account manager:

And how does it all compare to WordPress.org? 
Well, it depends. In theory, WordPress.org is free. Just go to their download page, grab the files, and upload it to your hosting. But, you've got to pay for your hosting, right?
The good news is that there's a wealth of available hosting options that cost way less than $25/mo. At half the price (or less), you can get decent managed WordPress hosting that's enough to start growing your site.  
Not only that - but you can use that hosting to work on more than just one website! 
Compared to self-hosted WordPress, managed Ghost doesn't require any server. Plus, their team does all the work to ensure a great hosting experience. 
This makes getting started much easier. And it's not the only thing Ghost does to offer you a smooth start.
5. Ease of Getting Started Blogging 
If you're just starting out, you want things to be as easy as possible. This is where managed Ghost wins with self-hosted WordPress hands down. 
First, you don't have to worry about hosting. Then there are certain functionalities already built into the platform. You get some neat SEO options, newsletters, and membership features. And you don't even have to pay any fees on transactions that you charge your members! 
In general, there are some limitations to what you can do out of the box. However, what you get is enough to build a solid foundation for your website. Plus, both the dashboard and the posts editor are very intuitive. After all, the platform was designed with writers and independent publishers in mind. As a result, getting started with the Ghost is incredibly easy. 
All this makes it an excellent platform for those who just want to focus on creating great content. 
And if you compare Ghost vs WordPress, the latter looks hard to get started with. Not only do you have to worry about hosting, but there are no newsletter or membership options out of the box. 
There aren't even any serious SEO settings available!
Of course, that doesn't mean you can't have any of those things in WordPress. 
And while the learning curve is a bit steeper, once you get the hang of the platform, there's a lot you can achieve with it. 
6. Ghost vs WordPress - Features Comparison
If we were to look just at what you get when you get started, Ghost would win hands down. There's everything you need to run a simple blog. 
But the true power of every content management system lies in the customizations. After all, once you hit the ground running, you want to personalize your website. The goal is to offer your audience the best possible experience and keep improving the site. 
And when it comes to customizations, there's a clear winner out there. 
As the most popular open-source platform, WordPress offers the most themes and plugins of all CMS. For example, when you try to search for "newsletter" on WordPress.org, you get 66,900 results.
Of course, not all those results are newsletter plugins. The results visible in the screenshot include various documentation and forum posts. However, the sheer number of results goes to show how big the WordPress community is.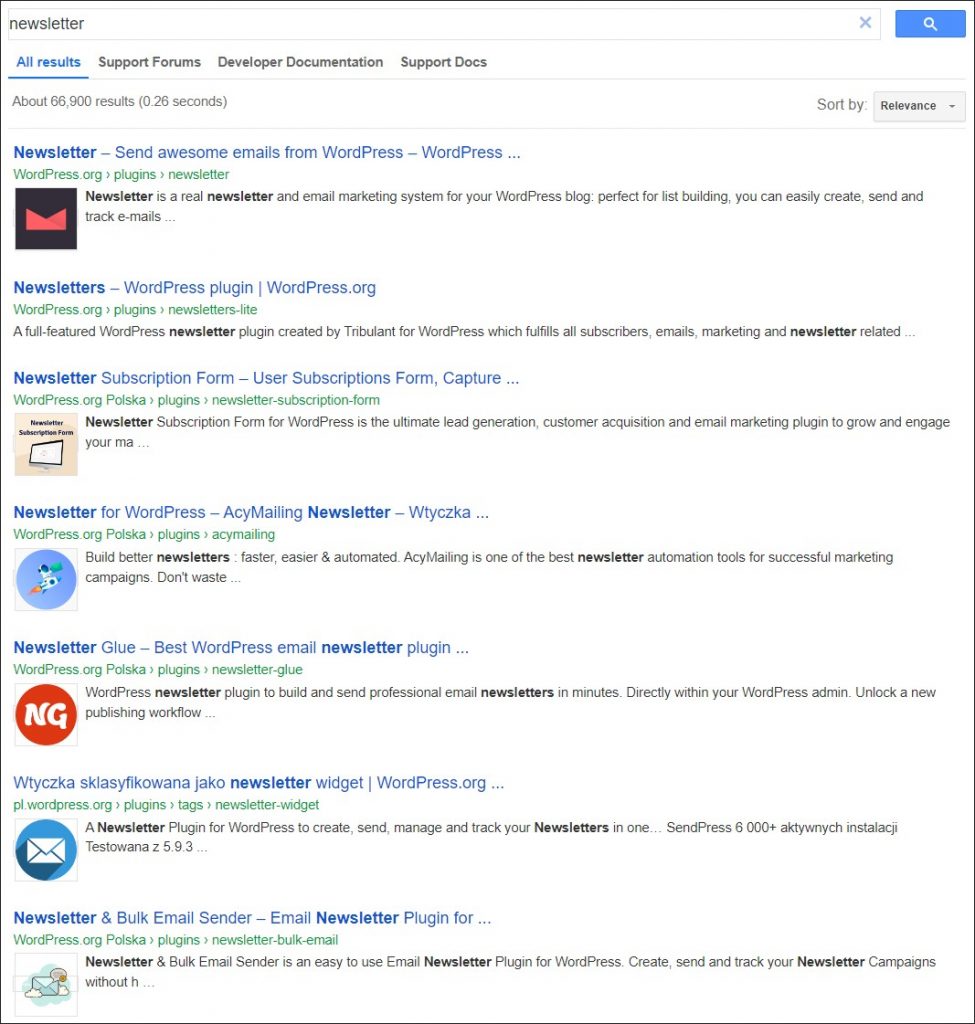 What's important is that a big part of that community is made up of developers and agencies. Thanks to that, there's barely a feature you wouldn't find a plugin for! The only drawback is that most of the premium plugins and themes cost money.
And, what about Ghost features?
Sadly, there's very little available over what you can find on Ghost.org. The upside is that there are both free and paid plugins. And, as they are offered directly by Ghost, their quality is top-notch. The platform also offers several integrations with third-party platforms. 
These include email, SEO, analytics, and automation, among many others: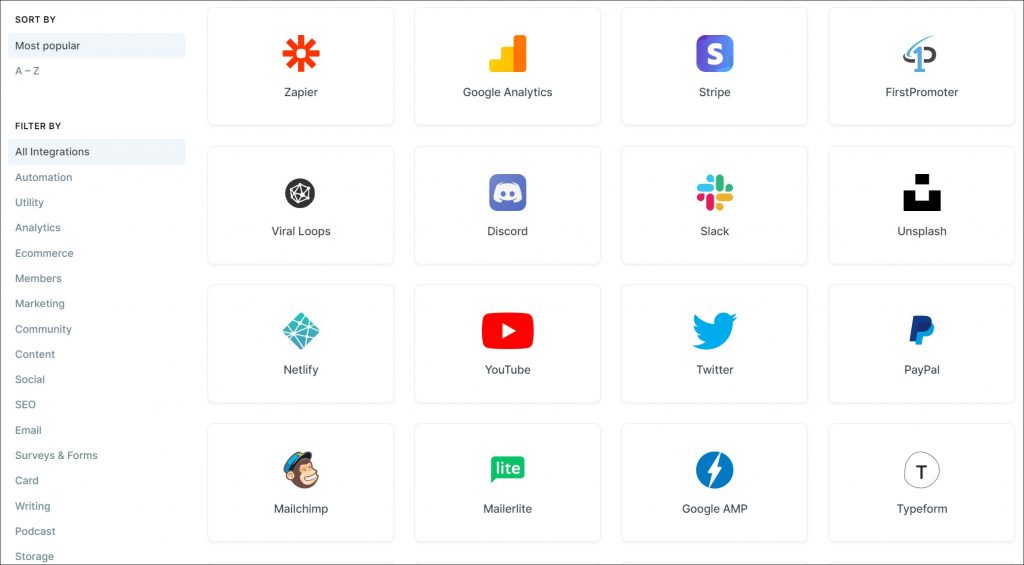 And while this significantly increases the number of things you can do with Ghost, it's still far less than what you get with WordPress.
The biggest problem Ghost faces is that its community is very small. At the end of the day, it's WordPress' huge community that makes it such a powerhouse.
7. Designing Your Website or Blog
The content that you publish is critical to your success. But you don't want it to appear on an ugly website, do you? However, what to do if you lack web design skills, and don't want to spend money on a designer right from the start? Thankfully, both platforms make it easy for anyone to build and design a good-looking blog. No design or coding skills are necessary. 
If you pick Ghost, you get access to over 20 free and dozens of paid themes. Theme prices range from $39 to $149. The themes come in several different categories, including Magazine, News, or Photography. 
All this makes it easy to kickstart a specific type of website with as little work as possible.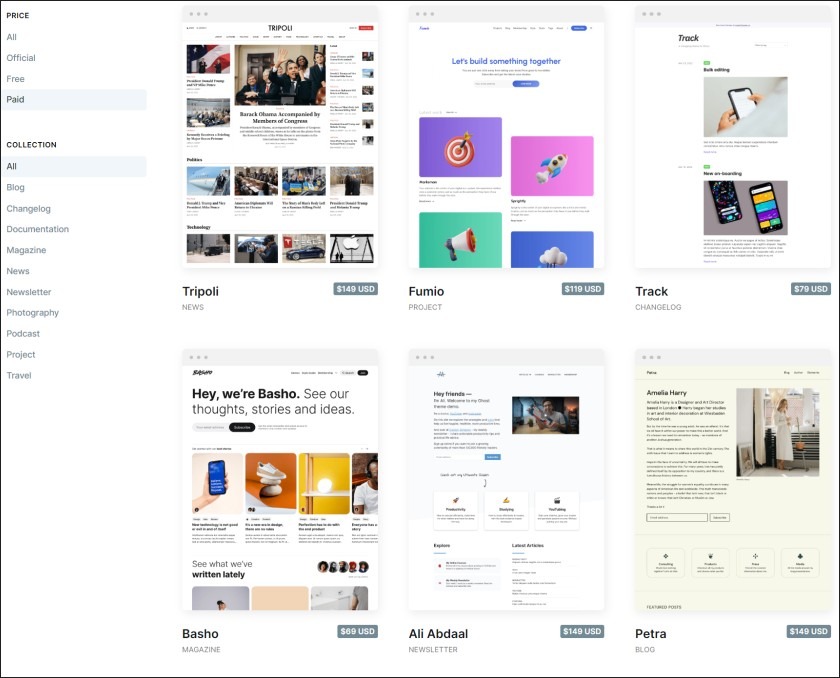 Just like Ghost, WordPress gives you access to both free and paid themes. The pricing range is also quite similar. Additionally, both platforms support drag-and-drop website editing. They also give you the docs necessary to develop your own theme. 
However, the main difference is in the number of available theme options. 
While Ghost gives you a bit over 100 themes, WordPress gives you access to 100s if not 1000s - both free and paid. The majority of them are developed by independent developers and design studios. The upside of this is that you can find the exact theme for your needs easily.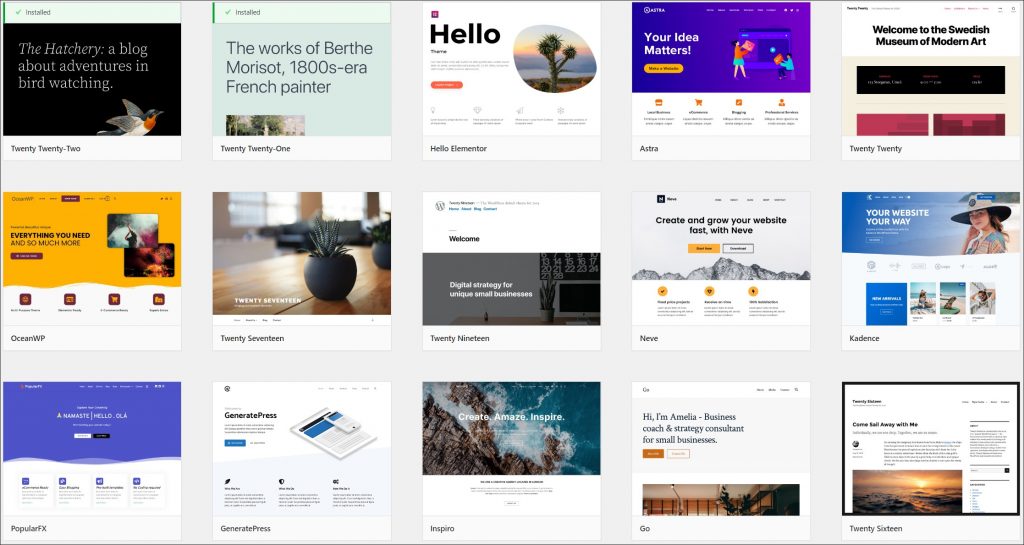 8. Ghost vs WordPress - Monetization Options
When comparing Ghost vs WordPress, we can't forget about different monetization options. Many people turn their blogs into stable and lucrative businesses. 
Of course, there are many ways in which you can monetize your blog, such as ads or affiliate marketing. But the most profitable ones always include some form of recurring revenue. 
The easiest way to achieve this is to build a membership site or a subscription newsletter. How easy is it to achieve that with each platform?
If we look at just these features, Ghost gives you everything you need right from the start. In fact, their pricing is dependent on the number of members and tiers that you have. 
The platform also makes it easy to collect emails and create newsletters. And, most importantly, they don't charge you any fees for a membership subscription. 
Of course, as a much more robust platform, WordPress allows you to do all that too. The only problem is that you need to buy, install, and configure each plugin separately. This makes the cost of getting started much higher. 
However, it also gives you more control over the exact features of your website. Plus, as you start expanding your blogging business, you can just add new blogs to the same hosting. And with a tool like WPBlazer's Theme and Plugin management, you can make changes to multiple sites using a single dashboard.
9. Ghost vs WordPress - Available Support
No matter how easy it is to get started with a platform, at one point you'll inevitably run into issues. 
When it comes to support, there are usually three ways you can get help. There's the official documentation, official support, and the community. 
Both platforms offer plenty of official docs and resources. But the other two routes differ significantly. 
When using Ghost, the support that you get will depend on your pricing tier. 
For example, the first three pricing tiers give you access to email support. However, in the highest tier, you get a dedicated account manager.
As mentioned earlier, the problem is that the Ghost community is almost non-existent. When you look at their forum, there are barely any new posts popping up: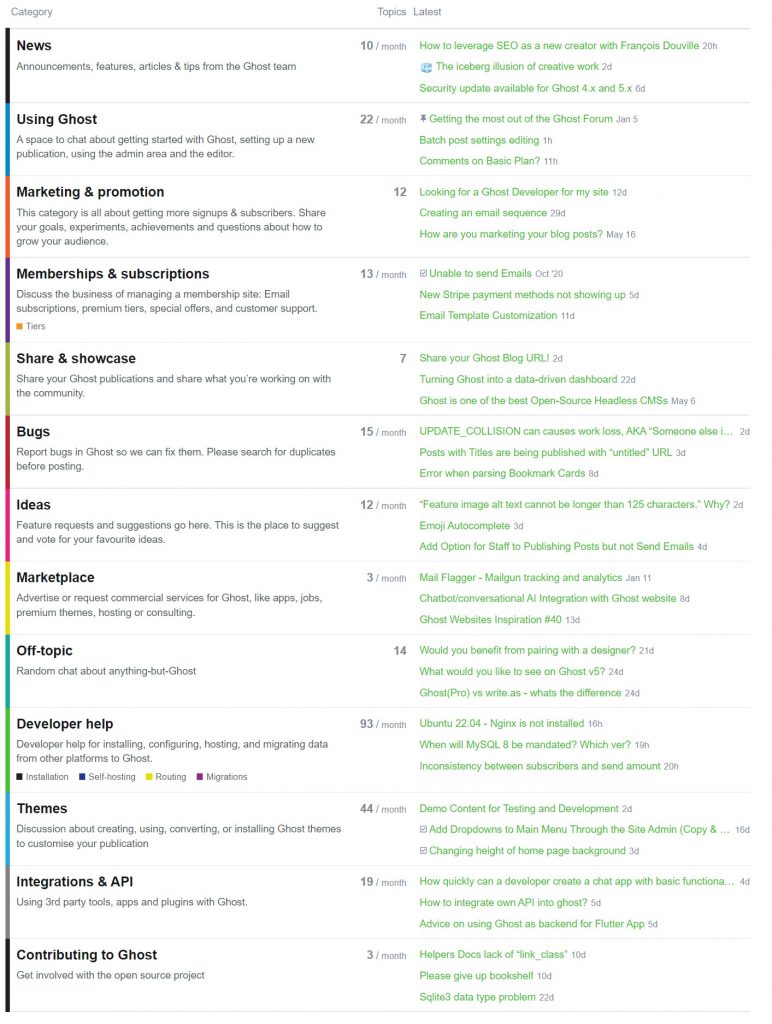 And what support is available for WordPress users?
Compared to Ghost, the self-hosted version of WordPress offers no direct support. But, that doesn't mean there's no way to get help at all.
First, almost every premium plugin or theme offers support (and many of the free ones). In fact, the most popular solutions have their own communities of fellow users and developers. 
Often, it's enough to do a quick search to find a solution to almost any problem you can think of.
Moreover, there's a huge official forum separated into different categories: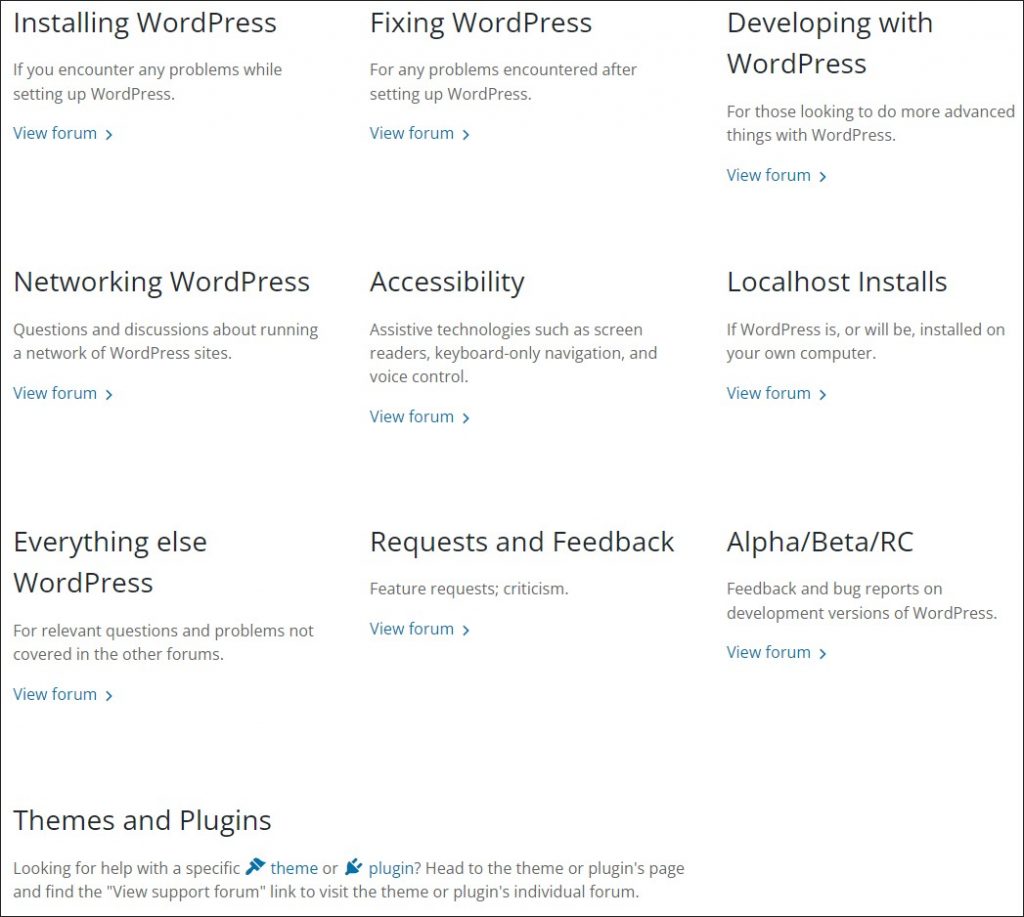 What's more, each category is very active with dozens of posts appearing daily: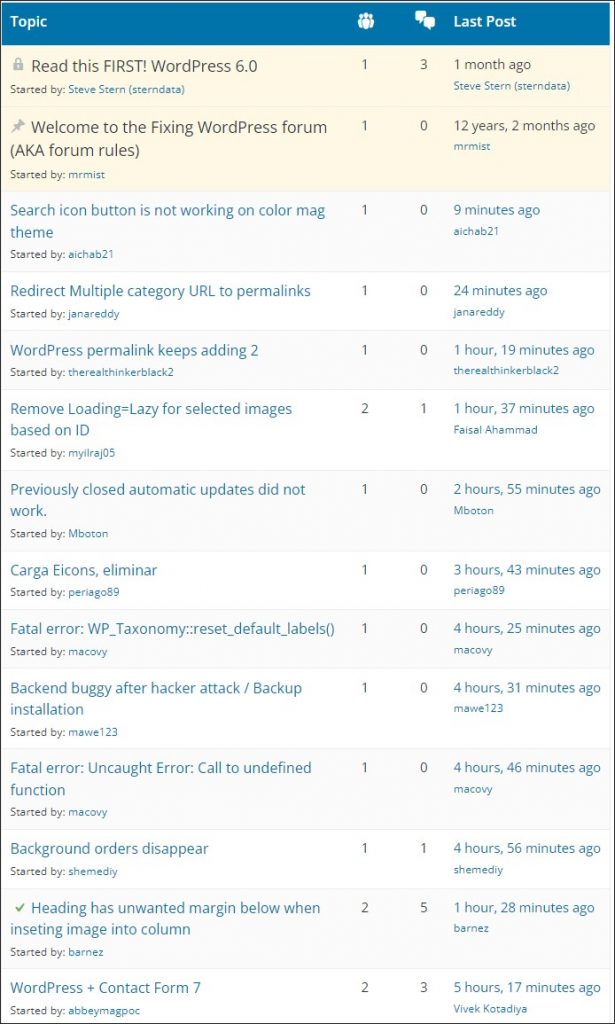 10. Hiring Help and Getting Things Done
Lastly, no matter how easy it is to set everything up, once your blog grows, you may want to outsource some of the work. Or you may want to get the site designed by someone else right from the start.
If you pick Ghost, they offer direct access to both freelancers and agencies who can do the work for you. The only problem is, there are just few names in their database - with just six of them marked as "certified experts":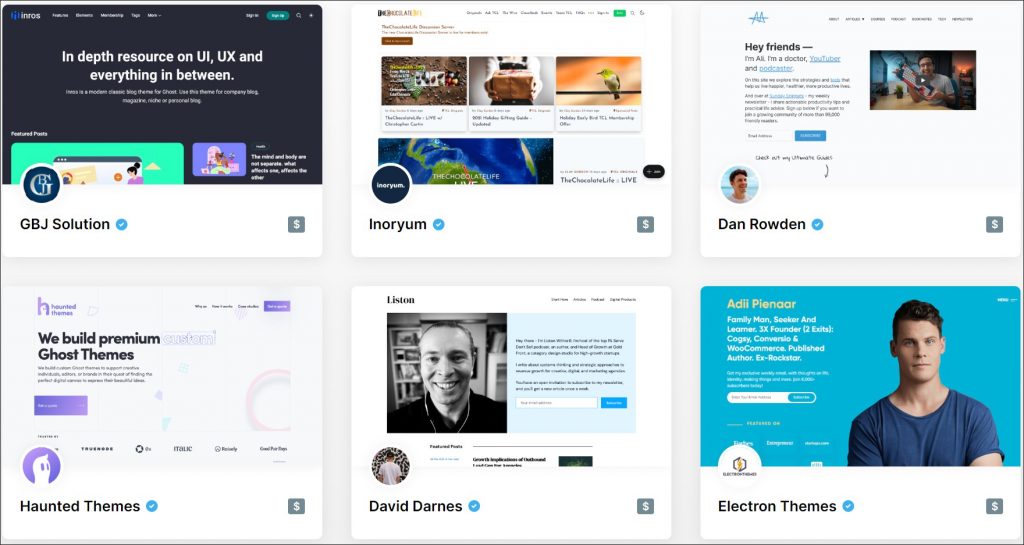 Compared to that, there are literally thousands of WordPress developers and agencies. There's someone for every project, timeline, and budget (as long as they're reasonable).  
11. Ghost vs WordPress: The Winner Is Clear - And You Should Start Using It
While the two platforms are quite similar, there can only be one winner.
Ghost is a decent platform if you just want to create content and don't want to worry about anything else. However, this means it's very limiting in what you can achieve.
There are simply way fewer themes, customizations, and monetization options compared to WordPress. So if your aim is to build something that you can turn into a long-term venture, WordPress is a clear winner.
And if you own and monetize multiple websites, WPBlazer can help you manage them all using a single dashboard. Click here to sign up for a 14-day free trial and check out all of its features in action!