At just a year away from its 20th anniversary, WordPress has grown to a platform that's become the most widely used CMS (Content Management System) in the world. In this article, we'll discuss a variety of WordPress statistics and history - its path to greatness.
Note that for the most part, these WordPress statistics and facts are in relation to websites that are on the open source, self-hosted version of WordPress. We aren't talking about sites hosted on WordPress.com.
Table of Contents
1. WordPress - How it All Began
2. WordPress Version Popularity
3. WordPress Statistics: Awards & Recognition to Date
4. WordPress Statistics: Usage & Market Share in 2022
5. Some WordPress.com Statistics
6. WordPress Growth Statistics
7. Top Websites Built on WordPress
8. The History of WordPress Themes
9. WordPress Plugin Statistics
10. WordPress Security Statistics
11. The WordPress Community
12. WordPress Statistics: Ecommerce
WordPress was released in the spring of 2003. May 27, to be exact. It was released as a fork of b2/cafelog, a 2001 creation by a French programmer named Michel Valdrighi. b2/cafelog provided a unique new way of creating web pages—creating dynamic pages from the content of a MySQL database.
In 2003 Matt Mullenweg, an American developer, and Mike Little, an English developer, released the fork under a GPLv2 license. The name WordPress was suggested by a friend of Mullenweg.
From its initial release in 2003, WordPress has released 561 versions. Major releases are given the name of a famous jazz musician. For example:
Version 1 was named Miles Davis
Version 1.5 Billy Strayhorn
Version 2.0 Duke Ellington
Version 3.0 Thelonious Monk
Version 4.0 Benny Goodman
Version 5.0 Bebo Valdés
The latest version of WordPress, 5.9, has been downloaded 61, 750,582 times.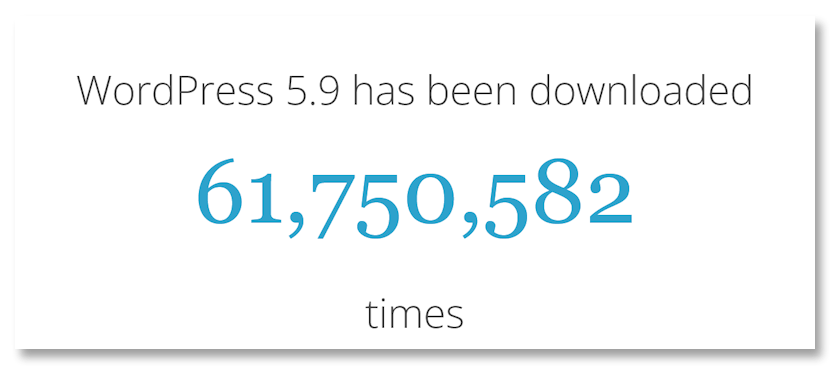 Let's look at some WordPress statistics focused on the version.
Currently, out of all self-hosted WordPress websites, 92.1% of them are running at least version 5. So this would include versions 5.0 through to 5.9. Of that number, 45.5% are running the current 5.9 version.
This means that less than half of all WordPress users have their sites up to date.
And 7.4% of WordPress users haven't upgraded past version 4, probably because they don't like or are hesitant to learn the new block style introduced with Gutenberg and version 5.0.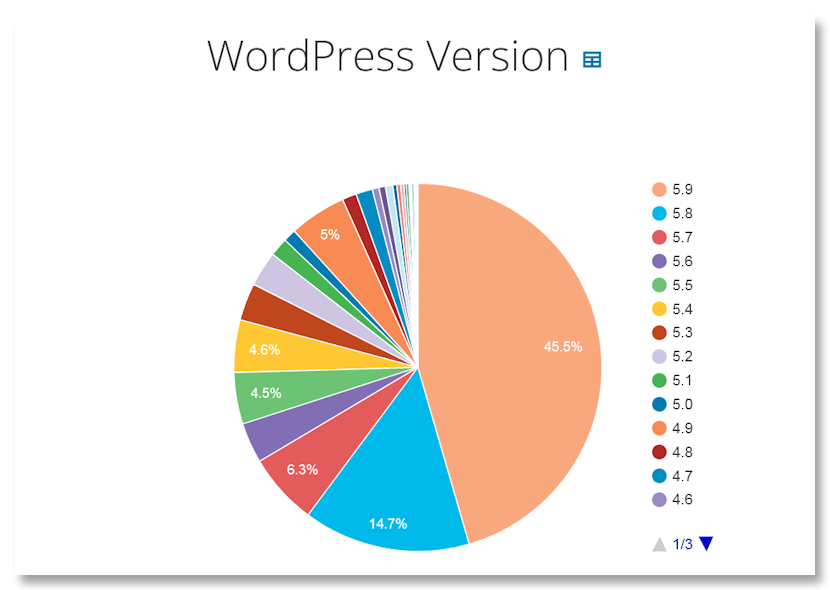 Any article on WordPress statistics wouldn't be complete without addressing the awards and accolades the platform has received since its inception.
WordPress was around for several years before it began its meteoric rise in popularity but once it hit its stride, the sky was the limit. I personally discovered it in 2006. At the time I was using Blogger and wasn't happy with it. I found WordPress and haven't looked back.
Here's a timeline of where WordPress won acclaim with different awards and recognition.
2008 – InfoWorld's Bossie Award for Best of Open Source software awards: Collaboration
2009 – Open Source CMS award for Overall Best Open Source CMS
2010 – Digital Synergy's 2010 Open Source Hall of Fame CMS category
2011 - InfoWorld's Bossie Award for Best Open Source Software
2017 – Received a 5-star privacy rating from the Electronic Frontier Foundation.
The site W3Techs keeps up-to-date stats of all content management systems and the following is sourced from there as of March 2022. They monitor approximately 755 different CMS platforms and of those, close to 700 have a market share of less than 0.1%.
The following WordPress statistics are based on websites that use a content management system.
Of all websites on the internet, 33.5% of them use a CMS that isn't included in the 755 mentioned above.
WordPress is used by 43.1% of all websites, which means they have a market share of 64.8% in the content management systems (CMS) group. To put that in a bit more perspective, Shopify and Wix, which hold second and third place in the CMS market, look at the following.
WordPress
Share of all websites: 43.1%
Share of CMS websites: 64.8%
Shopify
Share of all websites: 4.4%
Share of CMS websites: 6.6%
Wix
Share of all websites: 2.1%
Share of CMS websites: 3.1%
Here's a graphic showing the top 10: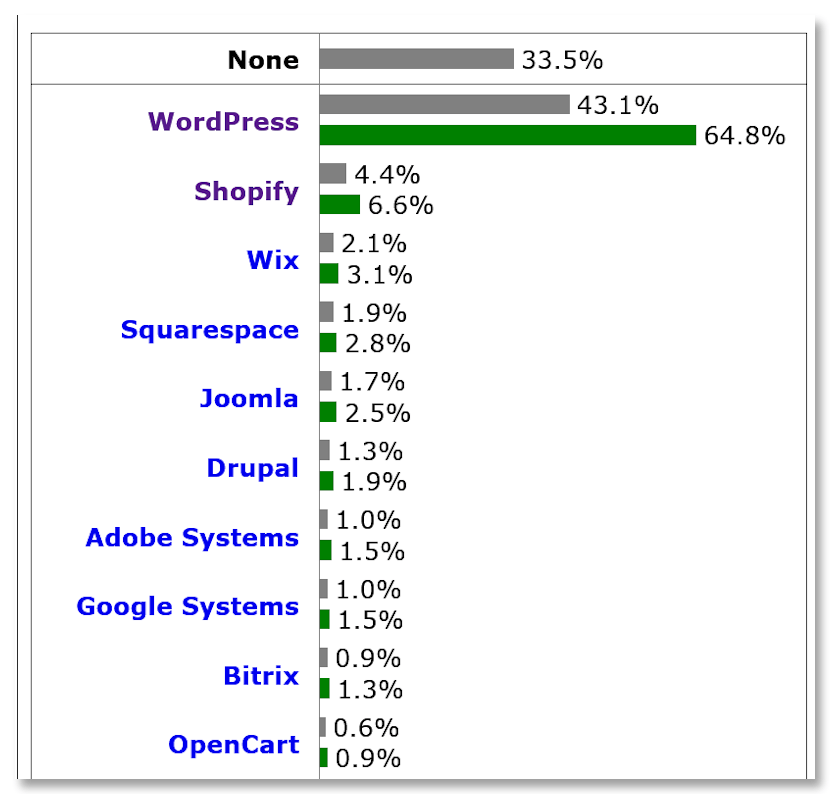 Looking at this statistic alone, there is no question that WordPress dominates in the CMS marketplace.
But that's not the only place WordPress dominates on the World Wide Web. As of March 1, 2022, WordPress holds a 79% share of all Open Source websites.
The top 3 Open Source usage distribution currently stands at:
WordPress – 79%
WooCommerce – 9%
Joomla – 4%
And finally, at least in terms of usage, WordPress is used by just over 30% of the top 1,000 websites on the World Wide Web.
These WordPress statistics make it clear that it leaves its competition in the dust.
All of the above stats center around self-hosted WordPress.org sites but what about sites that are built on WordPress.com?
A post about WordPress statistics should include some details on WordPress.com sites, right?
Right! So here are some interesting facts.
There are nearly 77 million WordPress.com sites online currently
More than 409 million people read more than 20 billion WordPress.com pages every month
Approximately 50,000 new WordPress.com sites are launched every day
As far as publishing goes, users publish more than 81 million new WordPress posts every month
WP readers add 77 million new WordPress comments every month
WordPress.com is available in more than 120 languages
I'd be remiss to make a list of WordPress statistics without including its historical stats as well.
Let's take a walk back in time. The following shows the growth in the number of websites of self-hosted, open source, WordPress websites—WordPress.org sites, not sites hosted on WordPress.com.
| | |
| --- | --- |
| Year | Active Websites (Approx.) |
| 2011 | 5 million |
| 2012 | 7.5 million |
| 2013 | 8 million |
| 2014 | 10 million |
| 2015 | 12.5 million |
| 2016 | 17.5 million |
| 2017 | 20 million |
| 2018 | 22.5 million |
| 2019 | 25 million |
| 2020 | 27.5 million |
| 2021 | 28.7 million |
| 2022 | 30.5 million |
For the past 11 years, WordPress has been the fastest-growing CMS platform. As the numbers above show, there is continued growth, and that growth far outstrips the competition.
Here are some of the best-known organizations that use WordPress for their CMS.
CBS Radio
CNN
NBC
People Magazine
TechCrunch
TED
The NFL
UPS
Plus many Fortune 500 companies
Way back when WordPress launched in 2003 it shipped with the Classic theme. By the time I started using WordPress in 2006 they had released a new default named Kubrick. It was part of the WP 1.5 update.
At the time, Kubrick got a lot of attention. It was considered to be the perfect blogging theme, offering loads of flexibility. It remained the default theme up to 2010, just before WordPress started publishing a new default theme nearly every year, starting with the Twenty Ten theme.
Today, themes hold an important place when talking about WordPress statistics. From the humble beginnings of WordPress when you had the Classic theme and no other options, the WP repository now has more than 5,800 free themes to choose from.
But there are many more than that. The world of WordPress development is huge so there are countless theme developers and designers.
Here are a few of the best WordPress theme developers today:
Elegant Themes
Elementor
Theme Forest
Theme Isle
Studio Press
While there is a lot to be said for choosing a free WordPress theme, many choose to upgrade to a premium theme with all the advantages that come with it.
Some of the advantages of a premium theme include:
Better security than what's offered with many free themes—especially themes in the wild, not sourced from the WordPress Repository
Free support is typically offered with premium themes
Better SEO options
Updates
More options to customize
Currently, the three most popular WordPress themes—including builders and frameworks—are Divi, from Elegant Themes, the Genesis Framework, and the Avada Builder.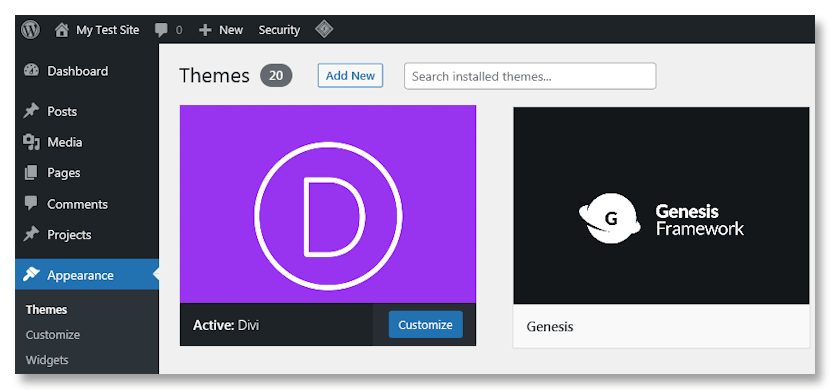 Today, a WordPress theme or theme builder can cost up to about $200. Getting a site custom built from scratch could cost you up to $5,000 depending on size, complexity, and design needs.
Moving on with our roundup of WordPress statistics, let's talk about plugins.
A year after its release, in May 2004, WordPress updated to version 1.2. It was with this release that they included the initial plugin architecture that would allow developers and users to extend the core functionality of WordPress.
At the time, this easy-to-use yet flexible platform was an attractive option to users, and its popularity began to catch on.
Here are some interesting WordPress statistics related to plugins.
As of January 2022, there were nearly 59,000 WP plugins available
The most popular plugins as of this writing are as follows. With the exception of the last, which has 4+ million active installations, all have more than 5 million active installations.

Elementor Website Builder
Since WordPress is the top CMS in the world, it attracts a lot of attention, and not all of it is good. For example, it's a favorite for hackers. Unfortunately, many users aren't conscientious when it comes to keeping WordPress up to date, especially plugins and themes.
According to Sucuri, in 2018, 90% of all CMS hacks were aimed at WordPress.
Let's look at some WordPress statistics involving security issues.
As mentioned above, hackers take advantage of users who fail to update old plugins and themes, making themselves vulnerable. 90% of all hacks are made against plugins, followed by 4% against core files and 6% against themes. (WPScan)
So what can you do to improve your chances of getting hacked and becoming one of the WordPress statistics you'd rather not be?
Make sure the host you use is reliable
Keep your WordPress version, plugins, and themes updated
Use a solid security plugin
Choose a unique username
Use strong passwords
Now let's look at some community-focused WordPress statistics.
I've already mentioned in this article that the WordPress community is huge. To be more specific, consider the following.
Data from 2020 shows the community consists of over 511,000 active members and 1,300 meetup groups globally.
The 3 years after the launch of WordPress, the first WordCamp was held in 2006 with over 1,025 events in 75 cities.
In 2017, WordCamp Europe was the most successful event so far, with 1,900 attendees from 79 countries
WordPress.tv is available for those who can't attend the events in person
Community contributors from around the world have helped to translate WordPress into more than 56 languages
The last WordPress statistics we'll look at are ecommerce based.
According to W3Techs, WooCommerce is used on 8.8% of all WordPress websites. It is the most popular WordPress ecommerce software available today
More than 1.5 million WooCommerce stores are active on WordPress
In terms of the entire technology ecommerce market, WooCommerce has a market share of 10%
It's growing faster than any other ecommerce platform, at a rate of 13-15% per quarter
There are nearly 300 WooCommerce extensions and 400 additions
Conclusion
As you can probably see from this impressive list of WordPress statistics, WordPress is a well-deserved favorite in the CMS lineup. With a strong community backing, tens of thousands of plugins and themes, and growth that is off the charts, it continues to dominate.
If you already use WordPress or if you're still choosing a platform, consider one plugin that can save you time and effort when it comes to WordPress management - that's WPBlazer. From the initial WordPress installation to backing up your entire site, this management tool can simplify many of your maintenance tasks.
Why not start a free trial today?