When it comes to the success of the online business, strong customer relationship plays a major role. If the visitors of your business are finding it hard to get information about your business, then consider the customers gone forever. They will never visit back.
You can establish a relationship with your customer using good CRM Software. The best WordPress CRM plugins are analyzed here:
Table of Contents: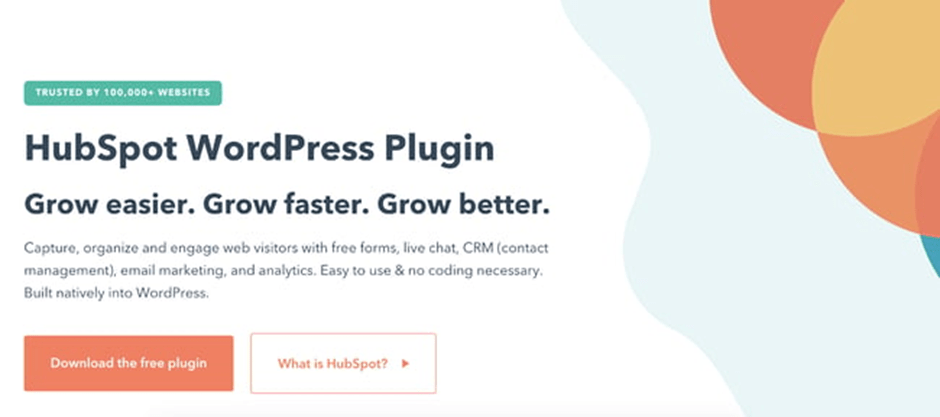 About the Plugin:
HubSpot CRM is a marketing plugin. It organizes and automates the customer database within the WordPress dashboard in the WordPress CRM plugins.
The HubSpot CRM core plugin includes all the necessary client management tools. These include live chat, simple and basic chatbots, and lead qualifying.
Price:
HubSpot has a free plan and three premium packages. HubSpot's CRM pricing scales with the number of users on the account.
Review: 4.4 out of 5 stars. (Source- Wordpress.org)
Active Installations: 300,000+
PHP Version: 5.6 or Higher
Features:
It's simple to add new participants and assign them to teams or departments.
You can set filters for contacts depending on their interaction with your website.
It has numerous pre-made report types that let you keep tabs on each campaign or user activity.
You can make a variety of front-end forms for a variety of reasons.
It offers many email templates that you can customise directly from your HubSpot account.
HubSpot is simple to use and offers over 300 tool integrations. Having all of your contact database's client data in one CRM solution makes contact management simple and actionable.
Who Should Consider?
HubSpot is ideal for agencies, business owners, bloggers, designers, and anyone with a WordPress website. This helps to use a flawless CRM plugin with built-in marketing capabilities. HubSpot is already being used by more than 135,000 organisations in more than 100 nations to enhance their operations.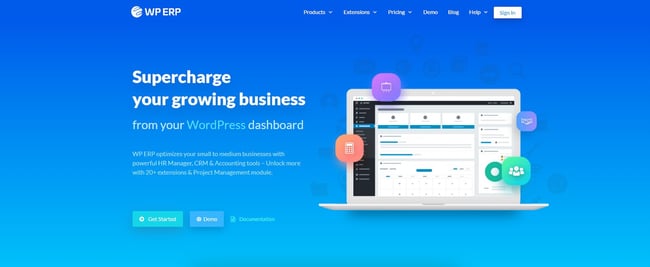 About the Plugin:
The WP ERP plugin may be a one-stop shop for all of your CRM, HRM, and accounting concerns. Large and small companies alike are making the most of this plugin.
WP ERP can be set up without price, like the majority of other WordPress CRM plugins. Some free services include firm information management, location tools, holiday calendars, and so on. Additionally, you can make contact groups. They provide premium add-ons with various price options if you want more functionality. 
Price:  Free to begin with (premium plans range in price from $155 to $1120 annually).
Review: 4.4 out of 5 stars. (Source- Wordpress.org)
Active Installations: 10,000+
PHP Version: 5.6 or Higher
Features:
With this CRM, payment collection is quite simple. Among the Wordpress CRM Plugins, WP ERP supports over 40 different currencies. Thus, you can receive payments from numerous locations throughout the world.
You can send emails to admins and clients using pre-made templates.
There are also numerous template alternatives available.
With white-labelling, it is possible to create a complete company profile.
WP ERP has an HR manager function that you can utilise to find, manage, and distribute personal details. It also helps publish other notifications.
CRM is fantastic at managing clients' information, the customer lifecycle, setting up lists or groups, etc.
Additionally, you'll receive a tool for fundamental accounting duties. It includes maintaining balance sheets, monitoring income, and reporting.
Last but not least, this CRM tool makes it simple to filter a sizable database. Additionally, many commercial integrations and extensions are available.
Who Should Consider?
We appreciate this as an option for cost-conscious businesses. Because the majority of the CRM capabilities are provided without charge. It's also a fantastic tool among WordPress CRM plugins if you intend to have many integrations. It integrates with many email campaign managers, accounting programs, and payment platforms.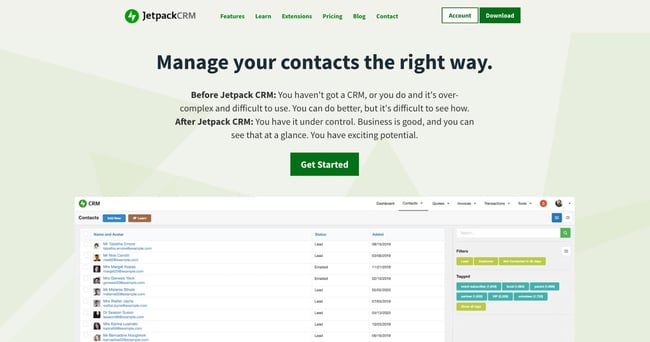 About the Plugin:
Jetpack CRM is a very simple plugin to use among WordPress CRM plugins. It includes a few extra capabilities in addition to the normal functions of a CRM. As an example, consider the client portal. The client has access to their profiles, data, bills, etc.
You can seamlessly link with all social sites, such as Facebook, Twitter, and Linkedin. This enables better communication with your audience. Additionally, this plugin's premium editions have integrated PayPal and WooCommerce functionalities.
Price: Free to begin with (paid plans range in price from $11/month to $17/month).
Review: 4.4 out of 5 stars. (Source- Wordpress.org )
Active Installations: 30,000+
PHP Version: 7.2 or higher
Features:
The capability of sending estimates and bills to customers.
Keeping records of quotes and consultations for each contact.
A straightforward dashboard that gathers all important business data in one location
The capacity to handle many contacts for the businesses you do business with
Direct customer calls with one click from your dashboard
Branded templates for quotes, invoices, and proposals
Client portals where clients can view important documents, complete tasks and pay invoices
Segmentation depends on a variety of criteria, such as who attended your most recent webinar.
Import tools for adding contacts from outside the CRM
Integrations with complementary products like Mailchimp, Google Contacts, and WooCommerce
Email capabilities are available straight from the dashboard.
The capability of tagging contacts for tasks and automatic reminders
Unlimited team members, user roles, and permissions for each member.
Who should consider?
Jetpack CRM among the WordPress CRM plugins is a fantastic alternative for organisations looking for a cost-effective, limitless approach to organise contacts with a tool that will expand their business.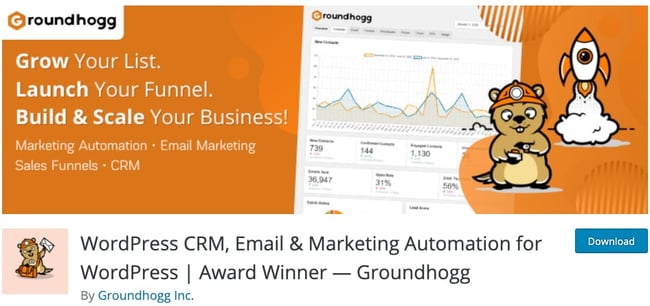 About the Plugin:
Groundhogg is a self-hosted CRM and Marketing Automation plugin developed for WordPress-based enterprises. It helps to simplify, consolidate, and automate sales and marketing. With the help of this WordPress CRM plugins, you can use funnels, email marketing, CRM, and more to automatically move your customers through the sales pipeline.
Price: No-cost core WordPress CRM plugins. The monthly cost of the premium plugin ranges from $20 for the Basic Plan to $80 for the Agency Plan.
Review: 4.9 out of 5 stars. (Source- Wordpress.org)
Active Installations: 3000+
PHP Version: 5.0 or Higher
Features:
User-friendly CRM funnel builder: Use the drag-and-drop functionality to add benchmarks and actions to funnels that you create from scratch or that you import as templates. It enables the optimization of your CRM sales process through funnel reporting.
Tools for contact management and robust CRM: Unlimited contacts, emails, and CRM custom fields can be managed. Your process can also be made more efficient by using additional tools.
Sync WordPress:  WordPress users can sync their contact lists using Groundhogg. It is also possible to view information details from other WordPress plugins in the contact record.
Admin toolbar widget searches for or adds contacts anywhere in the admin area.
GDPR compliant: Users can manage their options for compliance. This promotes adherence to the GDPR and other privacy regulations.
SMS and email broadcasting capabilities: Utilize the WordPress dashboard to directly schedule mass emails and text messages to your contact list.
The broadcast scheduler function on Groundhogg lets users send mass emails and SMS messages.
Who should consider?
Groundhogg is an appealing CRM for all users. Because it is open source, has a large community, and the premium features are supported by a dedicated team. Not only that but you are given a vast selection of integrations from which to choose in this WordPress CRM plugins.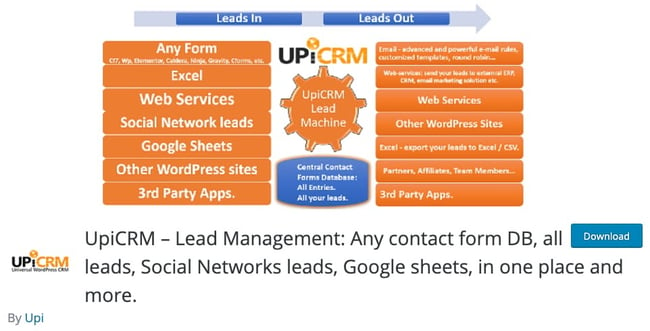 About the Plugin:
UpiCRM is a free plugin amidst  WordPress CRM plugins. It enables you to track and handle leads. It works with some of the top WordPress contact form plugins, including WPForms, Ninja Forms, and Contact Form 7.
It is free to download UpiCRM. However, premium extensions are available, such as Google Sheets connection for $29 and the Facebook leads import tool for $49.
Price: Free
Review: 4.6 out of 5. (Source- Wordpress.org)
Active Installations: 1k+
PHP Version: 4.3 or higher
Features:
The plugin allows you to follow leads and sources through the closing process.
You can manually or automatically assign your leads to any member of your team.
You may monitor lead generation sources, including specific UTM parameters.
There are fewer reports required thanks to the plugin's lovely dashboards and KPIs.
You can manage all of your contacts centrally in one location. You may change the look of your website or create a blog post. Also, discover which of your leads you need to deal with all from your WordPress dashboard.
Among the WordPress CRM plugins, this plugin connects with a wide range of third-party applications. It makes it simpler if you run across a CRM function that is lacking. For instance, UpiCRM can be connected to web services, Google Drive, and other CRMs.
The dashboard's clean and subtle appearance provides all users with a lovely user experience. Both newbies and developers will love it.
Import data from databases or other CRMs.
You may access your client lifecycle information at any moment from your WordPress dashboard.
The statistics and reports are clear enough for anyone to grasp them, but they are also quite potent in comparison to some of the rivalry.
The need for employment spreadsheets and hand-written reports is reduced with this plugin.
There are options for establishing user roles and a hierarchy for database access. Construct an organisation with many tiers and multiple users.
A unique URL tagging tool allows you to keep track of the origins of your most significant traffic.
For additional tracking and URL shortening, a URL builder is included (learn how to change the URL of your site).
You can include contact forms and lead collection modules on mobile devices. It has a simple, customisable mobile interface.
Admins receive automated notifications when leads are acquired. Additionally, you have some tools for informing customers.
Who should consider?
Because all of the functions of this CRM plugin are free, it is an excellent solution for any new firm. Additionally, it is simple to use. So, using this WordPress CRM plugins doesn't require any special knowledge. This can be a good CRM if you don't require any sophisticated features.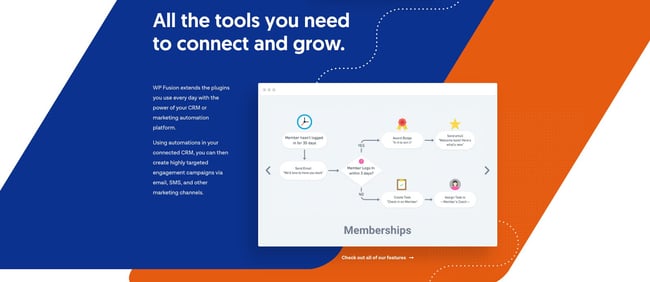 About the Plugin:
WP Fusion is a WordPress CRM plugins that let you measure anything from how frequently a prospect hits a specific link to how long they watch a video. The application is open source. So, knowledgeable users are free to create their extensions. It works nicely with well-known membership, e-learning, and e-commerce tools as well.
Price:  There is a free Lite plugin. The premium versions begin at $247 per year.
Review: 5 out of 5 stars. (Source- Wordpress.org)
Active Installations: 4000+
PHP Version: 5.6 or Higher
Features:
The WP Fusion plugin integrates seamlessly with a variety of CRM applications among WordPress CRM plugins. It's excellent for including a few straightforward CRM functions on your WordPress website. The system is completed by connecting with a stronger CRM after that.
It creates user-friendly membership websites by locking pages within WordPress using tags from your CRM.
You have access to WooCommerce and Easy Digital Downloads connectors. Both are necessary for selling both physical and digital goods online. It also integrates your customer database.
Amid the WordPress CRM plugins, WP Fusion integrates with learning management systems such as LifterLMS and LearnDash.
You can connect to email marketing tools like MailChimp and MailerLite.
The customer data syncing solution captures expanded user data and syncs it between WordPress and the CRM, all with updated lifetime values and user accounts that are linked across your many sites.
There are numerous add-ons available for things like media tools, downloads, better eCommerce, and abandoned cart tracking.
The limiting of content is accomplished through the usage of user tagging. In essence, it enables you to label specific website visitors so that they don't see all of the content.
The use of custom fields is supported, particularly when syncing with custom data produced in other CRMs.
When a person registers on your website, tags can be added automatically to their profile.
When integrated with other CRMs, the importing and exporting features operate without a hitch among the WordPress CRM plugins.
You can use a widget to divert visitors to other pages of your website or to prevent them from viewing particular material.
The plugin connects to Zapier so that you can add webhooks and automate a lot of the processes on your website and CRM.
Some of the greatest WordPress CRM customer assistance is offered via the WP Fusion plugin. It's unusual to get community involvement and devoted support from other free plugins.
Who should consider?
This is an interesting choice for businesses looking for the most simplistic CRM. You can develop forms with custom fields, create contacts, and tag those contacts. WP Fusion could be a good option for your CRM among the WordPress CRM plugins.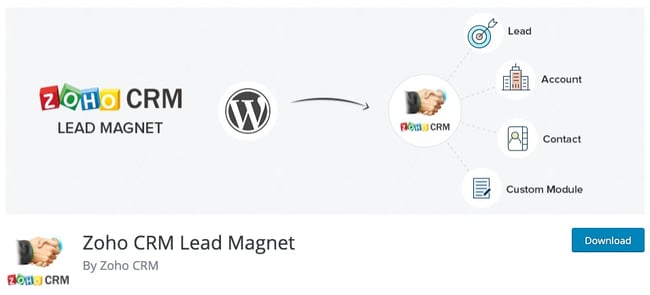 About the Plugin:
"Zoho CRM is a free, easy lead capture plugin. Amidst the WordPress CRM plugins, this enables you to create web forms within your dashboard and add them using shortcode to your WordPress website. The visitor information is then gathered and promptly supplied to your Zoho CRM account.
Price: The Zoho CRM is completely free.
Review: 3.4 out of 5 stars
Active Installations: 4000+
PHP Version:
Features:
Geo-locating feature: To help users track the whereabouts of customers and display geo-location information.
The Lead scoring feature uses customer behaviour, demographics, and negative scoring to determine a lead score. Users can also automate tasks and construct personalised scoring models for various criteria.
Clever web forms: Create pre-built online forms without coding with WordPress.
Omni channel assistance: When users access the website by email, social media, phone, or client portal, users can receive notifications.
The Card Scanner app: Scans QR codes and business cards to create contacts or leads in Zoho CRM.
Who should consider?
It's simple to determine who should consider using the Zoho plugin amidst the WordPress CRM plugins. If you currently use a Zoho product, consider adding this plugin to your CRM.
Once you begin to create a customer base with your site, you must have a WordPress CRM system in place to help you build future business. The more information you have about your clients, the more equipped you are to meet their needs for goods, services, and customer assistance.
Additionally, CRM tools can be quite helpful for identifying underperforming client categories and expansion prospects.
If you decide to use WordPress for your website, check out WPBlazer, a WordPress management tool.