Hosting in general, or more specifically, WordPress hosting, is something every single person who uses the WordPress.org platform has to take into consideration. Depending on your site and what you use it for, your needs, when it comes to hosting, may be few or complex.
If they are few, simply choosing whoever is the cheapest host may be enough for you. If you are at the other end of the spectrum, you should probably be looking into WordPress hosting.
At which point some of our readers may ask what's the difference between regular hosting and managed WordPress hosting, and what kind of criteria should you look at if you're considering the latter.
Table of Contents
1. What is the Difference Between Regular Hosting & WordPress Hosting?
2. The Procedure Behind WordPress Hosting Performance Benchmarks
3. The 2021 WordPress Hosting Performance Benchmark Results
4. WooCommerce Hosting Performance Benchmarks
5. Choosing the Right WordPress Hosting Provider
1. What is the Difference Between Regular Hosting & WordPress Hosting?
Saying that complex websites are going to need WordPress hosting while simple sites will make do on regular web hosting is probably an oversimplification. So let's dig a little deeper.
You can, in fact, run a large successful site on a regular hosting plan. It's just that WordPress hosting would do even better. And that better translates into an improved user experience for your customers and visitors. And you know the correlation there, don't you?
Google loves it when you provide the best possible user experience to your visitors. If you do, they rank you better in the SERPs (Search Engine Results Pages) because they want to give their users the best experience.
So while some may feel that using WordPress hosting is unnecessary and expensive, the reality is that it does pay off.
Let's compare the two types of hosting.
Regular Web Hosting vs WordPress Hosting
The major difference between web and managed WordPress hosting is server configuration. WordPress has some specific demands, demands that cheap shared hosting may not be able to fulfill. But a server that offers managed WordPress hosting has been built and fine-tuned with WordPress in mind.
Simply put, a managed WordPress server is the perfect environment for your WordPress site.
Here are some of the things you could expect to have included with a managed hosting plan.
Superior support
A server fully optimized for high performance
Data centers strategically placed around the globe
Access to developer-friendly features
Increased security
Always scalable
Premium DNS
That's an awful lot that you won't get from your $3 per month unlimited hosting plan. Which is fair—because you get what you pay for, right?
So if you're undecided as to which type of hosting is the best for you, consider the answer to these questions.
1. Are you concerned about security?
2. Would you prefer to have someone else look after site maintenance?
3. Do you need a lot of hand-holding when it comes to making sure your site performance is top-notch?
4. Would easy access features such as a CDN be useful to you?
If you answered yes to all or most of these questions—and if your budget allows for it—you should be considering managed WordPress hosting.
But there are several web hosts that offer managed hosting. Are they all created equal? If not, how can you choose the best option?
Review Signal has the answer for you. And they update that answer every year. I'm talking about their WordPress Hosting Performance Benchmarks. Let's take a look at their 2021 report.
2. The Procedure Behind WordPress Hosting Performance Benchmarks
First of all, the results of these tests are based solely on performance, so it's not your typical review where you'll learn about the price and support options. It's all about server configurations and how well they run.
This year, 32 hosts who offer managed WP hosting were tested.
The Publisher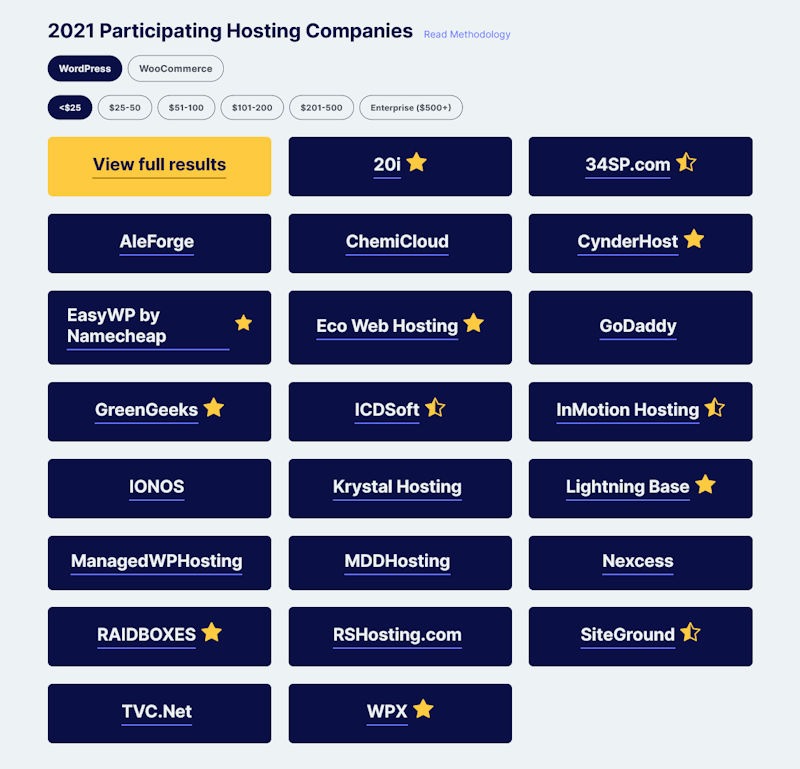 Source: WPHostingBenchmarks
This performance benchmark report has been published for the last eight years by Kevin Ohashi of Review Signal. As of this year, the report appears on webhostingbenchmarks.com, which is a WordPress-powered site.
The report has evolved from its initial beginnings when it was simply an analysis of reviews of web hosting companies that were posted to Twitter in 2011. It was in 2013 that Ohashi began testing benchmarks on a handful of hosts.
Skipping ahead to 2020, when testing began for this year's report, there were 32 web hosts offering WordPress hosting. Testing covered 6 hosting tiers as well as a WooCommerce group.
The Methodology
Two things are measured, peak performance and consistency. Load testing services quantify peak performance while uptime monitoring measures consistency. And that monitoring lasted for a minimum of three months for the 2021 report period.
For the purpose of benchmark testing, everything was done to keep the test environment equal to the environment any new or long-time user of a specific plan would have at their disposal. Everything was as close to default as possible. Except for any Enterprise tier plans. This is because plans at that level optimize packages to meet the needs of individual customers.
Finally, all testing was done on a WordPress version 5 site using the Classic Editor. All sites were identical—with the same theme and plugins. Although in some cases, there were hosts that offered extra plugins or code.
Finally, ratings were broken down into two levels of recognition as opposed to assigning any one host a best or second best. WordPress hosts who participated did so hoping to be rated as one of the following:
Top Tier WordPress Hosting
Honorable Mention
Here are the criteria for both.
Top Tier. Those who ended up in this category did so because they maintained a 99.9% uptime throughout the entire testing period, which, as stated above, lasted a minimum of three months.
Added to a great uptime score, performance degradation during load testing also had to be almost non-existent. This mostly focused on error rates and response times.
Honorable Mention. Basically, this is a close but no cigar category. These hosts fell just a little short of earning the Top Tier badge but deserved to be mentioned.
3. The 2021 WordPress Hosting Performance Benchmark Results
These are the 32 companies that chose to participate in the performance benchmarking tests.
| | |
| --- | --- |
| 1&1 IONOS | Nestify |
| 34SP.com | Onyx |
| A2 Hosting | Pantheon  |
| ChemiCloud | Pressable |
| Cloudways  | Presslabs |
| DreamHost | Raidboxes |
| Flywheel | Seravo |
| GoDaddy | Servebolt |
| GreenGeeks | SiteGround |
| GridPane | TVC.Net |
| HighAvailability | Wetopi |
| InMotion Hosting | WordPress.com Business |
| Jelastic | WordPress.com VIP |
| Krystal Hosting | WPCycle |
| LightningBase | WPOven.com |
| NameCheap | WPX Hosting |
For the sake of this article, I'm not going to go over the results of each and every hosting company and tier package. I'm going to stick with the lowest tier simply because many who are searching for WordPress Hosting may want to ease into it on a budget. And there are several well-known hosts here as well, many of who are often recommended.
Why not look at actual benchmark tests instead of reading reviews from some website that is getting a commission for their recommendations? These tests are based on performance alone.
GoDaddy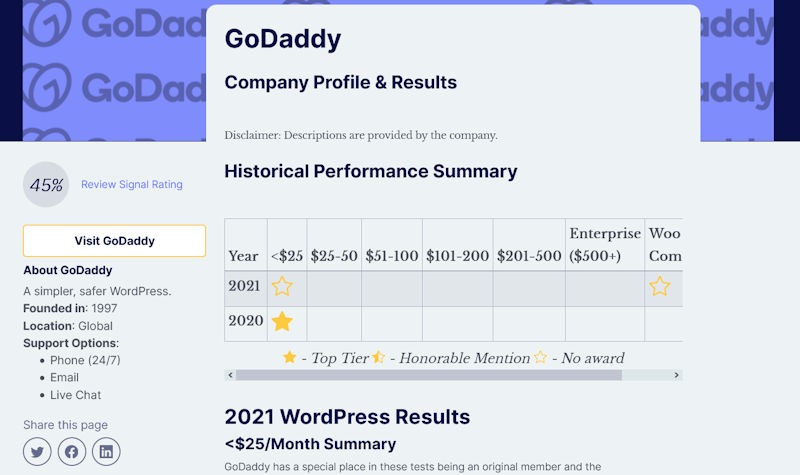 Source: WPHostingBenchmarks
GoDaddy was tested in the lowest tier package category and the WooCommerce category. I'll deal with WooCommerce below.
As the screenshot above shows, they didn't make the Top Tier rating nor Honorable Mention. But before I bash them, let me point out that they do have a consistent 99.99% uptime.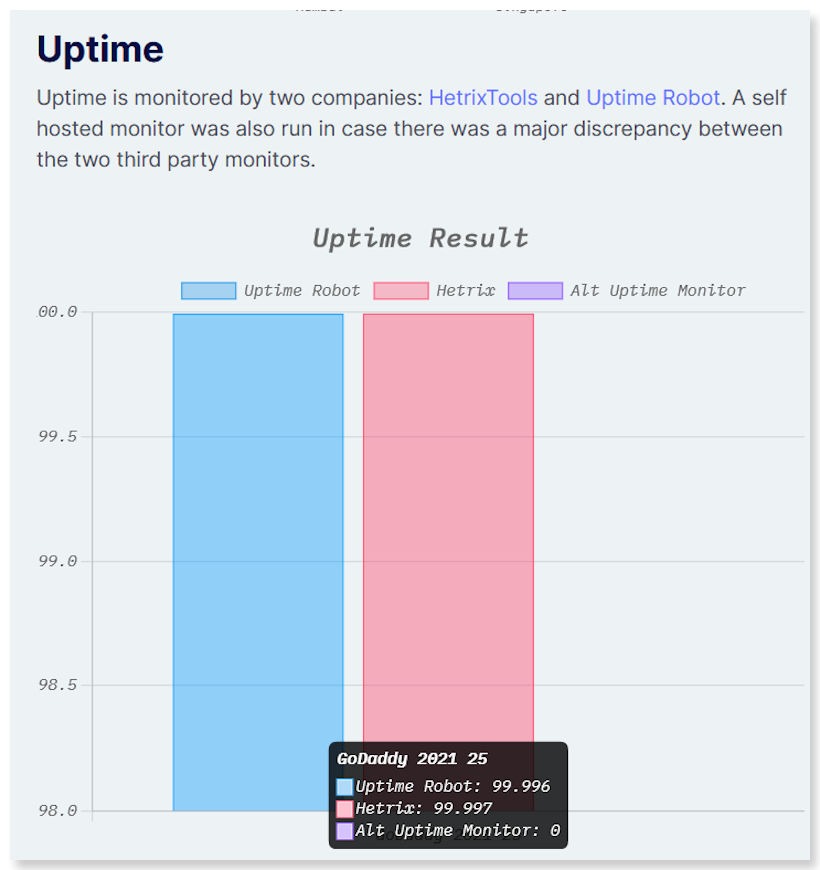 Source: WPHostingBenchmarks
So what went wrong?
Unfortunately for GoDaddy, there was a consistent error in Load Storm. This test is used to replicate the path of real users on a website. Logging in, browsing, navigating pages, and so forth. And it tests uncached performance, not cached pages. This error could not be resolved and dropped them out of the ranking.
We can only hope this prompts them to address the issue. Because their WordPress hosting has ranked well in previous years.
InMotion Hosting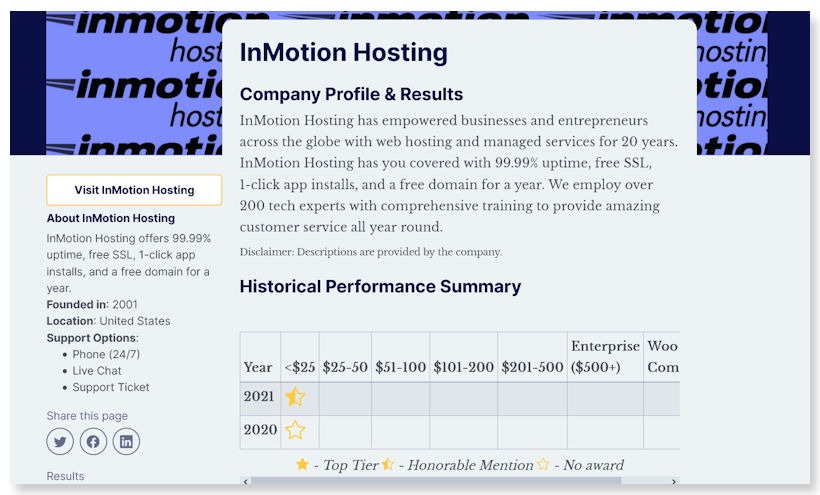 Source: WPHostingBenchmarks
InMotion didn't make the Top Tier rating this year, but they did snag an Honorable Mention. First, they had a consistent uptime of over 99.9% but what's most noteworthy is their WP Bench Score. They had the fastest score of anyone tested.
The WordPress Bench score measures how many WP queries per second or better. Queries are requests for information from databases.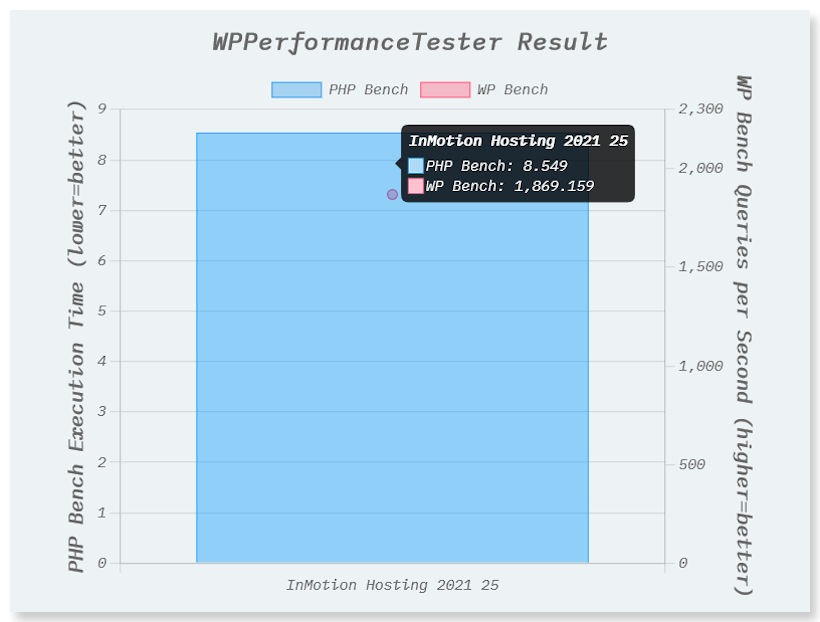 Source: WPHostingBenchmarks
Unfortunately, if it wasn't for errors in Load Storm, which simulates a real user's activity on a site, they would have made the Top Tier grade.
SiteGround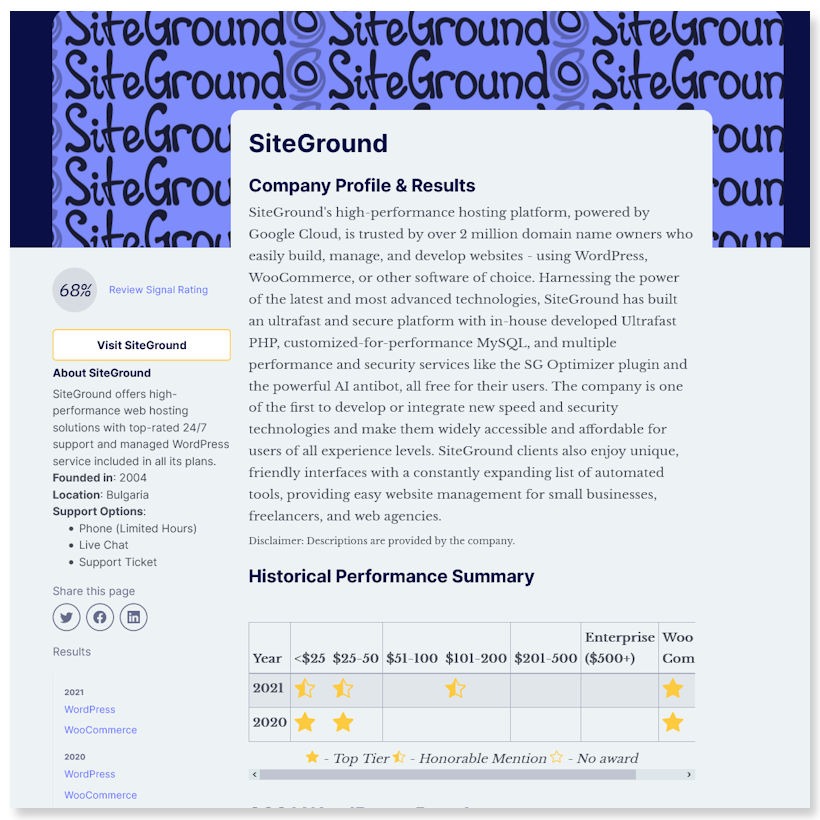 Source: WPHostingBenchmarks
Another popular and often recommended WordPress Hosting company that has earned an Honorable Mention.
If you're interested in Uptime more than anything else, maybe you should consider SiteGround as they had a perfect score of 100%. I honestly don't think I've ever seen that before. And the Load Storm test that has returned errors for both GoDaddy and InMotion encountered no issues with SiteGround.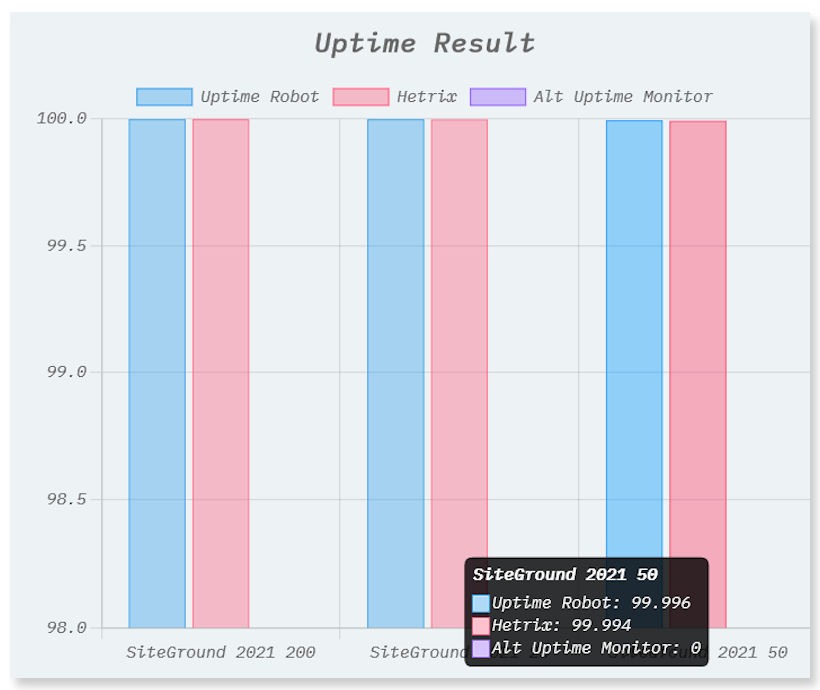 Source: WPHostingBenchmarks
Another test they passed with flying colors was the response time for wp-login. They came back with the fastest time. However, the K6 test, which tests cached performance is where they stumbled, and performance slowed down.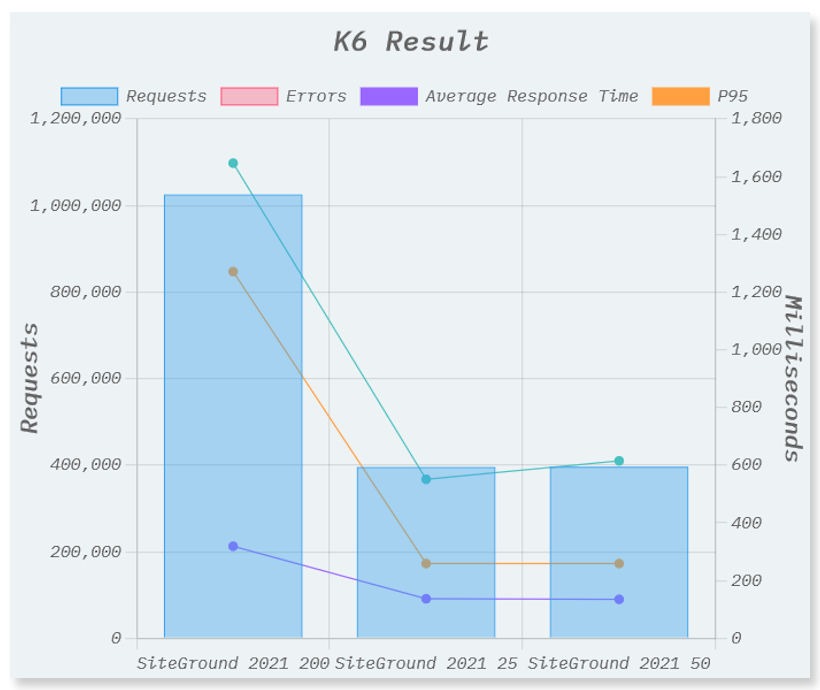 Source: WPHostingBenchmarks
Now let's take a look at the benchmarks for WooCommerce hosting.
4. WooCommerce Hosting Performance Benchmarks
This is a subset of the WP Hosting Benchmarks, as sites that run WooCommerce, especially big, busy stores, have specific requirements.
For the setup in this scenario, identical WP sites running WooCommerce were created. And unless a host had extra plugins or code that they added, all sites run the same plugins and were built on the Woo Storefront theme.
In addition to the above, all sites also had a US address, sold digital products in $USD, use Stripe as the payment gateway, and used automated tax calculations.
This year there were 11 hosting companies offering a WooCommerce package that participated. Two of them are also mentioned above in the WordPress hosting benchmark report.
GoDaddy – WooCommerce Hosting
GoDaddy didn't rank for WP Hosting this year, and they didn't rank for WooCommerce hosting either.
While, as mentioned above, they tested excellent on uptime, and the K6 test was okay, things fell apart from there. The Load Storm test that had a single consistent error for managed WordPress hosting, had multiple issues of the WooCommerce tests.
This is their first year to enter into the WooCommerce benchmarks. Unfortunately, those multiple errors I mentioned in the Load Storm test were significant. These were errors related to the shopping cart—not a good thing!—and a very slow wp-login response time.
As you can see in the graphic below, Load Storm returned a total of 3,452 errors.
Source: WPHostingBenchmarks
SiteGround – WooCommerce Hosting
SiteGround moved up from the Honorable Mention territory they achieved in the WordPress Hosting category and landed themselves a Top Tier win in the WooCommerce category.
Their uptime was perfect at 100% and they had an error-free K6 test, pulling in the third-fastest response time of sites tested, and again, the third-fastest response time on Load Storm. To round that off, they also got the second-fastest WP Bench score.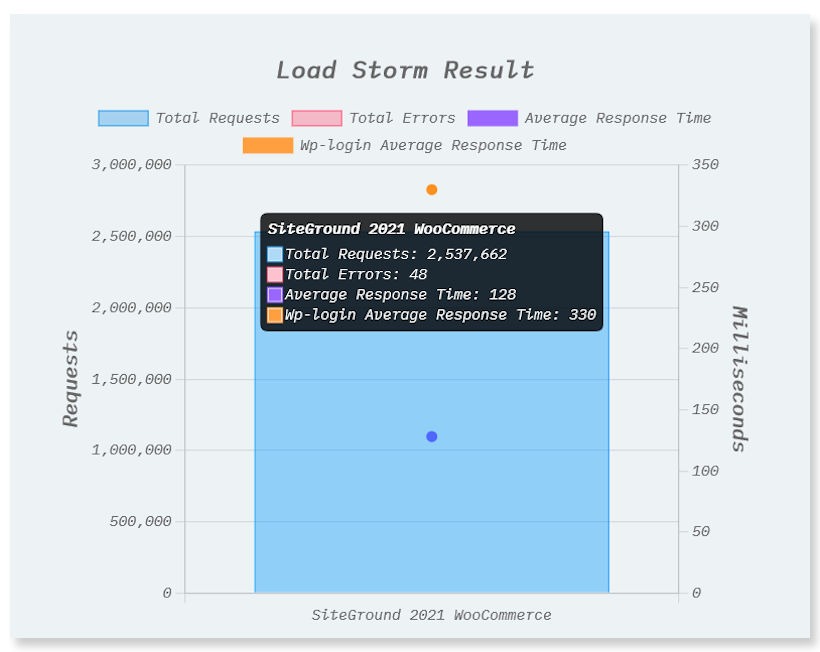 Source: WPHostingBenchmarks
5. Choosing the Right WordPress Hosting Provider
Choosing a web host is a bit of a landmine. Who or what do you trust?
You might think all you need to do is check out a few review sites, but what most newbies probably don't realize is that in many cases, the content of those sites is very close to lies. Because the site owners have an agenda—to make money. And hosting providers offer commissions to sites that send new customers their way.
You could also look to forums and communities where yes, you can find lots of helpful advice, but you may run into a lot of bias as well.
So what's left?
The facts. And that's where reports like this WordPress hosting performance benchmarks come in. You're not just relying on something with an agenda or bias.
Wrapping Up
Developing and maintaining a website takes time and effort. So it makes a lot of sense to consider managed WordPress hosting. But as you can see from the above, there are a lot to choose from. Hopefully, the information provided here and by Review Signal will help you make a wise choice.
However, not everyone has the budget for WordPress Hosting, since it does cost more than simple shared hosting. If that's you, why not consider using something like WPBlazer? It can help with things like monitoring your uptime, which is one of the benchmarks this report looks at.